The Nissan Titan is one of the most controversial pickup trucks in the USA, but if you're reading this right now, my guess is you're a fan of it.
Like most trucks, the Titan comes in 3 distinct truck bed sizes depending on the type of cab. It has a 8'3" bed for a regular cab, 6'7" bed for an extended cab, and a 5'7" bed for a crew cab.
Whether you're driving the Titan S or the Platinum Reserve, odds are you will be hauling some cargo in your bed that you'll want some protection for.
Our list of tonneau covers for you Titan will have all the functionality and quality you could want in order to serve your needs.
Our Best Tonneau Covers For A Nissan Titan
What Are Tonneau Covers?
Tonneau covers are one of the essential truck accessories due to their enormous advantages.
A tonneau cover is simply a canvas or hard shell that covers your truck bed in order to protect your cargo from both the elements and potential thieves.
People have been using tonneau covers almost since the automobile was invented. Check out The History of the Tonneau Cover if you're interested in learning more.
Titan accessories, especially tonneau covers, come in all different shapes, sizes, and designs. For now, we'll take a look at the most common tonneau covers you'll see available today.
What Are The Different Types Of Tonneau Covers?
Amazon provides an endless array of products and design varieties, but when you start to boil down all these tonneau covers to the basics there ends up being only a few main types.
The main types of tonneau covers you see both on Amazon and on the road are folding tonneau covers, roll-up tonneau covers, and retractable tonneau covers.
Let's take a closer look at each of these.
Folding Tonneau Covers
Folding tonneau covers tend to be the simplest of the 3.
Made of either a hard or soft material, a folding cover usually comes in a tri-fold configuration. Each segment of the tonneau cover folds over on top of the next segment exposing more of the truck bed with each fold.
Folding tonneau covers are usually extremely simple to install, but a lot of designs only expose ⅔ of the truck bed.
Roll-Up Tonneau Covers
Roll-up tonneau covers are right in the middle as far as simplicity goes.
The Roll-up covers can also be made from a hard or soft material, but most of the time they are made from a soft heavy-duty vinyl.
These covers usually sit on a frame above the bed rails and roll along that frame to expose the entire truck bed.
Retractable Tonneau Covers
Retractable tonneau covers are the least common of the 3 mainly because they are usually the most expensive comparatively.
These covers are similar to a roll-up cover, but they roll up into a canister that sits below the bed rails. They also glide along bearings mounted to the bed rails for easy opening and closing.
With a retractable tonneau cover, you are usually trading a more in depth installation process for ease-of-use.
How Does A Tonneau Cover Work?
Tonneau covers can work in many different ways as you can see from the section above, but they all have a general operating principal.
An aluminum or fiberglass frame makes up the skeleton of the tonneau cover, and a hard or soft material provides the protective canvas for your Titan bed.
Everything is fastened with clamps, hinges, latches, and bearings in order to create a movable surface that exposes the truck bed to varying degrees.
All of this has added seals to create a weather tight enclosure to protect your truck bed and cargo from the elements.
What Do You Look For In The Best Tonneau Covers?
The best tonneau covers are the ones that work best for the individual truck owner's needs whether that is 100% bed access or increased protection from thieves.
Aside from that fact, there are a few basic factors to take into account when searching for a quality tonneau cover that will stand the test of time.
The main factors you should look for when picking a quality cover are materials used, installation requirements, functionality/ease-of-use, and weather resistance.
Materials
Look for heavy-duty and quality materials such as aircraft-grade aluminum, marine-grade vinyl, and stainless steel clamps.
This will give you some indication as to the durability of the tonneau cover is how long it might last.
Installation Requirements
Installation requirements are somewhat of a personal preference, but if you're looking at almost identical tonneau covers then an easier installation could be a deciding factor.
Easier installation also shows that the manufacturer put more thought into their design process, so it has the potential to be a better product.
Functionality/Ease-Of-Use
You will want the most functionality and ease-of-use for your price point. This can be in the form of easy opening and closing, full bed access, and as many features as possible.
Weather Resistance
Last and probably most important is the cover's ability to resist any weather conditions.
OEM seals, tailgate seals, and corner caps are things to look for as well as high-quality latches. Combine these items with good materials, and you will have a good indication as to how the tonneau cover will fare in most weather conditions.
Best Tonneau Covers For A Nissan Titan Reviewed
1. Tonno Pro Tonno Fold Soft Folding Truck Bed Tonneau Cover (Our Top Pick)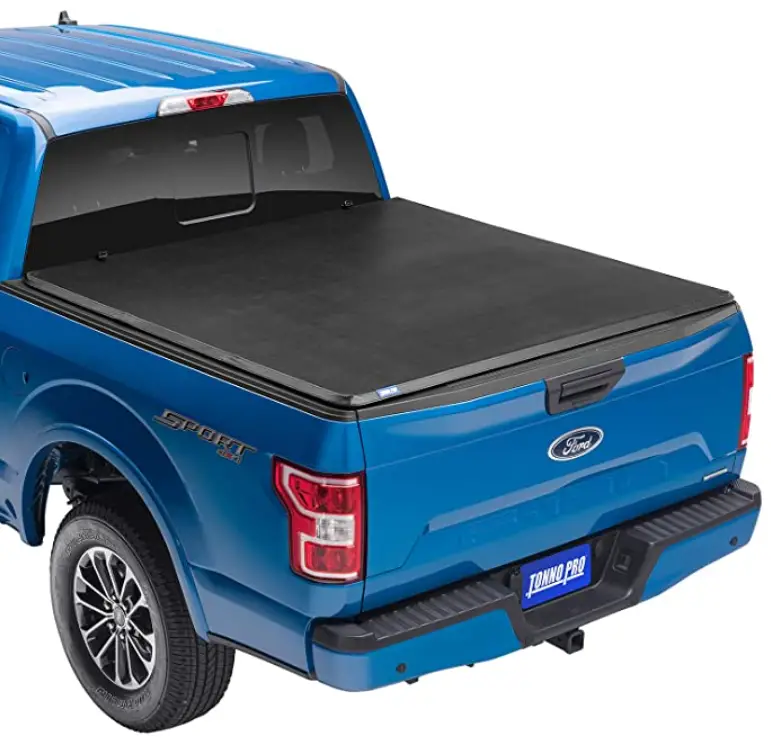 The Tonno Pro Tonno Fold is a soft tri-fold tonneau cover that could rival most tonneau covers on the market.
It has a powder-coated aluminum frame topped with tear-resistant vinyl. It also has an extremely easy installation process, so it can be installed or removed in a matter of a couple minutes.
This is the tonneau cover I have on my personal truck, and it's held up great over the years.
Pros
Easy installation & removal
Inexpensive
Limited lifetime warranty
Cons
Buy The Tonno Pro Tonno Fold Soft Folding Truck Bed Tonneau Cover On Amazon
---
2. TruXedo TruXport Soft Roll Up Truck Bed Tonneau Cover (Best Budget)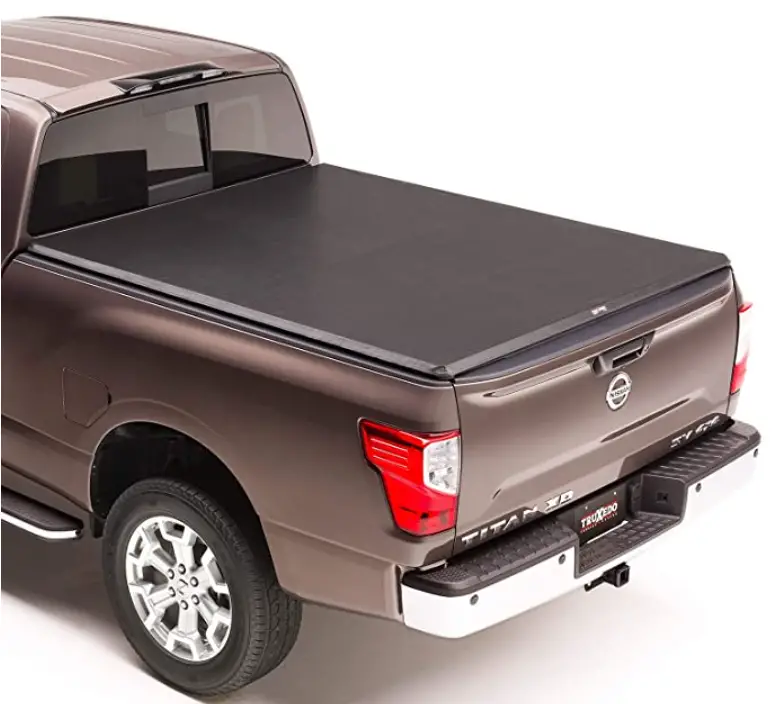 The TruXedo TruXport is a quality soft roll-up tonneau cover that won't break the bank.
Its heavy-duty frame is topped with leather-embossed vinyl, and it has aluminum support bows for additional support.
It also can be installed in around 30 minutes, and it doesn't require any tools or drilling.
Pros
100% bed access
Inexpensive
5 year warranty
Cons
Longer installation process
Buy The TruXedo TruXport Soft Roll Up Truck Bed Tonneau Cover On Amazon
---
3. BAK BAKFlip MX4 Hard Folding Truck Bed Tonneau Cover (Best High End)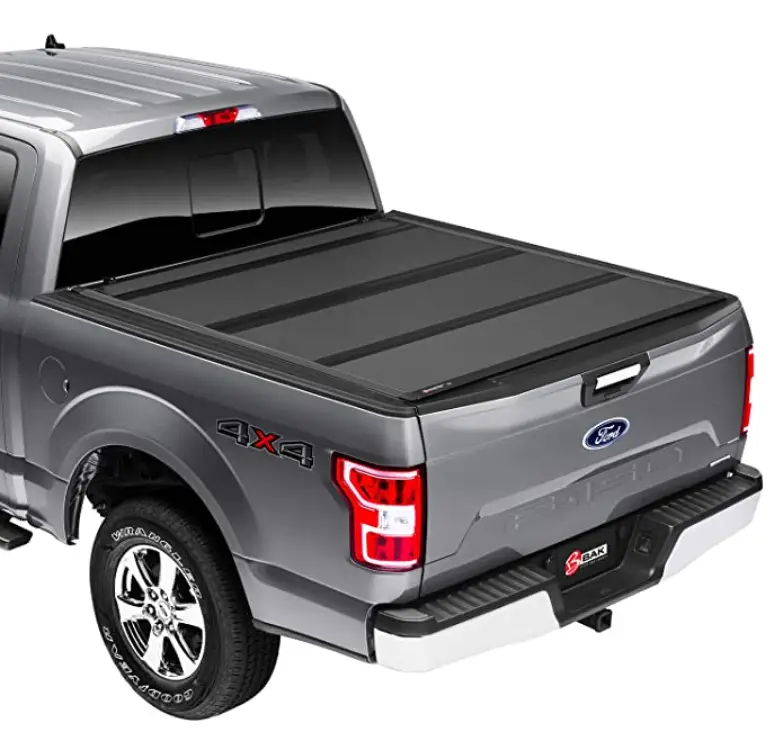 If you're looking for a premium tonneau cover, checkout the BAKFlip MX4 hard folding cover.
It's constructed with durable aluminum panels that have an integrated automatic latching system. It also provides 100% bed access unlike many folding tonneau covers.
The MX4 also has a stylish matte finish combined with a low profile design giving your Titan box good looks with the added benefit of full access to the top of the bed rails.
Pros
100% bed access
Durable construction
5-year warranty
Cons
Buy The BAK BAKFlip MX4 Hard Folding Truck Bed Tonneau Cover On Amazon
---
4. Extang Solid Fold 2.0 Hard Folding Truck Bed Tonneau Cover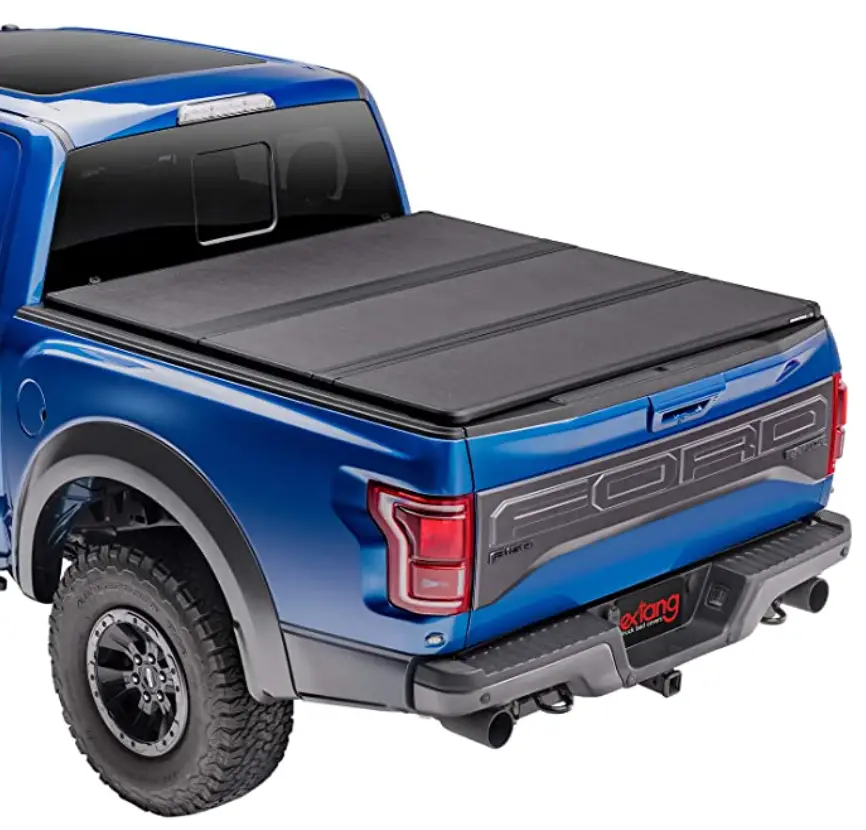 If you're looking for something even more durable than the MX4, take a look at the Extang Solid Fold 2.0 hard tri-fold cover.
This tonneau cover has a similar construction and functionality as the Extang Trifecta, but it's made with hard automotive grade polymer panels instead of soft vinyl. 
Whether you're doing some rocky offroading in your Nissan Titan or want some added protection from thieves, this tonneau cover will do the job.
Pros
Easy installation & removal
Heavy-duty construction
Cons
Buy The Extang Solid Fold 2.0 Hard Folding Truck Bed Tonneau Cover On Amazon
---
5. BAK Revolver X4 Hard Rolling Truck Bed Tonneau Cover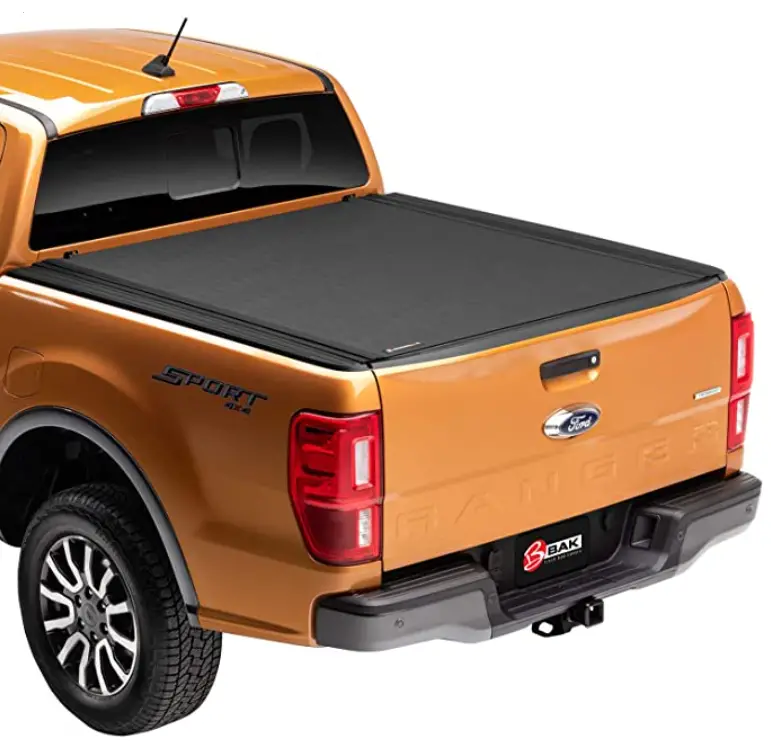 Last but not least, the BAK Revolver X4 is BAK's heavy-duty roll-up tonneau cover.
Made from durable aluminum slats covered with durable vinyl, the Revolver X4 can withstand up to 400lbs.
The innovative roll-n-lock rails secure this tonneau cover along the entire length of the truck bed.
This tonneau cover is interchangeable with #3 on the list in terms of ranking, but that depends on your specific wants and needs.
Pros
Durable construction
100% bed access
Cons
More difficult installation
Buy The BAK Revolver X4 Hard Rolling Truck Bed Tonneau Cover On Amazon
---
Final Thoughts On Tonneau Covers For A Nissan Titan
There are a number of Nissan Titan tonneau covers available that will fit everything from your 5.5 to 8 ft. bed.
Make sure you understand whether your Titan has an integrated utility track in the truck bed because most of these covers have models that work specifically with or without the utility rack.
Nissan also sells BAK, Extang, RetraxOne, and TruXedo tonneau covers as an installed factory accessory, so check that out if you're looking to order a new Nissan Titan.
Take into account the main factors that make up a good tonneau cover, and think about what your particular needs are. This should give you a very good idea on a specific type and model of tonneau cover to purchase.