Whether you're an experienced cyclist or a weekend hobbyist, finding the right truck bed bike rack can save you a lot of heartache over the years.
While the best bike rack models might set you back a few hundred dollars, these useful tools may actually save you a lot of money in the long run by preventing wear and tear that would otherwise afflict your bicycle.
Best Truck Bed Bike Racks
Due to the costly nature of some premium bicycle models (which can fetch thousands of dollars), it makes sense to keep your bikes safe and secure during your travels. When coupled with a lock chain, a truck bed bike rack can help protect your bike from damage, vandalism, and theft.
There are plenty of high-quality bike racks available. However, there are significant differences among them. Thus, it's worth looking a little deeper to make sure your prospective model is the right fit for your unique set of needs.
Otherwise, you may be left trying to return a bike rack because you pulled the trigger too soon on your purchase. Between size, durability, convenience, and efficiency, there are many factors to consider.
Before we get into some of the best models on the market, let's look at some of the benefits of finding the right truck bed bike rack.
The Advantages of Truck Bed Bike Racks
Heightened Protection
The more expensive your bike is, the more money you should invest in caring for it. When you are dealing with a bike that costs hundreds or even thousands of dollars (which is common for many cycling and mountain biking models), you need assurance that your investment isn't going to go to waste. That's why bike racks make so much sense.
They provide a secure system to hold your bike perfectly in place, so it's not left up to the mercy of the elements. Even if your truck skids off the road, you want to make sure your bike is safe and sound, exactly where it should be.
This protection all boils down to a secure fastening system involving the side rails, a hitch mount, or a similar high-quality mount rack system that grips the bike frame and keeps it locked in place in the back of your truck.
A Safer Environment
If your bike has a heavier frame, it may pose a safety risk to those around you if your truck gets into an accident. Besides the cost of replacing a busted bike, the bike itself can become a dangerous projectile if it is not properly secured in the event of an accident. This extends to both the occupants of your truck and innocent bystanders in the general vicinity.
No matter how light your bike is, it has the potential to crash through your back window if you come to a sudden halt. Alternatively, it can just as easily fly out of your truck bed and cause serious harm to a pedestrian in the area.
These concerns will be completely alleviated when you invest in a proper truck bed bike rack, which will keep it safely secured no matter what is going on around you.
Theft Prevention
Mountain bikes are some of the most expensive bikes on the market, second only to professional cycling bikes. Whatever model you have (and no matter how much it cost), nobody wants to come back to their truck and find your bike has been stolen.
Bike theft is a serious problem around the world, especially in certain parts of the US. No place is completely safe, either.
All it takes is one bad apple who shows up at your favorite trail, and you're looking at an afternoon filling out police reports instead of feeling the wind in your hair. Crimes like these don't just happen in bad areas of town. Your bike can fetch a high price on the black market anywhere.
Most bike racks contain security features that help prevent these thefts from happening before they start. Whether it's high-grade metals and locks holding them in place, or advanced alarm systems, a proper bike rack will send criminals on their way empty-handed.
The Best Features to Look for in Truck Bed Bike Racks
Popular Bike Rack Types
There are several different types of truck bed bike racks that cyclists swear by, including bed rail mounts, fork-mounted bike racks, wheel mount bike racks, and side clamp models. The best model for your needs simply depends on the specifications of your bike.
Further, you'll want to consider your personal taste, truck model, the number of bikes being used, and your price range. Let's break down some of these options to give you a better understanding.
Wheel Mount Bike Racks
Wheel mounts, as the name implies, use your tires to help secure your cargo. They take up less space than a fork-mounted model, and you don't need to take your bike apart in order to store it properly.
As such, these are some of the easiest, most intuitive bike racks to operate. They are easy to remove and reinstall, making them ideal for bikers on-the-go.
All you need to do is place the clamp on the ground, slowly drive over it with your bike, and it will clamp in place, giving you an increased sense of security for your bike rack.
Once it is clamped on, most models will lock in, giving you further peace of mind that your bike isn't going anywhere. One potential downside is that wheel mount bike racks are typically larger than some of their counterparts.
Side Clamps
In addition to being the smallest and most portable of the bunch, side clamps are the most basic of the bike rack models. In addition to holding your bikes in place, side clamps have many other uses, such as moving furniture or heavy loads of materials.
Side clamps are extremely simple to operate. They use a pulley system that tightens down the clamps and wraps while they are attached to your truck's bed rails – keeping your bike safe and secure. You won't even need to install a rack into the bed of your truck.
Fork-Mounted Bike Racks
These bike racks are probably your most secure option. They attach securely to your truck bed and allow you to easily store your bikes for transport. However, you will have to be a little savvy with the mechanics of the bike, as you'll need to take off your bike's front tire in order to store it properly.
Another added bonus is that this may drive away more potential bike thieves because they will not have a full bike to steal; and the frame will be tightly fastened into the rack.
One of the pitfalls with fork-mounted bike racks is that you'll now have a loose tire to deal with. But that should be easy to store in the cab of your truck until it's ready to be reinstalled.
While these types of racks are certainly very useful, they also involve a lot of separate pieces. Thus, they are one of the larger racks on the market. If you don't have any other cargo to store in the bed of your truck, you should be good to go.
Bed Rail Bike Rack Mounts
These racks work by extending from end-to-end within your truck bed. The mount will attach between the rails, giving you a solid frame to attach your bikes to.
Oftentimes, these racks also use a fork-mounted rack system, so if you do not like any kind of fork mount rack, you may need to look elsewhere.
One of the best qualities of bed rail mounts is that they are capable of fitting truck beds of any size. Compared to other models that will require some digging to uncover their size specifications, the universal nature of bed rail mounts makes them an easy choice.
These are a great option for riders who just want to expedite buying the process, while also knowing that their precious cargo will be safe for the journey.
With that out of the way, let's look at some of the best-reviewed options on the market today.
Truck Bike Rack Reviews
Thule Bed-Rider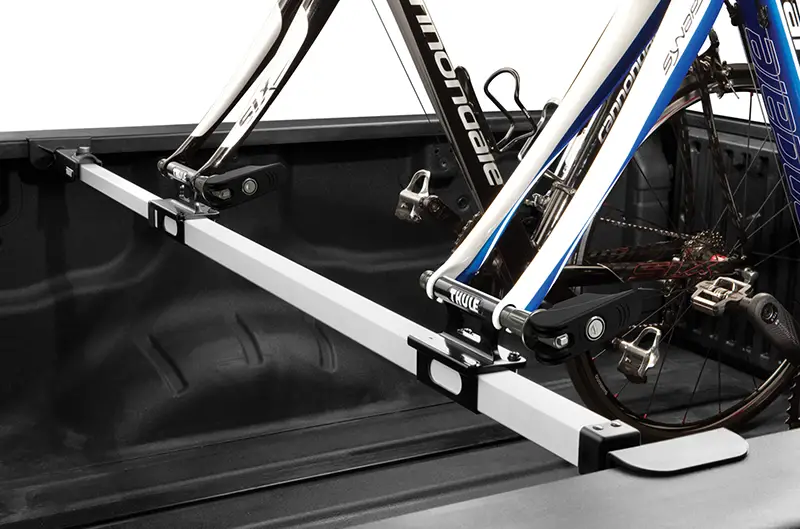 This heavy-duty Thule Bed-Rider comes in a sleek silver design and clocks in at a fairly reasonable price compared to similar models. It is one-size-fits-all, allowing bike lovers to make their purchase with confidence. It measures 53.2 x 7.8 x 2.8 inches and remains pretty portable with a lightweight frame of 9.25 pounds. This model will allow you to carry two bikes in the bed of your truck, giving you more bang for your buck.
Importantly, it does not require any sort of bolting system to secure it. This keeps your truck safe from any potential damage.
The bar itself is equipped with hassle-free SoftGrip technology that secures it (with a gripper) tightly to the bed rails and keeps your bike firmly in place no matter how many potholes you hit.
Among its most impressive features are its lockable skewer with easy adjustment capabilities. This allows you to further lock down the bike during your trip. It comes standard with an aluminum telescoping bar and three Thule locking mechanism cylinders that keep the bike in place and divert any potential thieves with an advanced security system.
If you're planning on transporting more than two bikes, you can do so easily with the add-on block from Thule. The only concern here is that the rail might not fit under the lip of your truck. If it fits, you will be ready to rock and roll.
Some cyclists complain that it is not as durable as more expensive options, but most users find it lasts them for years. It has great staying power while still remaining portable enough to remove, especially when you have other cargo to carry.
---
Heininger Automotive 2025 Advantage SportsRack BedRack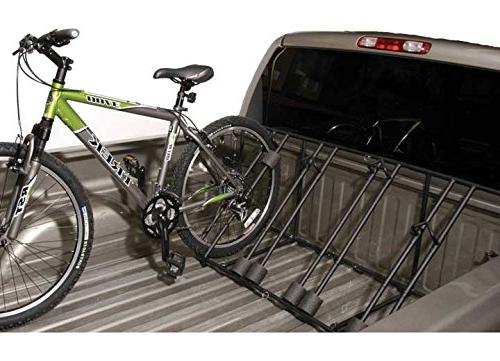 This gem from Heininger is a steal for the price. It is highly rated online due to its quick assembly, lockable cable option, and no-tool setup. It also allows the user to lock down four bikes at a time. Like the last entry, it is careful to avoid scuffing or damaging the truck's exterior in any way, which makes it a prime option for customers who care about their trucks just as much as their bikes.
Fortunately, this adjustable bike rack does not require the installer to remove their bike's front wheel. This makes transportation extremely easy. This bike rack extends between 54.5 and 66.5 inches to fit your truck model. If that's not wide enough, the kit comes with a spacer that stretches its reach from 60.5 to 72.5 inches.
When you're done using it, feel free to dismount the rake and use it as a stand-alone rack wherever you please. To use, simply roll your bike into place and lock it down with the tamper-proof cable. It fits inside most beds in pickup trucks, with the exception of step-side pickups that are too large for its reach.
Each box contains your bike carrier rack, a large 72-inch lock cable, and a smaller 10-inch lock cable. If you're on the fence, do not fret. Every package also comes with a limited lifetime warranty.
Buy Heininger Automotive 2025 Advantage SportsRack BedRack on Amazon
---
Thule Insta-Gater Truck Mount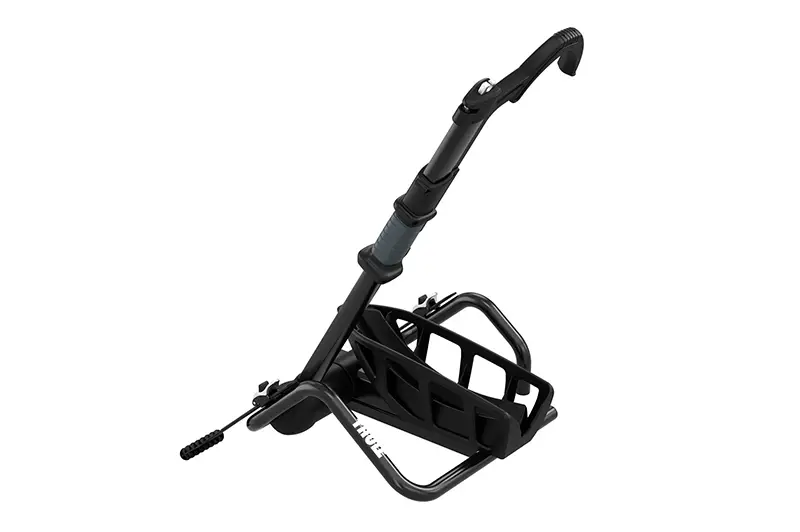 This sleek, black, wheel-mount bike rack is capable of fitting wheels from 20 to 29 inches. Its secure system allows it to grab hold of the front wheel without hurting the exterior of your truck.
Customers are very fond of this model, praising its ease of use and its stellar ability to be quickly loaded and unloaded. One downside is that the bike needs to be locked down with a one-key lock cylinder, which has to be bought separately.
For tailgates 34 inches and higher, you can install two instigators. For tailgates 51 inches or higher, you can fit three instigators. Thule is one of the most trusted and well-known names in biking products, and this bike rack confirms their reputation.
This model protects your truck and bike while remaining completely drill-free and free of any sort of bolting. It measures 30 x 17.8 x 9 inches and weighs a portable 9.9 pounds for easy transport.
Perhaps most important, its ratcheting system allows for quick and secure loading to make sure no damage comes to your bike. If you decide that you need to step away from your truck for a bit to get some fresh air, you can feel confident your bike is safe from theft because of the lockable system. It has been awarded 4.2 stars out of 5 from nearly 100 customer reviews on Amazon, with many praising its effectiveness alongside its reasonable price.
Buy Thule Insta-Gater Pro Truck Bed Bike Rack on Amazon
---
Pipeline Racks Truck Bed Bike Rack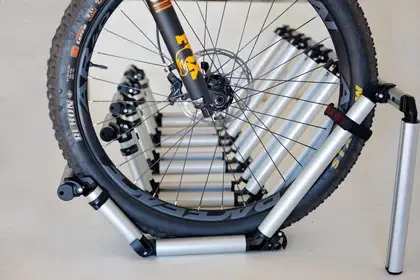 This is the most premium option on our list, but it certainly has plenty of benefits for the cost. It is a spatial improvement from some of the other entries, as it can comfortably hold four bikes at a time.
It's not just for looks either. This rack gives upstanding support and security to your bikes. This behemoth from Pipeline is able to fit most pickup trucks with ease, as long as they are at least 58.5 inches wide and have readily available tie-down hooks.
Why are they so expensive? Part of the reason is that they are not mass-produced. In fact, they are individually hand-crafted. The company also offers custom racks to fit any needs this model may not meet. Like some of the other models, you are not required to remove your front wheel to fit your bikes, which brings a new level of convenience to bike transportation.
Of all the bike racks, this one is probably the easiest to install. There's no need to drill any holes or cause any structural damage to your truck. Uniquely, this model adjusts to fit your bike's tires, holding them snug all the way from .75 to 2.8 inches.
The major downside, obviously, is the price, which will run you over $430 after shipping costs. It is also quite bulky with its 37-pound frame. Honestly, you can probably find a cheaper option that will work just as well. It currently holds a 4 out of 5-star rating on Amazon, but only 10 people have chimed in to review.
Buy Pipeline Racks Truck Bed Bike Rack on Amazon
---
INNO Truck Bed Bike Mount System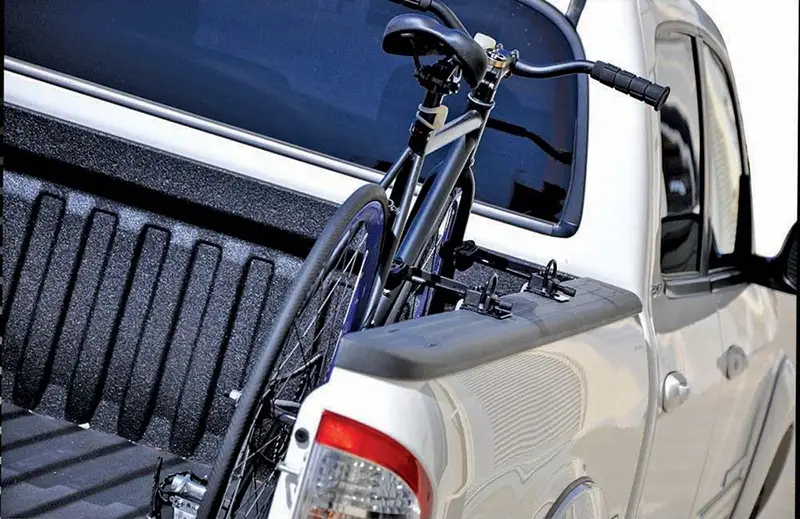 In stark contrast to the last entry, this truck bed bike mount comes in at well under $100. It comes in two sizes: c-channel and standard to meet your unique needs.
INNO is a trusted name in biking circles, and this mount has customers raving with an average of 4.4 stars (out of 5) with nearly 250 reviews on Amazon. Its shipping weight is just over 4 pounds, making it the most lightweight option on the list.
The threaded bolt that clamps on top of (and under) the rail is about 3.25 inches long, which should fit most trucks. While this model only holds one bike, it makes up for it in convenience and power. It works by using ratcheting straps alongside adjustable rods that keep the bike tethered down by its fork and seat.
There's no drilling needed in the installation process, and it comes with hardware included in the price. If that isn't enough, it is also rust-resistant, making it a bike rack you can count on for years to come, rain or shine.
Customers rave about its easy installation and built-in D-rings (which carry a 66lb weight capacity) that are virtually guaranteed to give you a good angle for cable locks and other anti-theft measures.
For those with limited truck bed space, you're in luck. This INNO rack is built to save the user as much space as possible, so they are free to carry an extra load or two. Better yet, if you don't like it, you're not taking much of a risk, as it comes standard with a limited lifetime warranty.
Buy INNO Truck Bed Bike Rack on Amazon
---
Final Thoughts
No matter what kind of truck you drive and no matter what kind of bike you plan on loading up, there are dozens of viable options out there to fit your needs – even beyond what we've included here.
For our reviews, the shining stars were the Heininger, INNO, and Thule options, with each bike rack offering their own unique set of benefits. Between those options alone, there is a bike rack for every price range, every model of bike, and every type of truck under the sun.
Ultimately, just make sure it's an option that you can see yourself using for years to come. That should make you consider the options with lifetime warranty plans. When all is said and done, you want to ride with confidence. The right bike rack will help you do just that.