You use the back of your pickup truck to carry all sorts of cargo. When it's not carrying cargo, it faces constant exposure to all kinds of weather conditions.
If the bed of your pickup truck doesn't already look weathered and faded, it will soon — or you could prevent that by installing a drop-in bedliner.
Best Drop-in Bedliners
But since there are so many options on the market, finding the perfect truck bed liner for you and your truck can be confusing. To help with this, we've put together a list of the best drop-in liners for a pickup bed and what makes each special.
By the end of our review, you won't have any trouble picking the best one for you. But before we get to that, let's take a look at what a truck bed liner is and what you need to know about picking the right one.
What are Drop-in Bedliners?
Think of a drop-in bedliner as a bed mat that you install on the floor of your truck's bed to protect it. It serves the same function as a spray-in bedliner, but unlike a spray-in liner that's permanent, drop-in liners are removable.
Typical truck bed mats are available as a form-fitted plastic sheet or a custom-fitted plastic shell. Many vehicle manufacturers provide their own brand of drop-in bedliners.
Alternatively, you could use an aftermarket option. But more often than not, bed protectors from vehicle manufacturers are more durable and effective than aftermarket options.
A quality drop-in bedliner can protect the bed of your truck from the dangers of exposure to the elements. Constant exposure to harsh UV rays will cause the color of the bed to fade, whereas exposure to rain and snow will cause it rust. These aren't things you want for your new truck.
Installing a truck bed mat is also a good idea if you use your truck to carry cargo. The bed mat will prevent scuff marks on the truck from moving heavy cargo around the bed. It will also prevent damage to the cargo by providing an anti-skid surface that keeps it stationary while you drive.
Aside from protecting your truck and cargo, drop-in liners make the back of your truck look neater and more attractive. The heavy fabric of a high-quality liner will also keep your driving more comfortable by deadening noise and vibrations coming from the pickup bed.
Now that you know the benefits of installing a bed liner, let's take a look at how to find the best one for you.
How to Pick the Best Truck Bed Liner?
Various manufacturers have their own versions of drop-in liners. The bed mats from some of these manufacturers are top quality and highly durable, whereas others offer very little bed protection.
If you want to find the perfect one for your truck, you need to know what to look for. To help with this, keep an eye out for the following when selecting a truck bed mat.
Material
The material of a bed liner will determine how durable and effective it'll be at protecting the bed of the truck. If you use the truck bed for heavy cargo, you'll be better off with a liner made of wood or rubber.
But if you want something that protects a pickup bed against UV rays, a UV resistant bedliner is the way to go. Some of the best truck bedliners are made of polypropylene or polyurethane.
Texture
The texture is another factor that you need to consider because it'll affect not only how you load cargo into your truck, but also the comfort of the truck bed.
If you spend a lot of time in the bed of your truck, you'll want a liner that's soft enough to make the place comfortable. That added cushion will make sure you don't get hurt when kneeling, sitting, or in any other position in the bed.
Such liners have a rough and rigid texture that's also ideal for keeping cargo in place during trips, preventing them from sliding around and possibly damaging your truck.
Alternatively, you could go for a liner with a slick textured surface. It's the ideal choice if you want to be able to slide cargo around the bed with ease during loading.
Installation
The easier a bed liner is to install, the better. Since most DIY drop-in liners are basically mats, the installation process is as simple as placing it on the floor of the truck bed. Unlike spray-in and roll-on liners, there's no need to sand the bed smooth before installing a drop-in liner.
Proper installation will ensure that the surface of your truck bed is evenly covered. For the best results, be sure to follow the installation process recommended by the manufacturer.
Price
Affordability is key to getting a product you are happy with. But don't sacrifice quality for price. Instead of going for the cheapest liner you can find, go for one that offers all of the features you need at a price that you are comfortable with.
Maintenance
Even the most rugged liner will require some maintenance. But the easier itis to maintain a bedliner, the better. Go for an option that is stain-resistant and waterproof. It'll be easier to clean and require less maintenance, especially if you use your truck for loading various types of cargo.
Size and shape
A truck bed liner should be large enough to cover all parts of your bed. Its shape should also be compatible with the design of your bed with provisions for the wheel wells and sidewalls. For your new truck, go for a liner with a custom fit to ensure it leaves no part of your truck bed uncovered.
Best Drop-in Bedliners Review:
Protection for the Bed of your Truck
Dee Zee DZ87005 Heavyweight Bed Mat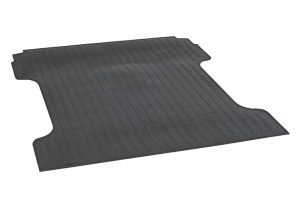 Since 1977, Dee Zee has been manufacturing and delivering state-of-the-art truck accessories, and its DZ87005 Heavyweight Bed Mat sticks to the quality the brand is known for. This truck bedliner may not be the most expensive on our list, but it is one of the best heavy-duty ones you can get.
Its pocket-friendly price means that you'll be getting a cost-effective solution to keep your truck's bed and cargo safe from scratches and dings. As if that's not enough, you get a three-year warranty on the product to ensure your purchase is risk-free.
The anti-skid surface of the mat keeps your cargo in place while your truck is on the move, whether it's on a rough country road or the highway.
For further security, there are rubber cleats on the bottom of the mat that keep it stuck to the bottom of the truck bed while you are loading or offloading cargo. The cleats also ensure that there are no worries about the mat flying off the bed of your truck when you are speeding with no cargo in the back.
The mat comes in a custom fit for your truck. The custom fits contours around your truck's wheel wells, providing optimal coverage for the truck bed.
The mat is thick enough to dampen any excess noise or vibrations emanating from the pickup bed while you are in transit. And even better, the mat is built to last and can withstand long exposures to all types of extreme hot and cold weather.
During wet seasons, you don't have to worry about mold and other water damage, thanks to the mat's waterproof and mold-resistant design. The cleats on the bottom also provide enough room for proper drainage beneath the mat.
The durability of the Dee Zee truck bed liner comes from the .375-inch thick Nyracord rubber compound it's built with. It's highly dense and capable of resisting abrasion and tears from the movement of heavy cargo.
Keeping the mat clean is easy, thanks to its stain-resistant fibers that deflect common gas or oil spills. Its custom fit can fit into the back of most trucks, especially ones that are similar to the Ford F-150 pickup.
Pros
DIY easy installation
Skid-resistant surface that stops cargo from moving and damaging your truck
Heavyweight and highly durable liner
UV-resistant to prevent damage from long exposure to harsh sunrays
Rubber cleats on the bottom keep the mat from shifting
Easy to clean and deflects common fuel and oil spills
Affordable price
You can trim it to fit smaller truck beds
Cons
Tailgate mat is sold separately
Isn't a good fit for truck models that are larger than the Ford F-150
Buy the Dee Zee Heavyweight Bed Mat on Amazon
---
BedRug Bed Mat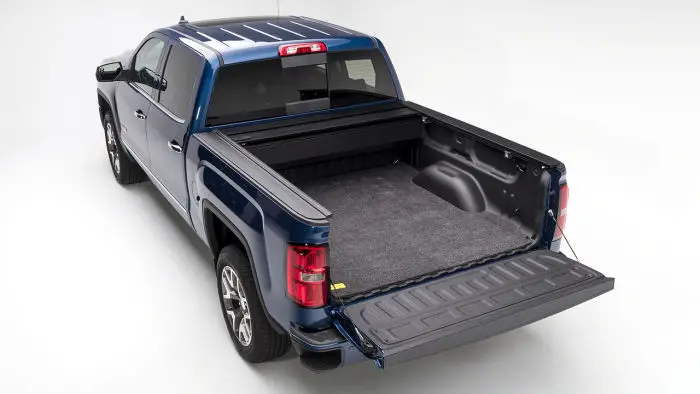 Truck owners who want a bed mat that can turn the back of their truck into a comfortable place to take a nap choose the BedRug Bed Mat.
The mat is so thick and springy, it feels more like a carpet than a truck bed liner. But it's far tougher than any carpet you have in your home. Thanks to its toughness, the mat is durable enough to protect your truck bed and can withstand extreme weather conditions, as well as abrasions from your cargo.
It is also non-skid to prevent your cargo from sliding around and putting dings in itself or your truck. Instead of having to deal with the hard surfaces of your truck bed, the ¾-inch thick comfort of the mat provides a cushion for your knees and other parts of your body to make loading and offloading cargo less painful.
The BedRug bed mat is made of 100% polypropylene, a plastic that can withstand extreme UV rays and cold weather. The material is so tough that it can deflect damage from battery acid, gravel, and other abrasive substances.
Even though this bed liner is thick and cushiony, you don't have to worry about mold and mildew. That's because the mat is made with the same type of waterproof fabric that lifejackets use. Instead of absorbing liquids, the mat will deflect it and run it off your bed through drain holes.
When it comes to installation, the BedRug Bedliner doesn't disappoint with its design that's made to fit like a glove. It's a perfect fit for a wide variety of trucks, especially those from Ford, GMC, Toyota, Isuzu, Chevrolet, Dodge, Mitsubishi, Nissan, Lincoln, Mazda, and Plymouth.
If you want to make the back of your truck safer for precious cargo and more comfortable for you, this is one of the best plastic bed liners for you.
Pros
Slip and skid-resistant fiber to protect your precious cargo
Very comfortable to protect your knees and joints while working in your truck bed
Rugged liner that can withstand heavy cargo and harsh weather conditions
Durable build with long-lasting performance
Fits perfectly into a wide variety of truck types and models
UV-resistant and won't fade under harsh sunrays
Provides easy access to accessories and factory tie-downs
Resistant to bleach, battery acid, oil, and other powerful stains
Mold and mildew-resistant
Quick and easy installation process
Cons
If you don't install it properly, it might fly out the back of your truck when speeding
No provision for water drainage under the mat
Its textured surface requires cleaning more often than less textured models
Buy the BedRug Bed Mat on Amazon
---
RUGGED LINER Under-Rail Bedliner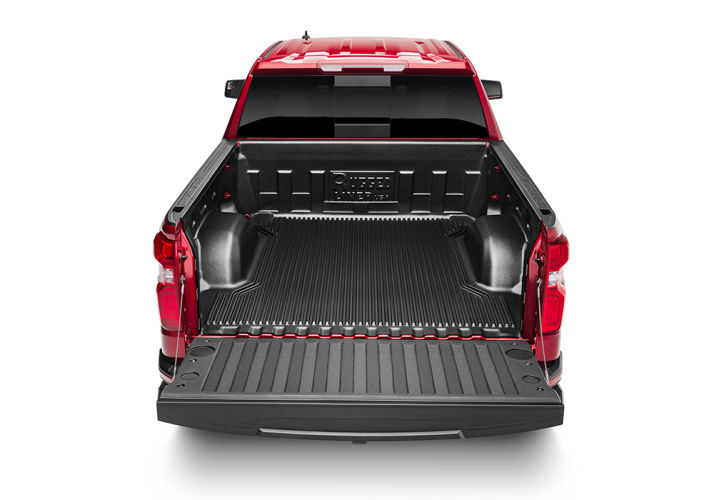 Made in the USA, the Rugged Liner Under-Rail Bedliner compromises on nothing when it comes to quality and durability. It's a great value product that takes a slightly different approach to protect truck beds and cargo.
Unlike other truck bed liners that provide you with just enough material to cover the floor of the back of your truck, the Rugged Liner provides you with a tailgate liner as well. Many truck owners will appreciate this because having a tailgate that looks beat up while your truck bed looks brand new can be very unsatisfying.
The other interesting thing about the Rugged Liner is that it lets you choose the type of protection that best suits your truck. You can get an over-the-rail bedliner or an under-the-rail bedliner fitting option to provide optimal protection for your truck.
Whichever fitting options you choose, the bedliner you receive will be a highly durable product that's made with high-density polyethylene. It's tough enough to withstand harsh UV rays, cold weather, and wet weather without cracking, fading, or breaking.
It's also resilient enough to withstand the friction of heavy cargo while you are loading and unloading your truck. Once you start driving, the skid-resistant surface of the mat will prevent your load from moving around and getting damaged.
With this mat in place, you won't have to worry about scratches or dings in the back of your truck, including on your tailgate.
Another upside of this heavy-duty mat is its effectiveness at minimizing the typical vibrations and noises from a truck bed, giving you a more enjoyable drive. It works well with truck models from various brands, including, Lincoln, Chevrolet, Ram, Dodge, Nissan, Isuzu, Toyota, and Suzuki.
The Rugged Liner's high price may not be for everyone. But if you can afford it, you'll get an impressive product that'll last a long time, even if you use your truck commercially. And to protect your investment, the RUGGED LINER Under-Rail Bedliner comes with a lifetime warranty that guarantees your purchase is completely risk-free.
Pros      
No tools required for installation
Works well with various types of trucks
Comes with a liner for your truck's tailgate
Skid-resistant surface to protect your cargo
Enough coverage for the sidewalls of your truck bed
Highly durable and can withstand various weather conditions
Stain-resistant and easy to clean
Cons
Some customers complaint about trouble contacting customer service
Buy the RUGGED LINER Under-Rail Bedliner on Amazon
---
Penda 63011SRZX 6'6″ Bed Liner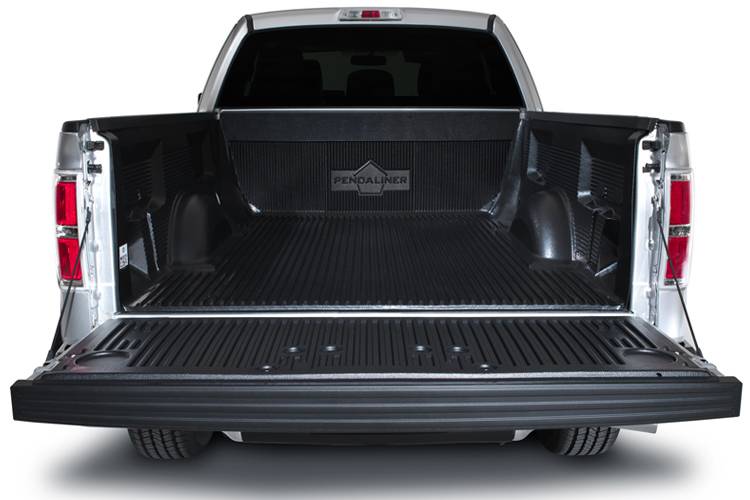 The Penda Corporation and Fabri-Form Company merged to form Penda-Form. One of the results of their union is the Penda 63011SRZX Bed Liner, a big favorite among truck owners in and outside the US for its quality and durability.
The Penda 63011SRZX combines knowledge from the unique experiences of the Penda Corporation and the Fabri-Form Company. The result is a stellar product that ticks all the right boxes when it comes to a durable and reliable truck bed liner.
The liner is anti-skid on the top and bottom to prevent your cargo from sliding around and the mat itself from budging when loading or off-loading your truck. The mat also has an under-rail feature that lets you easily attach a roll up tonneau cover, truck cap, or side rail to your truck.
Another interesting thing about this bedliner is its compartmental loading feature that uses Penda's molded-in board holders to separate your cargo. With this feature, loading your truck with cargo will be the most organized it has ever been.
Installing the mat requires no drilling or harming your beautiful truck in any other way. Simply lay the bed liner down, and you're good to go.
The bed liner's unique mix of polycarbonate-AB Sand thermoplastic polyolefin materials makes it super durable and resilient. It'll keep looking good regardless of the weather or how roughly you use your truck.
You can get the Penda 63011SRZX to fit into your Chevrolet/GMC, Dodge, Mitsubishi, Nissan, and other truck types.
Pros
Anti-skid surface at the top and bottom for optimal cargo protection
Rib design minimizes the risk of dents and abrasions
Gutters for preventing water retention
Water and stain-proof
Easy and quick installation
Comes with enough material to cover the tailgate
Cons
A bit pricey
Getting an even installation requires patience
Buy the Penda Bed Liner on Amazon
---
Conclusion
Bed liners are available in spray-on, roll-on, and drop-in options. Drop-in liners are far more straightforward to install and uninstall.
If you choose to go for a drop-in mat, remember that the best truck drop-in liners deliver top results when they have the right features. Such features include durable materials that can withstand extreme weather and abrasions, anti-skid surface, and a size that covers your whole truck bed.
For us, the truck bed liner that checks most of the right boxes is the Dee Zee DZ87005 Heavyweight Bed Mat, making it our top pick for the best drop-in truck bed liner.