Owning a truck means carrying stuff around in it; whether it's moving your kids to college, or toting construction supplies.
Your truck liner needs to last as long as your truck, or why buy it? You also want it to look great, and protect your valuable investment.
Best DIY Roll-On Bed Liners
Let's face it, sometimes what you put in the back of your truck will scratch or dent the bed, damaging the single protective layer installed by the manufacturer. 
A flawless truck bed isn't merely a matter of vanity. Once the paint is scratched or the bed liner damaged, the metal is exposed to the elements, making it rust faster and decreasing the lifespan of your vehicle.
Fortunately, there are many aftermarket options for truck bed liners that protect your investment and guarantee a long, healthy work-life for your truck. We'll talk about the pros and cons of each liner type, so you'll have all the information you need. 
In this article, we're focusing on the best roll-on varieties. We'll tell you everything you need to know; for example, roll-on bed liners add an important second protective layer on top of your existing paint and effectively seal and protect your truck's bed from damage and weather.
We'll also review four of the best roll-on bed liners available on the market today, so you know what to buy and why.
Buying a bed liner for your truck isn't an easy decision. There are many different types available; from a custom-designed drop-in liner that perfectly fits your model, to simple mats that protect the bed itself.
Also on the market are roll-on and spray-on bed liners that take a little more do-it-yourself know-how.
Let's take a look at all of these options.
What Types of Bed Liners Are There?
Drop-in
Drop-in bed liners are like bed armor; rugged and thick plastic that covers the entire bed of the truck. Because of the many different truck designs, it's essential to explore the various options to make sure the bed liner fits your model.
Drop-in bed liners are often more expensive but they also help protect the bed better by providing a thick, durable layer capable of withstanding heavy loads.
The downside? Drop-in bed liners don't provide much to prevent loads from slipping in the bed, since they are usually made from heavy-duty plastic without any skid-resistant material.
Bed mat
Another method of protection for truck beds is the mat liner. This is a simple, rugged mat that usually covers only the floor of the truck, protecting it from damage from heavy or shifting loads.
Mat liners are also available that resist load shifting and scraping.
You can use mat liners with most other types of bed liners to add even more protection. They're generally more affordable than drop-in liners, as well.
The disadvantage to a bed mat is that there is no protection for your wheel tub, tailgate, or the sides of your truck bed.
Roll-on
Roll-on, spray-on, or brush-on bed liners are a blend of polyurethane and polyurea applied directly over the paint. The liner then bonds to the original paint, adding another protective layer between the elements, your loads, and your truck.
Roll-on liners often require several coats to achieve the appropriate thickness.
While roll-on liners may not seem to be as robust as other types of liners, they do a terrific job protecting the bed.  They're also much cheaper than most other options, providing a solid DIY alternative to pre-manufactured truck bed liners. 
Most quality roll-on bed liner kits contain rubberized particles suspended in the mixture to provide an anti-skid surface. To make sure you get the best coating possible, the mixture needs to be thoroughly mixed.
Roll-on kits generally contain everything you need to do it yourself, including abrasion pads, rollers, and detailing brushes. However, you may still need to buy extra supplies to complete the job to your satisfaction.
They're a little bit of work, but with the money you'll save, and protection that you'll get, roll-on bed liners are well worth that little bit of time and effort.
How do you Apply Roll-on Bed Liners?
Applying your roll-on bed liner is a straightforward DIY project that you can easily complete in a weekend. But, to do it the right way, make sure to follow the instructions provided with your roll-on bed liner kit, and take care to have a few extra supplies on hand.
In this section, we'll go over the basic process of applying your roll-on liner, and provide a few tips to guarantee success.
Preparation
As with nearly everything, preparation is key, and will take up most of your time on this project. You won't have the best results unless you put in the time and effort to get it right.
Start with thoroughly cleaning the truck bed. There are several quality spray-on solvent products available on Amazon to get your truck bed ready for your liner. You want to make sure there is no dirt between the surface and your paint, or it can result in small imperfections in the application that cause your bed liner to chip or erode.
Most roll-on bed liner kits come with an abrasion pad to scuff up or lightly scratch the surface. This goes a long way to making a suitable texture for the liner to bond properly. If this step is skipped or incomplete, the liner will not bind to the truck bed
Make sure you measure out your truck bed to guarantee that you have enough material to finish the job. Also, it might be a good idea to have an extra roller or brush on hand.
Mask off the bed
Roll-on liner kits don't usually come with masking tape, so it's a good idea to invest in high quality tape. You'll want to carefully mask off hinges and the sides – basically, wherever you don't want the liner to go.
The coating is a thick, textured material, so it might cause your tailgate hinges to fail if you're not careful. Take your time with this step – again, preparation is key.
Mix thoroughly
Roll-on bed liner is a thick, viscous polyurethane/polyurea blend with bits of rubber mixed in to provide a skid-proof surface. Though kits often come pre-mixed, it's a good idea to thoroughly blend it with a quality stir stick to make sure the rubber hasn't settled to the bottom.
Better yet, if your retailer has a paint mixer, ask them to shake the can up for you just prior to using the kit.
Apply the bed liner
Using the provided rollers, carefully paint on the liner. For tighter spaces, corners, and detail work, use one of the provided detail brushes or one of your own brushes. Don't expect to be able to use that brush again, though, as the mixture doesn't come off.
Even though most of the truck bed coating kits come equipped with rollers and a brush, it's always a great idea to have extras on hand if you want to finish the job without running to the store.
Some liners are thinner than others, so they may require a second coat to get the thickness and protective coating you desire.
Pro-tip: Latex gloves during the application process will save a lot of clean-up time, and your skin.
Let it cure
Once you've entirely coated all the surfaces, give the liner some time to cure. Most truck bed liner kits recommend at least 24 hours before the coating is dried and ready to use, but we advise giving it a full 48 hours for the best results.
There are a few companies that offer spray-on aftermarket hardeners, but you should still allow at least 24 hours for the liner to set properly.
Some Other Considerations
Rolling or painting on your bed liner isn't the only way to apply it. You can spray on some of the thinner brands of bed liner materials using a spray gun.
However, it usually requires several coatings to get the same level of protection, and you'll want to thoroughly clean your spray gun once you've finished to limit the risk of damaging it.
Roll-on bed liners are a fantastic second level protection for your truck bed, but they aren't perfect. They resist hazardous weather conditions, are mostly waterproof and stain proof and provide a non-skid surface to transport your loads. But sharp and heavy loads improperly secured may still scratch the material.
Also, the polyurethane blend is vulnerable to UV rays, which can make the coating brittle over time. Many brands are also UV resistant, but it's still a good idea to keep an eye out for damage or crumbling.
If you can, keep a little of your liner brand on hand to touch up damaged spots when necessary.
Best DIY Roll-On Bed Liners
The best roll-on bed liners are those you only have to coat once, such as the Herculiner products. But, regardless of which brand you choose, always make sure you have enough materials and supplies on hand to complete the job in one session.
In this section, we'll talk about the four best roll-on truck bed liners available today on Amazon.
As always, make sure to thoroughly read the instructions with any product purchased, paying particular attention to the safety instructions and precautions.
Many of these bed liners contain hazardous or toxic chemicals, so make sure your workspace is adequately ventilated and wear a breathing mask when applying the liner.  
Herculiner 6-foot Truck Bed Roll-On Bed Liner Kit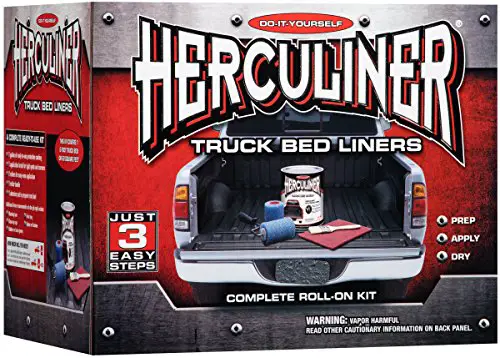 Herculiner was one of the first manufacturers of roll-on bed liners, and as far as we're concerned, they're still the best. This complete roll-on bed liner kit comes with almost everything you need to get your truck bed protected.
The kit comes with two high-quality rollers, a detail brush, abrasive pad for prepping and 1 gallon of pre-mixed, ready to paint coating.
Of all of the roll-on liners we've reviewed, the Herculiner is the easiest to use. The manufacturer claims it's five times thicker than any of its closest competitors, which means you'll need only one coat to finish the job.
And, its polyurethane/rubber mixture comes pre-mixed, so it's ready to go straight out of the can without the need for time-consuming mixing and blending.
The Herculiner pickup truck bed liner offers an excellent skid-resistant surface along with consistent weatherproofing, which won't require a second coat. Some reviews claim that it's not as UV resistant as others. Still, its thickness and ease of application make it the best bed liner for the money.
Herculiner states that its product offers UV protection as well as protection against salt, chemicals, stains, rust, and everyday pickup truck bed spills.
On the downside, the rollers and brushes provided might not be up to the task. They can get overloaded with the material, and the brush might not leave the sort of finish you want, so we recommend having a second brush on-hand just in case. Pick up a high-quality roll of masking tape, too.
Buy Herculiner 6-foot Truck Bed Roll-On Bed Liner Kit on Amazon
---
Herculiner HCL1B8 Brush-On Bed Liner Kit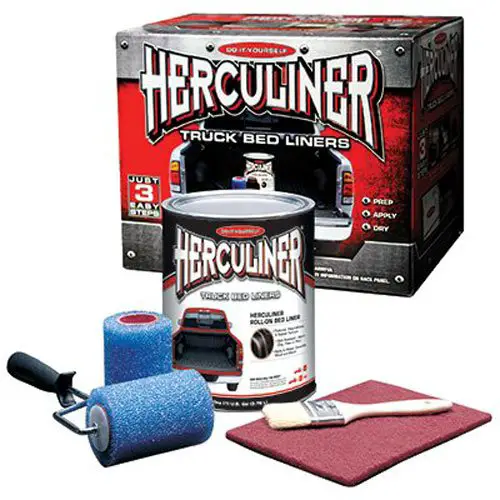 As we mentioned above, Herculiner is the oldest name in the roll-on truck bed liner business. They pioneered the technology and process for creating a mixture capable of thoroughly coating a truck bed in one layer.
The HCL1B8 Bed Liner kit continues the tradition of an excellent product that is super easy to apply and contains just about everything you need to do the job right.
The Herculiner HCL1B8 kit comes with two rollers, a roller handle, an abrasion pad for preparing the truck bed, and a detailing brush for corners and details. You can get it in either gray or black, though the price differs slightly between the two.
The kit comes with a single gallon of the mixture, but there are other amounts available; or you can buy the single gallon alone if you already have all the other materials.
Herculiner boasts that their product is five times thicker than their competitors, making it one of the only roll-on liners available that you can apply with a single layer rather than multiple coats. It comes pre-mixed with the skid-resistant rubber thoroughly blended straight out of the can.
According to the manufacturer, there is no mixing necessary, though you may want to thoroughly stir it if you're doing minor touch-ups on an existing liner.
You may still need a few aftermarket accessories to complete the project as the rollers and brush are the same as those included in the 6-foot truck bed kit, meaning they're not as robust as store-bought rollers or brushes.
Also, the kit doesn't include masking tape to mark off areas of your truck bed that you don't want to be painted.
Buy Herculiner HCL1B8 Brush-On Bed Liner Kit on Amazon
---
Raptor Black 2 L Coating Roll-On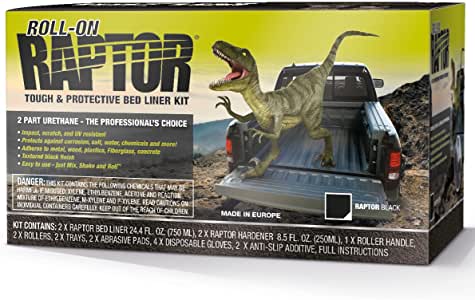 Raptor produces another quality roll-on bed liner that affords excellent protection for your truck bed, defending your truck from stains, UV rays, scratches, and rust. It also provides one of the most comprehensive kits of any of the products reviewed. This mixture is also water-resistant, so it works well on any surface you may want to be waterproofed, including boats.
The Raptor paint is somewhat thinner than the Herculiner brand, which is probably why the complete kit comes with two liters of the paint rather than one.
The kit also contains two bottles of hardener, one roller handle with two rollers, two abrasive pads, four disposable gloves, and two paint trays, making it the most comprehensive kit available.
You may still want to get a few extra rollers and a brush for tight spots and detailing, however as the roller handles aren't very tough.  
Unfortunately, the mixture isn't pre-mixed and requires a little know-how and preparation in addition to the preparation techniques mentioned above. You will need to add the hardening additive and the rubber skid-resistant additive.
As this can be an involved process, the kit includes full instructions on how to do it properly, but it does take a little extra time to set up.
Like other roll-on bed liners, Raptor comes with rubber skid-resistant materials in the mixture, which works very well to prevent loads from shifting around in transit. It's also resistant to stretching and impact, making it a terrific suit of armor for your truck bed.
Though the kit includes almost everything else you could need, it doesn't contain masking tape.
Buy Raptor Black 2 L Coating Roll-On on Amazon
---
Dupli-Color BAK2010 Bed Armor DIY Truck Bed Liner with Bed Armor Kit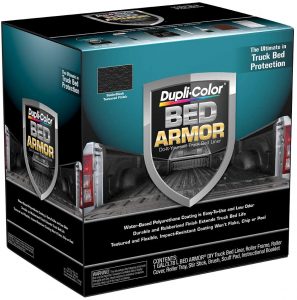 Last, but certainly not least on our list of best roll-on bed liners is the Dupli-color Bed Armor from Dupli-color, which is a water-based paint with rubberized pellets added to provide a skid-resistant surface. It's very versatile, but it might take all of your DIY skills to get it exactly right, as it is a much thinner mixture.
Dupli-color contains Dupont Kevlar, which provides its resilience and strength. But, as we mentioned, it's a much thinner mixture that requires a lot of exact and precise preparation.
For the best results, please read the included step-by-step instructions carefully. We found that many customers had complaints resulting from inadequate preparation or careless mixing.
The Dupli-color kit comes with 1 gallon of Bed Armor coating, roller cover and frame, detail brush, roller tray, scuff pad, and stir stick. As we mentioned, the mixture is much thinner than others, so you'll likely use the entire gallon.
Dupli-color also sells the gallon cans individually and an aerosol version for touch-ups.
Unfortunately, Dupli-color is not easy to install, requiring extra time and special attention to get the mixture right. It's also not very durable due to how thin it is compared to others. You may experience cracking and peeling if you misapply it.
In addition, it isn't recommended if you regularly carry heavy loads. But, if you're looking for an inexpensive roll-on bed liner to help protect your truck from the elements, or if you don't carry big loads often, this is a perfectly adequate bed liner.
Buy Dupli-Color BAK2010 Bed Armor DIY Truck Bed Liner with Bed Armor Kit on Amazon
---
Final Thoughts
When purchasing a roll-on bed liner for your truck, it's essential to consider how much you put in the back of your vehicle, and how often you carry things.
If your pickup gets a lot of regular use, including moderate or heavy loads, you might want one of the thicker products like Herculiner or Raptor.
However, if you're not planning on carrying much, something thinner and stain-resistant like the Dupli-color Bed Armor might be enough. Not all roll-on products are created equal, and some require a great deal more preparation and mixing than others, which could affect your decision.
Take the time to carefully read any instructions provided with whichever kit you purchase and follow them precisely if you want to get the best results.
Whether you choose a full drop-in bed liner, a simple bed mat, or a roll-on is a matter of personal choice. But, in most circumstances, it's not a bad idea to use several different bed liner options to ensure the best all-around protection.