If you asked me what the 3 most important things are to purchase for your truck after buying it, I would probably say floor mats, a bed liner/ bed mat, and a good coat of wax.
Essentially, protecting as many surfaces as possible will have many benefits down the road.
Our Best Truck Bed Mats 
What Are Truck Bed Mats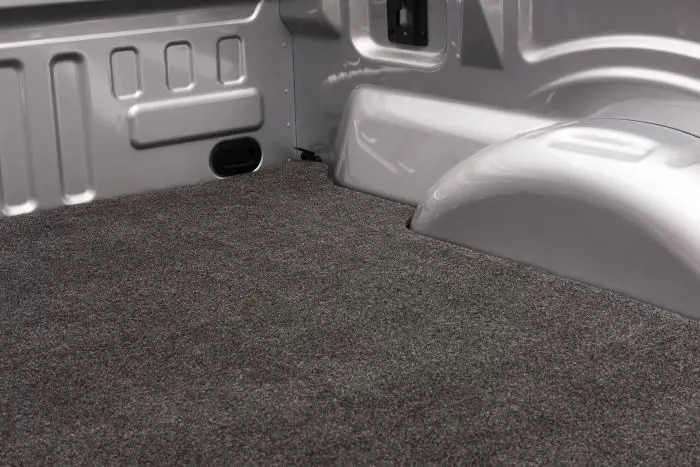 Pickup truck bed mats are mats made out of a heavy-duty material such as a rubber material or a hard plastic that cover most if not all the floor in the bed of your truck.
They serve a variety of purposes like preventing dings and abrasions, keeping cargo in place, and protecting paint. 
Not all bed mats are created equal, and it's important to understand the different options on the market to decide what best fits your needs.
What Are The Different Types Of Truck Bed Mats?
The 2 main types of truck bed mats are rubber mats and plastic mats. Both of these are not to be confused with a spray-on bedliner such as Line-X. 
Rubber Truck Bed Mats
Rubber truck bed mats are usually drop-in, and they can either be custom-fit or universal fit. Universal fit mats are usually a simpler utility mat at a lower price point on Amazon. 
Plastic Truck Bed Mats
Plastic mats are usually made out of a polypropylene product, and this allows them to have a custom, form-fit. Plastic mats tend to be a higher quality product at a higher price point than their rubber counterpart.
How Do Truck Bed Mats Work?
Truck bed mats work by giving your cargo a softer surface to sit and slide on. The corrosion and UV resistant material works to protect your truck bed while also protecting your cargo.
Bed mats are held in place by their own friction or an assortment of fasteners, but both options provide for easy installation. 
What Do You Look For In The Best Truck Bed Mats?
The main factors I take into account when looking at truck bed mats are how much slip/skid resistance it has, the material it's made out of, and what kind of fit it is. 
I prefer a truck bed mat, whether it's made out of a plastic or rubber compound, to have a good amount of friction to prevent cargo from slipping and sliding around while driving. That being said, I don't want so much friction that it becomes difficult to pull items out of the bed. 
I have a bias toward a plastic material, but this is strictly a personal preference. The material affects what chemical resistances the product has, and it usually changes what kind of fit is available. 
Lastly, a perfect fit mat is preferable to a universal fit because it simply covers a larger area of the bed, protecting more of the surface. 
Best Truck Bed Mats Reviewed
1. BedRug XLT Mat (Our Top Pick)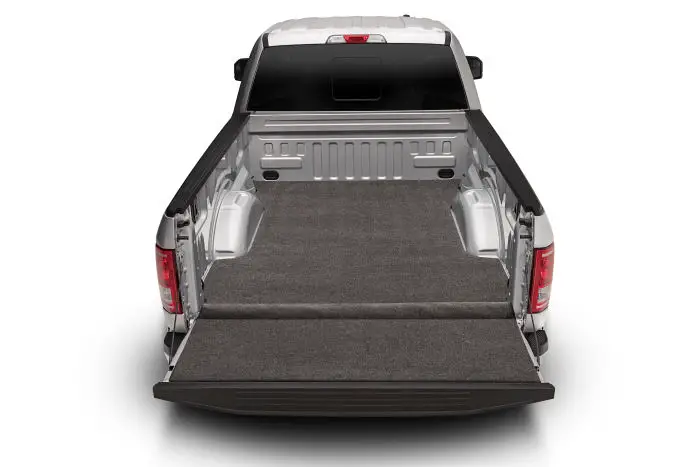 The BedRug XLT truck bed liner differs from the other products in that it is a carpet-like material made from heavy-duty polypropylene. Even though it looks and feels like carpet, this mat is waterproof, chemical, and stain resistant. 
BedRug's claim is their mats can "handle everything you throw at them: from mulch to bleach.â€
This BedRug bed mat is made to be a custom fit for your truck model. It also has an extra thick padded underlayer to protect against dents, and it has a new tailgate gap guard to prevent that annoying debris build-up.
Pros
Integrated tailgate gap guard
Slip and skid resistant
Flat surface
Cons
Minor installation needed
Buy The BedRug XLT Mat On Amazon
---
2. Dee Zee Universal Heavyweight Rubber Truck Bed Mat (Best Budget)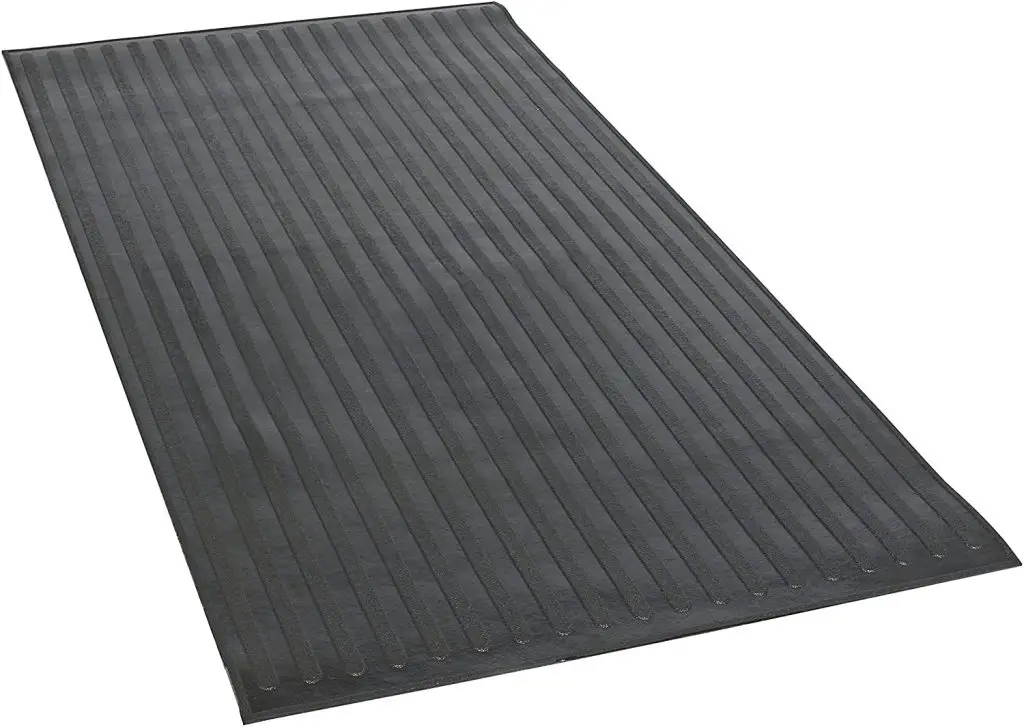 Proudly made in the USA, the DeeZee Heavyweight Bed Mat is a universal fit rubber truck bed liner. The mat measures at 4' x 8' and 0.375†thick, so it requires trimming to fit most truck beds and usually only fits between the wheel wells, unlike something such as the Westin 50.  
This drop in liner has integrated rubber cleats on the bottom side to help keep it in place as well as allow water to drain. 
There are few names in the truck accessory industry that match the reputation of DeeZee, and the quality shows. This mat provides great durability with the ability to withstand various weather conditions and resist abrasions.
Pros
Waterproof 
Extra thick Nyracord rubber
Cons
Trim to fit
High friction
Buy The Dee Zee Universal Heavyweight Rubber Truck Bed Mat On Amazon
---
3. WeatherTech TechLiner – Bed Liner and Tailgate Kit (Best High End)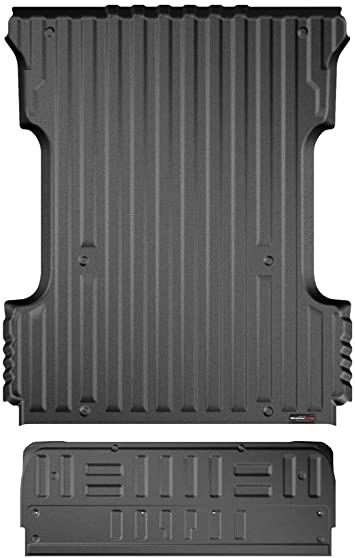 When you think of anything to do with an automotive mat or accessory, WeatherTech is usually who comes to mind. 
The WeatherTech TechLiner is a high-quality truck bed liner used by truck owners across the USA. Just enter in your make and model, and this bed liner will fit the exact contours of your truck bed, covering the maximum surface area. 
Whether it's battery acid, a fuel spill, or extreme temperatures, this product is sure to be able to handle it. 
Pros
High quality
Lifetime warranty
Included tailgate mat
Cons
Minor installation required
Buy The WeatherTech TechLiner – Bed Liner and Tailgate Kit On Amazon
---
4. BedRug Impact Mat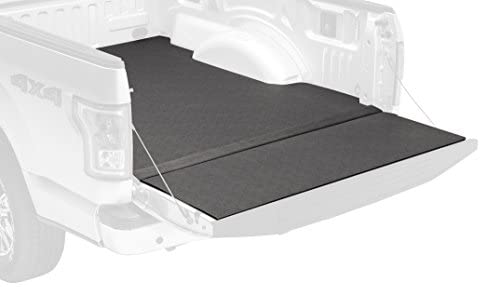 The BedRug Impact truck bed liner is almost identical to the XLT with features such as extra thick padding, perfect fit, and a tailgate gap guard. It also provides the same truck bed protection like being waterproof, chemical, mildew, and stain resistant. 
The difference, then, is in the material. The Impact uses a rubber material with greater friction, which could be more beneficial depending on your specific need, but I prefer to be able to slide cargo in and out with minimal effort. 
Again, this BedRug bed mat has the same features as the XLT, but I think the material moves this mat further down the list. 
Pros
Integrated tailgate gap guard
Slip and skid resistant
Flat surface
Cons
Minor installation required
High friction
Buy The BedRug Impact Mat On Amazon
---
5. BDK M330 Heavy-Duty Truck Bed Mat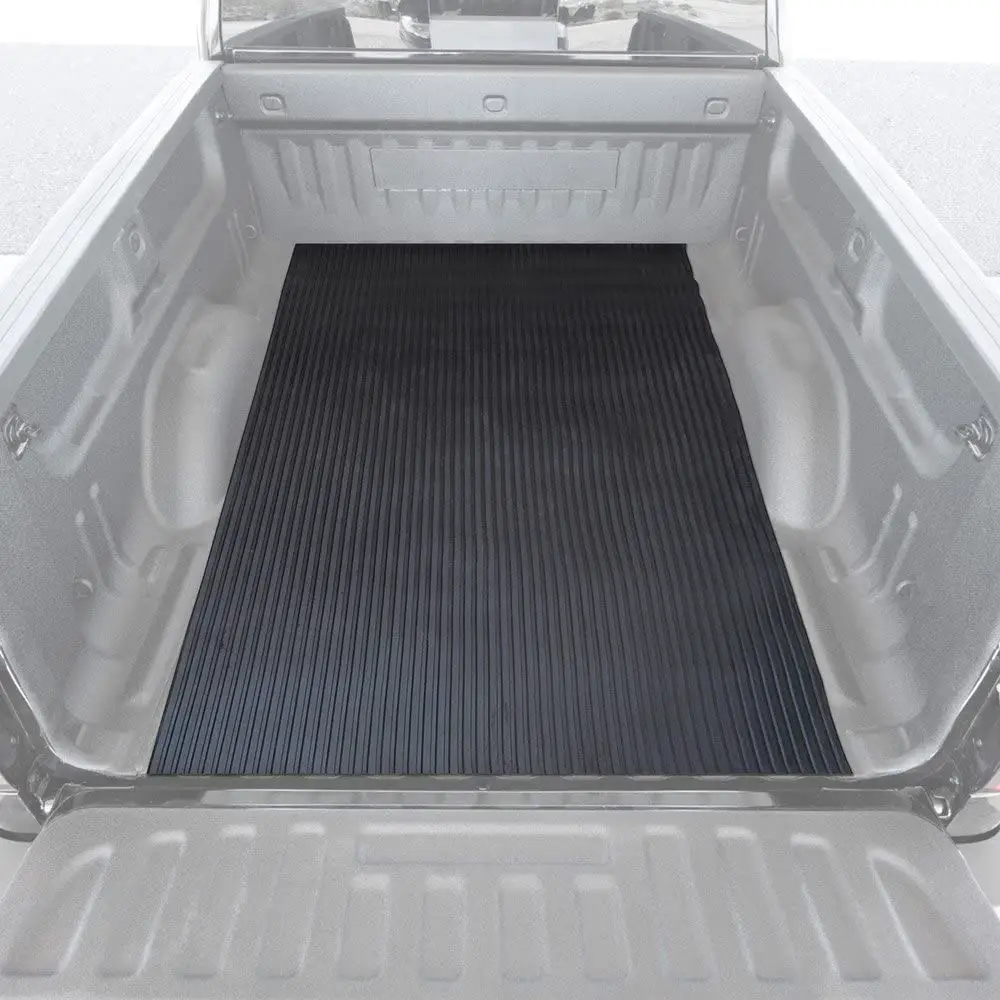 Rounding out our list at #5 is the BDK M330 heavyweight rubber bed mat. 
At first glance, this truck bed liner is identical to the DeeZee product at #2, but a few distinctions put this mat lower on the list along with giving it its lower price tag. 
This BDK comes in 1/16†thinner than the extra thick .375†DeeZee. It also lacks a knobby underside, so it lacks some water drainage ability and a non-slip surface on the underside. 
Although, if you're looking for a simple solution to protect your bed from something such as heavy cargo, this mat will do the job without breaking the bank. 
Pros
Optional tailgate mat
Inexpensive
Waterproof
Cons
Trim to fit
No rubber cleats
Buy The BDK M330 Heavy Duty Truck Bed Mat On Amazon
---
Final Thoughts On The Best Truck Bed Mats
Whether you drive a Chevy, GMC, Ford F150 Long-Bed, or a '94 Mazda B3000, one of these bed liners on Amazon will be able to protect your truck bed from the elements and the cargo you put in it. 
If you're really looking to protect the paint in your new truck, custom fit applications such as WeatherTech bed liners are probably the way to go. 
If you want some basic protection from dings and scratches, or just want to supplement an existing spray-on bedliner, a rubber mat, such as Dee Zee or BDK M330, would do the job. 
Once you get past the most important decision, which is to actually buy a truck bed mat, this guide should help you decide on the specific product depending on your needs.