Do you frequently transport stuff in the back of your pickup truck?
If you do, the bed of your truck probably doesn't look as good as it once did. To stop the bed of your truck from taking further damage, you need a high-quality bedliner.
Best Spray Bedliner Kit
Spray bedliners are a great choice because they are easy to use, suitable for all types of trucks, and can reach all of the corners of your truck's bed.

That said, there are several spray bedliner kits available from various brands that you can use for your truck. With so many options out there, figuring out the best one for you can be tricky.
To help with this, we've put together a list of the best spray-on bed liners on the market, as well as everything you need to know about picking the right one for you.
How Do Spray-In Truck Bed Liners Work?
You use a truck bed liner spray to protect the bed of your truck against wear from weather elements and abrasions from the things you place on it. Since taking your vehicle to a body shop for a bed liner installation can be pricey, a more cost-effective solution is to do it yourself.
Fortunately, you can easily find a DIY truck bed liner. These DIY products are simple to apply, and many of them come with spray guns or roll-on paintbrushes for you to apply them yourself.
The actual process of applying the liner on a truck bed is straightforward, but first, you need to clean the bed of the truck and sand it smooth. After applying the liner, your truck is good to go once the liner coating dries. Over time, you can also respray the bed to touch-up the liner coating.
How To Pick The Best Spray-On Bedliner
There are several bed liners available from various brands that you can use for your truck bed. Some last longer than others, while others come with a complete DIY spray-in truck bed liner kit for you to personally do the job with ease. If you want to pick a DIY option that'll work best for you, look out for the following features:
Brand Reputation
Some brands, like Herculiner and U-Pol, are famous for the impressive quality of their spray-on truck bed liners. By going for a bed liner from a brand with a good reputation, you increase your chances of buying a product that's of good quality and will satisfy you.
To confirm a brand's reputation, check out customer reviews regarding their products. If there are lots of positive reviews and can tell they are from actual buyers, read them carefully, so you'll be aware of the pros and cons that actual users have to report.
That way, you'll have a better chance of buying a quality product and having something good to say after using the product.
Versatility
Some bed truck liners are only good for putting a fresh coat of paint on the bed of your truck. Aside from making your truck look good, top-quality ones also provide high levels of protection against abrasions, high-heat, cold, snow, and more.
Some also make your truck bed anti-skid, which prevents cargo from sliding around in the back of your truck and getting damaged. A good liner will do this without leaving any residue on your cargo.
In summary, the best product for you will offer all of the features you need to keep your truck looking good and transport cargo safely.
Durability
The more durable a bed liner coating is, the fewer times you'll have to touch it up. Fewer touch-ups and re-coatings will save you a lot of hassle and money in the long run.
Another cost-benefit of a highly durable truck bed liner is that it will better protect your truck by shielding it against various weather conditions and extreme temperatures and won't easily scuff when you drag cargo over it. A quality product will prevent rusting and abrasions for as long as the protective coating of the liner lasts.
For all of these benefits, you need to go for a liner that's as tough as possible.
Warranties
Some brands offer warranties for their spray bedliner kits, and some don't. The upside of going for an option that comes with a good warranty is that if you are dissatisfied with the product, you can return it for a refund or replacement.
Warranties assure that your purchase is risk-free since you can get your money back if you don't like the product. Thus, if you're buying a bedliner for the first time, go for one with a good warranty.
Material
The materials used in a spray-on bedliner will greatly influence its durability, texture, price, and ease-of-use. Most spray-on liners contain one of the two following materials:
Pure polyurethane: Spray liners composed of this material are aliphatic and are typically more heavy-duty. UV rays do not affect it, and it can withstand various weather conditions. You can also get it in several colors, which makes it suitable for those that want something aesthetically pleasing. On the downside, it's pricier than other spray-on types.
Aromatic polyisocyanates and polyurethane: These are known as aromatic liners and are more affordable but not as durable. Also, they're available in fewer color options – mostly black.
If you use your truck frequently for heavy-duty work, you need a material that's abrasion-resistant, weather-resistant, waterproof, and easy to clean up. For that, go for an aliphatic liner.
Texture
It's easy to overlook the texture of a bedliner, but you shouldn't since it will affect how well the liner can serve you.
If you want a glossy finish and a sleek texture that you can easily slide cargo across, go for one with a smooth texture. But if you want one that'll stop your cargo from sliding around and getting damaged, go for a more rigid and rough texture that increases friction.
Benefits of Using a Spray-On Truck Bed Liner
If you've never used a bed liner, here are the top reasons to consider going for a spray-on option:
Easy to apply: Unlike a drop-in bed mat, you can apply a spray-in option with ease to any corner of your truck's bed.
Protection: A good quality spray liner that has been well applied will protect your truck's bed from scratches, dents, rust, and more. It'll also protect your cargo from abrasions by stopping cargo from moving around during travel.
Noise deadening: Heavy-duty liners will reduce the vibrations and noise your truck and cargo make while in transit, making your driving experience smoother and more relaxing.
Aesthetics: An ugly and beat-up bed will make the rest of your truck look ugly. But with a spray bed liner, you can touch up the bed of your truck whenever you want and always keep it looking good.
Reviews of the Best Truck Liner Spray
U-Pol 0820V-Gun Black Urethane Truck Bed Liner Kit with 726 Gun – Our top pick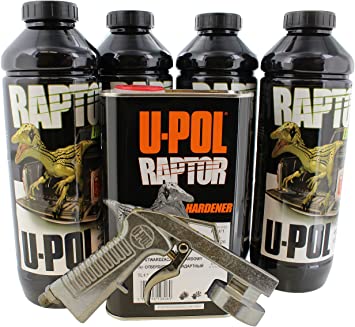 The U-Pol Raptor is one of the best DIY spray liners you can buy and our favorite for many reasons.
For your convenience, it comes with a complete kit that contains four bottles of liner solution, a can of hardener, and afree 726 spray gun. That means you get everything you need in one package at a very competitive price.
With four bottles of liner solution, you get enough product to cover the entire bed of your truck,with enough left over for future touch-ups. The free spray gun is an especially nice touch since you don't have to pay extra to buy one.
The spray gun is durable enough to last for multiple applications. Even better, you can use the spray gun for other paint jobs around the house. There aren't many spray liner brands that offer such a complete DIY kit at U-Pol's competitive price.
The liner itself is a 2-component urethane system that requires you to mix the hardener with the urethane paint. Four bottles of black urethane give you four liters to cover your truck's bed.
While the urethane itself is durable, mixing it with the hardener makes it even more durable and heightens the sound-deadening quality of the product.
The urethane spray mix is UV resistant, so you don't have to worry about UV rays or extreme temperatures damaging the bed of your truck. It's also stain-resistant to keep your bed clean and resilient enough to withstand abrasions.
If you think the U-Pol Raptor will only protect your truck bed from stains and the ravages of high temperatures, you are wrong. The liner also protects against moisture and low temperatures, preventing rusting. These qualities make it a good buy for keeping your truck looking good all year round.
A coating of U-Pol Raptor black urethane can last for a long time without scuffing, meaning it'll save you the cost of having to respray your truck bed constantly.
Whether or not it's your first time with a spray gun or applying a liner, you won't have any trouble figuring out how to use this user-friendly product. It comes with easy-to-understand instructions that explain how to prepare your truck, how to mix the hardener and urethane, and how to use the spray gun.
Once your truck is clean enough to paint, simply pour the liner into the container, shake to mix it, attach the gun, and you are good to go. One U-Pol Raptor Black kit is enough to spray a medium-to-large truck bed completely.
The solution dries quickly, which means that within minutes after spraying, you can get back to work with your truck with no worries.
Our only complaint about the Raptor truck bed liner kit is you can only get it in black. Fortunately, black goes well with almost anything, so it's not that much of a disadvantage.
Pros
Very competitive price
The kit comes with everything you need to do the job yourself
Protects your truck bed from rust, mold, abrasions, and the elements
Deadens sounds and vibrations while driving
Highly durable product that lasts long after application
Stain-resistant, making the truck bed easy to clean
High-quality finish that lasts after application
Cons
There's an unpleasant odor that disperses awhile after spraying
The gun is prone to overspray if you don't properly adjust its nozzle
Failure to wear protective gear when spraying can cause cancer or harm to your reproductive system
Only available in one color
Buy the U-Pol Bedliner Kit on Amazon
---
Herculiner HCL1B8 Brush-on Bed Liner Kit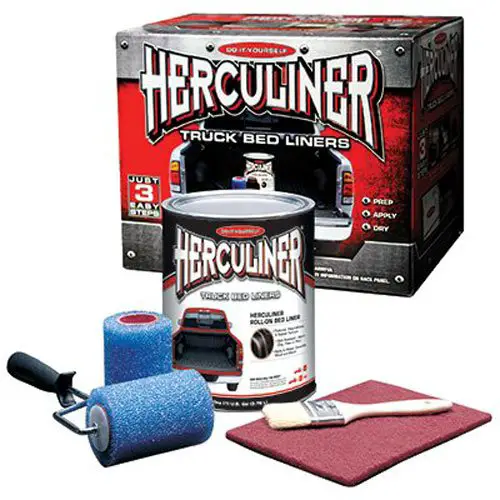 Herculiner is one of the oldest brands in the truck bed-coating business, and this product, for many, is one of the best on the market.
While it may not be our top pick for the best bed liner, its quality, durability, and impressive finish are definitely worthy of praise.
If you are looking to spend as little as possible on a bed liner kit without compromising on quality, you'll be happy to know that the Herculiner HCL1B8 is cheaper than the U-Pol 0820V.
Even though its price is budget-friendly, you still get a gallon of protective coating and a free applicator. But unlike the U-Pol, instead of a spray gun, you get a Herculiner brush and two rollers for applying the truck bed coating.
The Herculiner HCL1B8 brush ensures that you can easily paint all the corners of your truck bed and do spot touch-ups and the rollers let you evenly apply the liner and cover more square feet quickly.
The Herculiner brush-on bed liner kit takes things a step further by also providing an abrasive pad for sanding your truck bed and preparing for the liner application.
The process of applying the liner with either the brush or the roller is super simple, so simple that you can do it without the help of the manual. The gallon of bed liner requires no mixing and is ready for application once you open the can, but some users prefer adding a thinner.
The liner is made of polyurethane material, which is highly durable and contains rubber granules.
Once dry, you get a coating with a glossy finish while the rubber granules give the surface a skid-resistant layer.
This feature is important for truckers who want a pickup truck bed that prevents cargo from shifting and sliding around.
The liner is heavy-duty and capable of reducing the vibrations and noise of your truck.
Plus, each can contains enough material to coat a 6.5-foot truck bed twice heavily. That's the maximum protective coating that you can expect to last for a long time with no worries.
It doesn't matter whether the bed of your pickup truck is made of wood, metal, rubber, aluminum, fiberglass, or some other material. The HerculinerHCL1B8 can bond to it perfectly to give you an excellent finish.
The bonding makes this polyurethane coating one of the most versatile and durable on the market. Combined with its attractive price tag, this product is tough to beat for coating a variety of surfaces.
It's tough enough to withstand various weather elements and protect the beauty of your truck. Even though it doesn't come with a hardener solution, it's thick enough to prevent scuffs, rust, corrosion, and withstand solvents, gasoline, and other harmful chemicals.
If you'd rather apply your liner with a paintbrush rather than a spray gun, you can't go wrong with this roll-on truck bed liner. It's five times thicker than other brush-on liners and comes with everything you need to apply it yourself.
Pros
Bonds to all kinds of surfaces
Very attractive price for a great value product
Prevents rust and corrosion
Stain-resistant and easy to clean
Delivers an anti-skid surface to protect your cargo
Long-lasting protective layer with a glossy finish
Comes with a paintbrush for reaching tight corners
Two rollers for quick, even, and convenient application
Five times thicker than other roll-on liners for a longer-lasting coat
Cons
Only available in black
Having to switch between a roller and brush isn't as convenient as using a spray gun
Buy the Herculiner HCL1B8 Brush-on Bed Liner Kit on Amazon
---
Custom Coat BLACK Urethane Spray-On Truck Bed Liner Kit – 4 Liters
The last but not the least product on our list, is the Custom Coat BLACK Urethane Sprayer Kit. Like the U-Pol, it's a two-part spray liner that comes with a free spray gun.
The spray gun uses an air compressor to deliver an even spray that can adhere to most surfaces, including metal, fiberglass, wood, plastic, and aluminum surfaces.
What this means is that no matter what material you have on the floor of your truck bed, this bed liner can coat it with a perfect finish.
Aside from the spray gun, the Custom Coat Kit also contains four cans of liner solution and one can of hardener. There's also an instruction manual to make your DIY project as perfect and hitch-free as possible.
Where the Custom Coat BLACK surpasses the U-Pol and Herculiner is, unlike the others, it comes in several colors. Instead of just black, you can pick from black metallic, lime green, white, silver, red, tint-able, and other colors.
Regardless of which color you choose, you'll get a strong and durable finish thanks to the product's maximum-strength double polyurethane coating. This double coating is scratch and rust-resistant and can withstand the coldest and hottest weather.
Its hardiness makes it suitable for all truck users, including the ones who want their trucks to remain beautiful even though they use it for the dirtiest and roughest jobs.
As if that wasn't enough, the Custom Coat is available at a budget-friendly price, and one container provides a thick coating over a large space, making it a cost-efficient product.
Pros
You can choose the thickness of the protective coating
Doesn't chip or flake
The kit contains enough material to cover a medium-to-large truck bed
Convenient and easy to use sprayer
Can also work as a tailgate liner
Very attractive price
Reduces vibrations and deadens sound
Available in several attractive colors
Water, stain, UV, and scratch-resistant
Can bond to a wide variety of surfaces
Cons
The sprayer clogs if you don't properly thin the solution
Buy the Custom Coat BLACK Urethane Spray-On Truck Bed Liner Kit – 4 Liters on Amazon
---
Conclusion
When it comes to the best DIY bed liner, the three products above are the best the market has to offer. Our top pick is the U-Pol 0820V, but the best one for you will depend on your unique needs.
If aesthetics are your priority, the Custom Coat is a great choice because of its color options, whereas the Herculiner is for you if you prefer a brush-on to a spray-on liner.
Whichever one you eventually decide to go for, make sure it offers all of the features you need and compromises on little, especially durability.