In this article, we're going to review the best truck winches on the market. Winches can help to pull your pickup truck out of mud puddles, quicksand, snowbank, or rocky terrain. It's a lifesaver if you drive a truck off-road!
Well, it doesn't get better than this. Let's get started, shall we?
Our Best Truck Winches
What Winch Load Capacity And Size Do I Need For My Truck?
Here is the general rule; multiply the gross weight of your truck by 1.5 to find out how much load pulling capacity you need in a winch. For instance, if the gross weight of a truck is 10,000 pounds, then you should choose a winch with a minimum of 15,000 pounds (vehicle weight x 1.5) load-pull capacity.
Nevertheless, there is an exception to that rule; whatever the weight of your truck, you shouldn't choose a winch with less than 8,000 pounds load pulling capacity. Remember, you will be pulling a truck and not a small passenger car.
What Are The Different Types Of Winches For Trucks?
Electric Winch
An electric winch runs on a battery, and it doesn't rely on the vehicle's engine to operate. That is probably one of the reasons why it's the most popular type of winch for trucks. Not to mention, electric winches are usually cheaper and easier to install than hydraulic winches.
However, electric winches have typically less pulling power compared to hydraulic winches. Because of that, electric winches are ideal for low to medium weight.
Besides that, you have to think about a backup battery since you will need something powerful with enough juice to pull you out of that sticky situation. Also, it's possible for an electric winch to overheat and cause the battery to blow up after it has been running for a long time.
Hydraulic Winch
Unlike electric winches, hydraulic winches don't need battery-sourced electricity to do their magic. Instead, they rely on the steering wheel pump to operate. That means, you must run the vehicle's engine to operate a hydraulic winch; if the engine is dead, you're in big trouble.
The best thing about a hydraulic winch is that you can operate it non-stop for the entire day, and you don't need to worry about overheating or the battery blowing up.
Moreover, most hydraulic winches can pull more weight than electric winches. For that reason, a hydraulic winch is more practical if you're pulling a lot of heavy-duty recoveries than the average Joe.
On the downside, hydraulic winches are complicated to install; you will need a PTO hydraulic pump system plus a few extra accessories. Even if you install the hydraulic winch, it won't be easy to transfer it to another truck.
As far as the price goes, a hydraulic winch is usually more expensive than an electric winch.
How Does A Truck Winch Work?
Have you ever been stuck in mud, sand, snow, or tough terrain and you wanted to recover your truck? If a winch is mounted on your truck, you can pull out a cable or rope and secure it to a towing object; it could be a tree, rock, or any stable structure.
Once the cable is secure, the winch motor is turned on and it sucks the cable causing the truck to move towards the anchor object.
On that note, let's have a look at some of the parts you will find in a truck winch.
Motor: The motor is the engine that powers the recovery winch. It could be either electric or hydraulic.
Drive train: It operates like a transmission by transferring power from the motor to the drum. Usually, a truck winch comes with a worm or planetary gear on the drivetrain.
The drum: You see that circular shed thing that rotates and wraps the cable when you've activated the motor? That is the drum.
Cable wire: A cable wire is made out of stainless steel or synthetic fiber material. If it wasn't for the cable wire, you wouldn't be able to pull your truck.
Braking system: The braking system is equipped to stop the spool from rotating the drum.
Fairlead: This is the opening that lets out the cable out of a winch.
Control box: If you want to change the direction of the winch cable, you can use the control box to do it.
Remote control: It could be either wired or wireless. Either way, the remote control is used to operate the pickup truck winch at a safe distance.
What Do You Look for in the Best Truck Winch?
Steel Vs. Synthetic Rope
To begin with, you have to consider the winch rope material; steel or synthetic rope? Of course, if you know a little bit about steel, then you know it's one of the strongest metals in existence.
A wire cable doesn't easily wear out even when it's exposed to intense heat. Better yet, it's cheap and doesn't require a lot of maintenance.
Despite all its exceptional qualities, a steel rope is susceptible to rust especially when exposed to water, corrosion or moisture. It's also heavier compared to synthetic rope and you will require gloves and protective gear to handle it if you want to avoid cuts and bruises on your hands.
Even so, you have to be very careful around a steel cable because if it snaps in motion, it can split a person in half.
On the other hand, a synthetic rope is cheaper, lighter, and safer. Besides that, you don't need gloves to handle a synthetic rope and if it spans, it won't cause serious damage.
However, a synthetic rope is vulnerable to heat, chemicals, abrasions, and UV exposure. Similarly, a synthetic rope requires regular maintenance and will cost you more than a steel rope.
The Bottom Line
If you want safety, go for a synthetic rope but if you're prioritizing strength and durability over everything else, a steel rope would be ideal.
Non-Integrated Or Integrated Winch
An integrated winch comes with the control box (solenoid) attached to the winch body. How does it make a difference? The solenoid fixed on top of the winch body makes it bigger and because of that, you will need a bigger and bulkier bumper. Hence, an integrated is not the best option for aftermarket bumpers.
Alternatively, a non-integrated recovery winch comes with a separated control box or solenoid that can be fixed above the bumper or engine compartment. Since non-integrated winches are smaller, they're compatible with most aftermarket bumpers.
The Bottom Line
If your truck is equipped with small and lightweight bumpers or you're into aftermarket bumpers, a non-integrated winch is suitable. But if your truck bumper is big and heavy, an integrated winch would be ideal.
Weather Resistant
How do you know if a truck winch is amphibious? It's simple, you can check if the motor is sealed. Basically, a sealed motor protects the truck winch against rain, dust, snow, moisture, corrosion and mud.
The Bottom Line
You have to check the IP rating of the truck winch; the higher the IP rating, the better the protection. We consider anything higher than IP67 an excellent quality.
Rope Length and Thickness
Just because you have the longest and thickest wire rope, it doesn't mean that you have the best truck winch on the market.
Quite the opposite, a very long winch line reduces the pulling power since the drum is forced to work harder during a pull. Not to forget, if the winch line is too long, it could be wrapped unevenly on the drum causing an off-angle pull.
Then again, an extra-long winch line could come in handy if you're trying to reach the nearest tree or rock that is too far away. If you're a professional emergency responder, you will probably need an extra-long winch rope.
As far as rope thickness is concerned; the bigger the diameter size, the higher the breaking strength; although it depends on the material.
The Bottom Line
The trick is to use a winching line that is not too short or too long. We recommend a winch rope that is at least 80 to 100 feet long. If you're out of your depth, you can always use an extension.
Winch Motor Power and Gear System
When it comes to speed and efficiency, two things can determine the outcome; winch motor power and gear system. The winch motor power is measured in horsepower. Just like vehicles, the higher the horsepower, the faster the wire rope is pulled by the winch.
On the gear side, you can choose between planetary gear and worm gear. In contrast, worm gears are slow but easy to repair and maintain. However, planetary gears are faster and lightweight with a compact design; the only problem is they tend to overheat during a longer pull.
The Bottom Line
We recommend a truck winch that can pull at least 2 to 5 feet of cable per minute. If you prioritize speed, you can choose a truck winch with planetary gears but if you want it slow and steady, you can choose worm gears.
User Friendliness
It's those little things that matter; like a wireless remote-controlled device for safety purposes. Nowadays, we have truck winches that can be controlled wirelessly through a Bluetooth-enabled smartphone. How cool is that?
Of course, it would be much better if the winch features both wireless and wired remote control.
The Bottom Line
We think a wireless remote control is way much safer and convenient than a wired remote control because you're less likely to get hurt if the wire rope snaps. However, if you must choose a wired remote control, make sure the cable is at least 10 feet long to keep a safe distance.
Best Truck Winches Reviewed
1. Smittybilt GEN 2 XRC Winch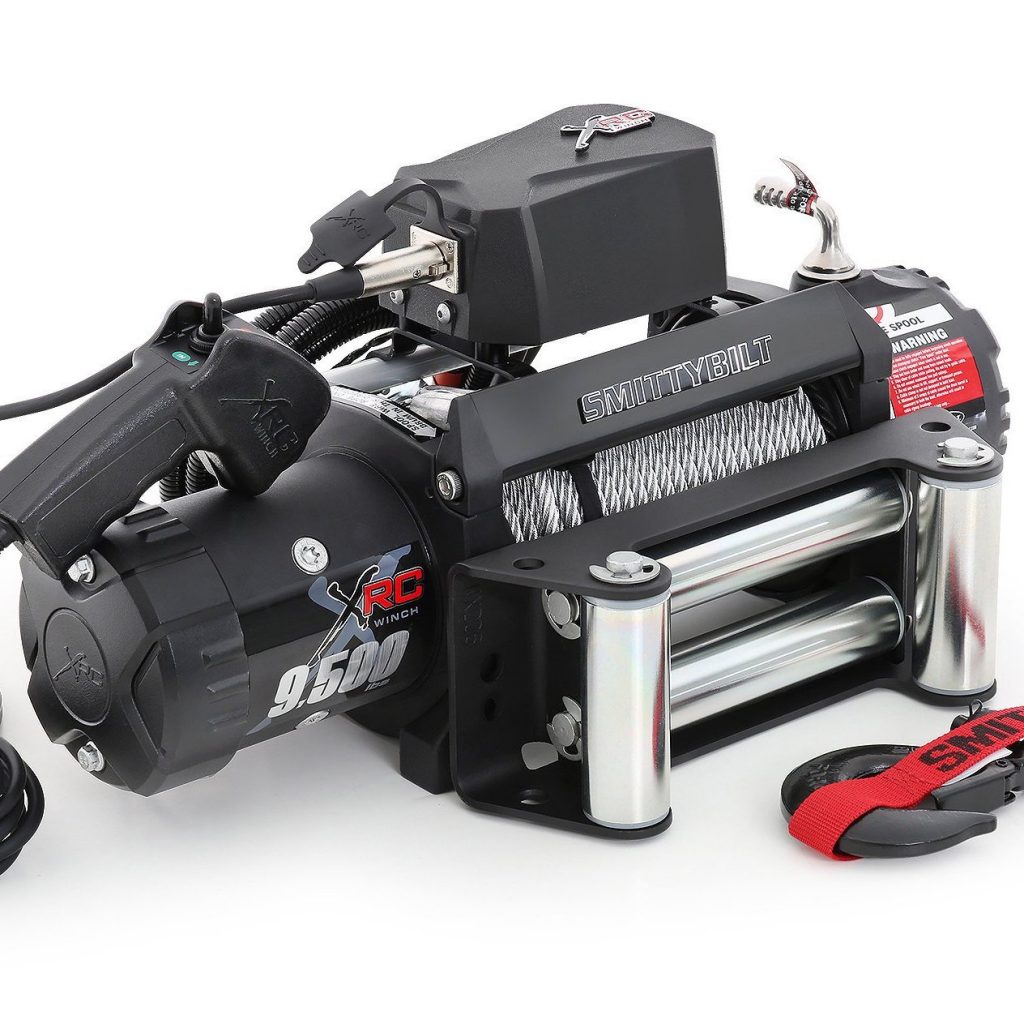 Winch Type: Electric
Load Capacity: 9500 lb to 17500 lb
Rope Material: Steel and Synthetic
Cable Length: 94 feet
Motor Power: 6.6 HP
This is a high-quality electric winch with an integrated control box and wireless remote control. Depending on your preference, you can choose a load pulling capacity of 9500 to 17500 pounds which is more than enough to tow the heaviest trucks.
It features a state of the art solenoid that is IP67 rated. That means, you can take it to the river, ice, mud, or dirt and its performance won't be affected. Beyond that, it comes with a three-stage planetary gear train and a 6.6 hp motor that is super-fast.
Despite all its outstanding features, it's a shame this truck winch is not compatible with some aftermarket bumpers.
Pros
Waterproof control box
Easy to install
100, 000-mile warranty
Steel cable or synthetic rope winch option
Wireless remote control
Cons
Not compatible with some aftermarket bumpers
Buy The Smittybilt GEN 2 XRC Winch On Amazon
---
2. Powersports Off-Road Winch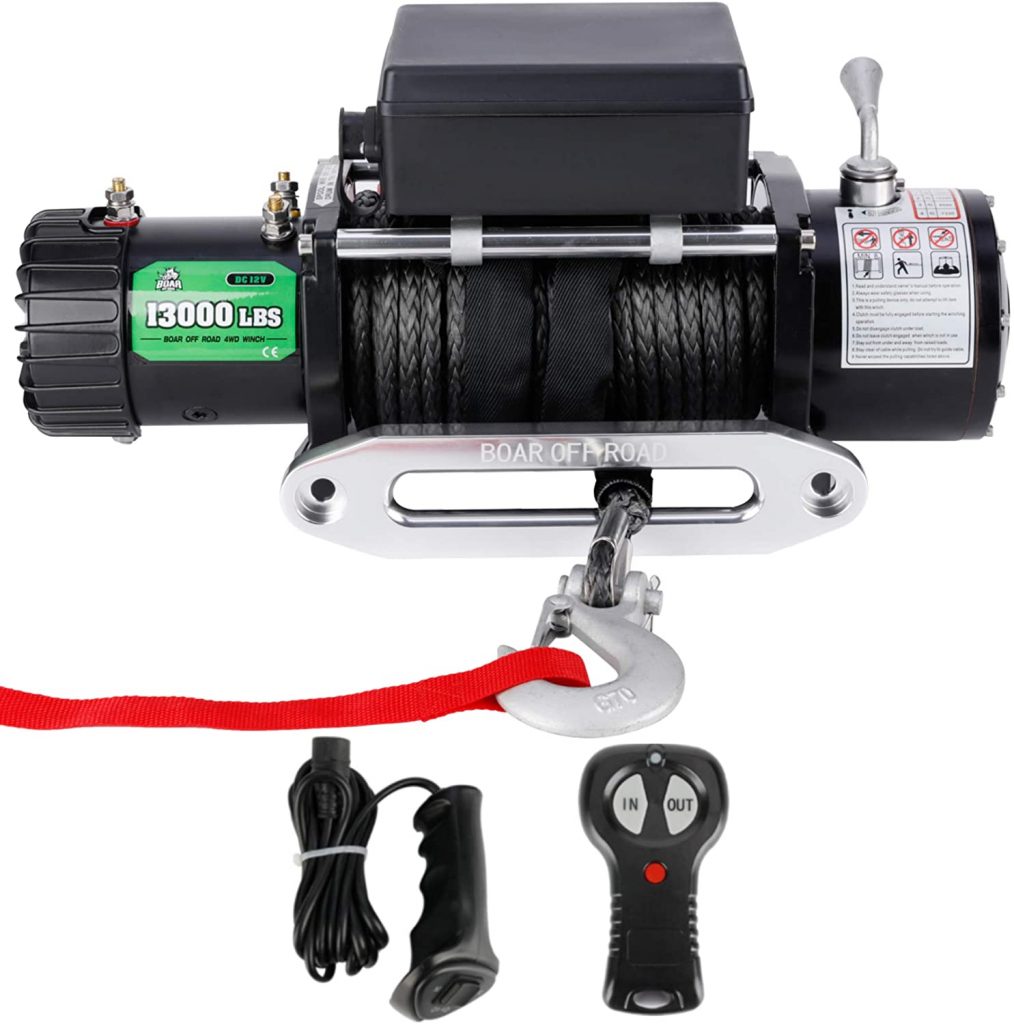 Winch Type: Electric
Load Capacity: 13,000 lb
Rope Material: Steel
Cable Length: 85 feet
Motor Power: 6 HP
Quite impressive, this is a low-budget but high-quality truck winch that can pull up to 13,000 pounds of weight. Mind you, the cable material is made out of stainless steel and the winch is IP67 rated so you could use it all season.
To operate it, you can choose to use the handheld remote control device while it's wired or wireless. But that's not all; it can tow your truck faster than most winches thanks to its 6 hp powerful motor and three stage planetary drivetrain.
On the downside, it weighs about 80 pounds which is a little bit heavy to install on a lightweight bumper.
Pros
It's sold at an affordable price
High load capacity
Easy to install
Wireless handheld remote control
Weather-resistant
Super-fast motor
Cons
It's heavier than average
Buy The Powersports Off-Road Winch On Amazon
---
3. Warn Zeon Platinum 10-S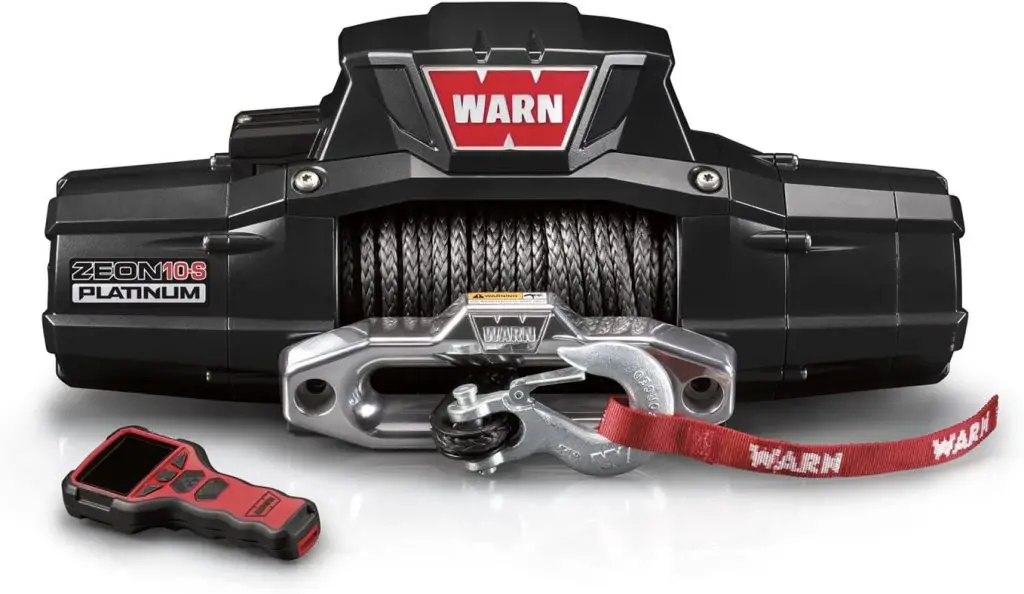 Winch Type: Electric
Load Capacity: 10000 lb
Rope Material: Synthetic
Cable Length: 100 feet
Motor Power: 4.8 HP
Believe it or not, this Warn Zeon Platinum electric motor has a cable speed of 44 feet per minute. If you're worried about it overheating, it can read the motor temperature so you will know when it's time to slow it down.
Even though the rope is a synthetic material, it can easily repel water, dust, and mud. The best part is, it comes with 100 feet of rope and it can pull up to 10,000 pounds of weight.
Did I mention, it features a car charger adapter, USB charging cable, and a wireless remote control? However, it's one of the most expensive truck winching tools on our guide.
Pros
Weather-resistant winch
It's durable
Automatic brake system
It features a car charger adapter and USB cable
It analyzes motor temperature
Super-fast motor speed
Lifetime warranty
Cons
Buy The Warn Zeon Platinum 10-S On Amazon
---
4. Superwinch TS9500 SR Tiger Shark Winch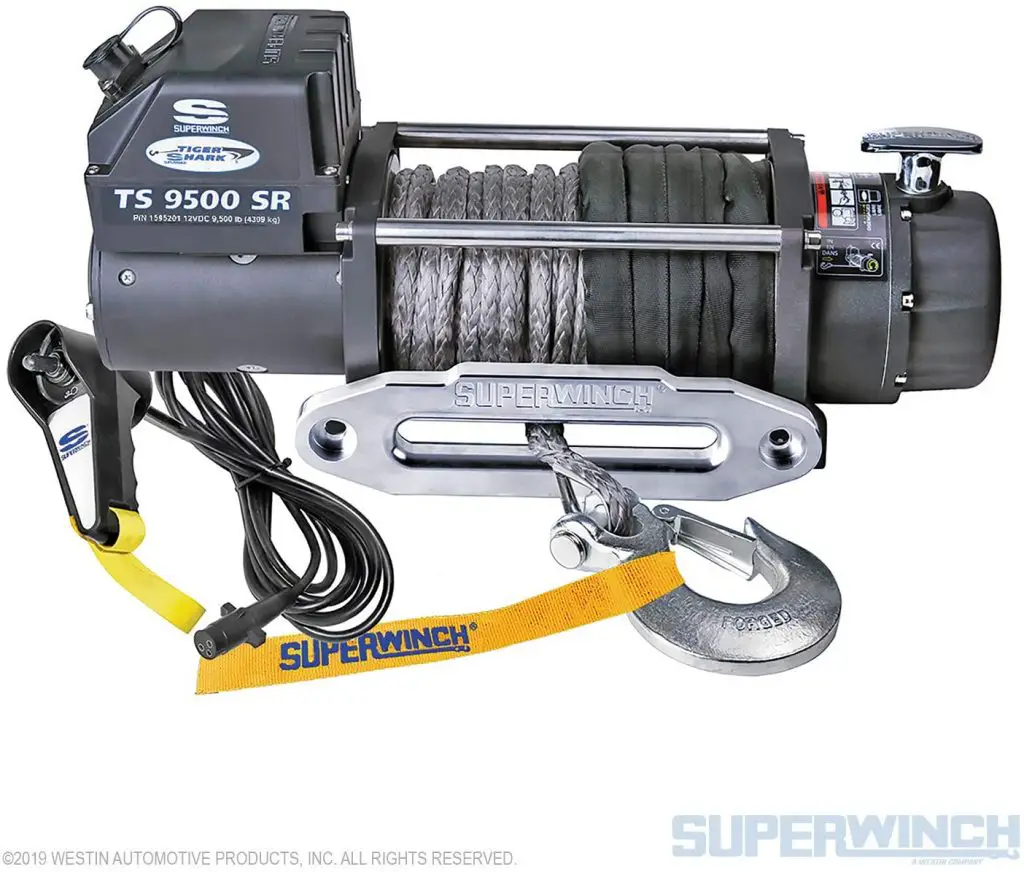 Winch Type: Electric
Load Capacity: 9500 lb
Rope Material: Synthetic
Cable Length: 80 feet
Motor Power: 5.2 HP
If you look closer, you will notice the solenoid box is on the left side to make it easier to install on the bumper. In addition to that, the solenoid box is sealed to protect it against snow, rain, and blowing dust.
It gets better; the braking system is situated at the far end away from the drum to minimize heat transfer if the winch runs for too long. Similarly, the three-stage planetary gearbox makes it easier to switch the speed while the aluminum hawse fairlead prevents the rope from getting snarled up at tight angles.
Unfortunately, this Superwinch device doesn't come with wireless remote control. Then again, the wired remote control is connected to a 12 feet cable which is more than enough to be on the safe side.
Pros
Weather sealed motor
Easy to operate
A smooth planetary gear system
Very durable
It can pull heavy loads
Cons
The remote control is wired
Buy The Superwinch TS9500 SR Tiger Shark Winch On Amazon
---
5. Warn 8000-Lb Winch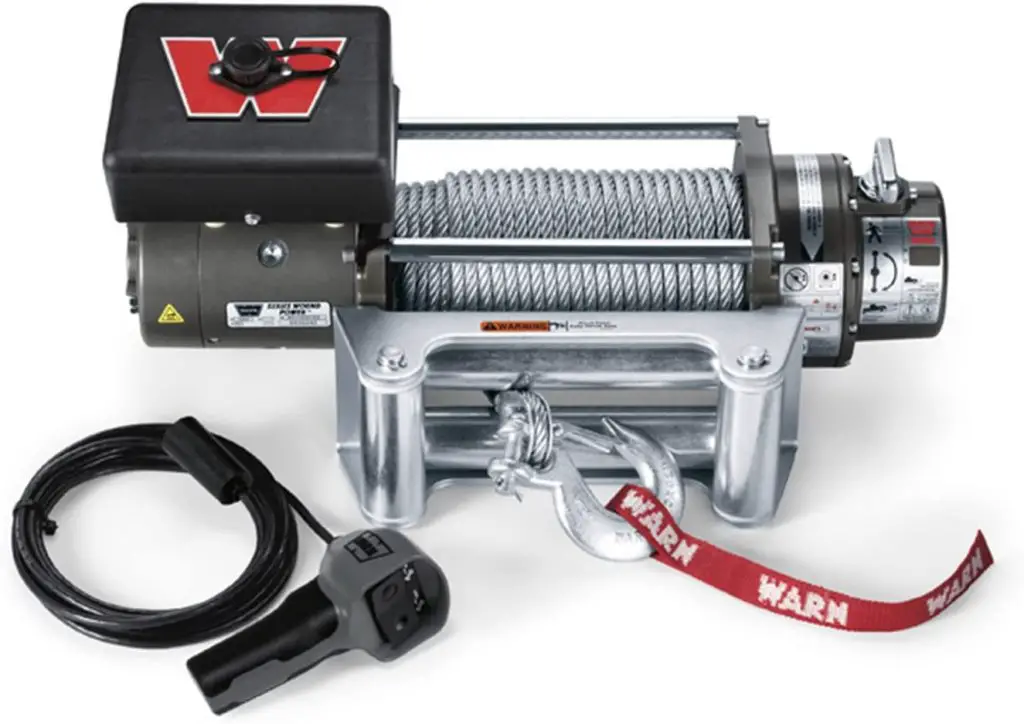 Winch Type: Electric
Load Capacity: 8000 lb
Rope Material: Steel
Cable Length: 100 feet
Motor Power: 4.8 HP
If you drive a lightweight truck that weighs about 3,000 to 4500 pounds, this Warn winch could be suitable. It's made in the USA and it uses a strong steel cable. In other words, this is as tough as it can get and the steel won't budge when exposed to heat.
Here is the interesting part; it's a non-integrated quality winch with the control box separated. That means, it offers versatility since it can be installed on aftermarket bumpers.
What's more, the winch is equipped with a three-stage planetary gear system and it comes with a 12 feet remote control that is weather resistant.
However, we wouldn't recommend this winch if you drive one of those heavy-duty trucks.
Pros
Low profile design
Different mounting options
Very durable
Weather-resistant
Wireless remote control
Lifetime warranty
Super-fast gear train
Cons
It's not suitable for heavy-duty trucks
Buy The Warn 8000-Lb Winch On Amazon
---
Final Thoughts
In a nutshell, our top pick is the Smittybilt GEN 2 XRC Winch. This is because it's made by a reputable brand and off-roaders have the option to choose from 9500 to 17500 lbs load pull capacity. Not to mention, you can also choose between steel wire and synthetic rope material.
However, if you want the best bang for the buck, we think the Powersports Off-Road Winch is a good option.