If you're heading out for an offroad adventure, the last thing you want to skimp on is the winch. But just because you don't have a winch attached to your truck or SUV doesn't mean that you can't pull your recreational vehicle out of a jam.
Portable winches can be the perfect addition to pull your ATV or four-wheeler out of a tight spot and get you back on the trail! That's why we took the time to find and review the best portable winch on the market.
Our Best Portable Winch
What Are Portable Winches For?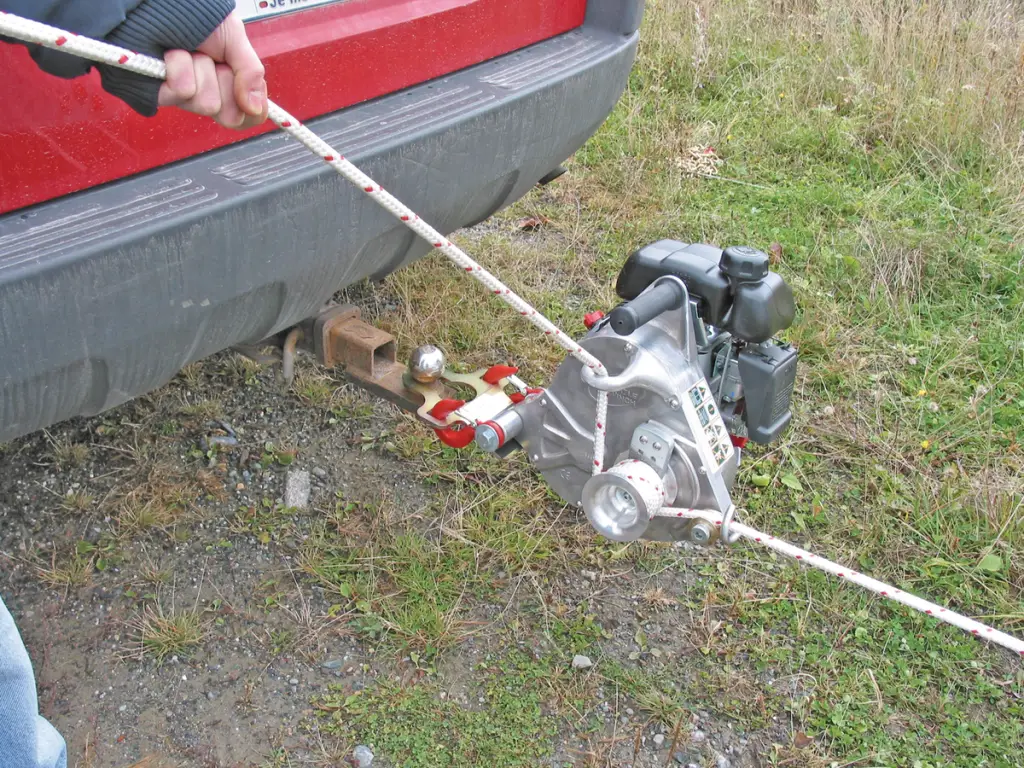 You can get a portable winch for a variety of applications ranging from automotive recovery to forest clearing. Portable winches offer several advantages over traditional bumper-mounted winches.
The most notable advantage is that you can use them just about anywhere. Even if you can't get your vehicle to the site, you can take a gas-powered or a battery-powered winch to the worksite and get the job done.
Furthermore, most portable winches are far cheaper than a full winch and bumper attachment, even if you opt for a top-of-the-line portable winch.
What Are The Different Types of Portable Winches?
There are a few different types of portable winches, and we'll break down the four most common here. Deciding which type you'll need depends on various factors, but once you know each one's breakdown and how they work, it'll make it a lot easier to decide what you need!
The most common types of portable winches are receiver-mounted winch plate, manual winches, gas-powered winches, and electric winches.
Receiver-mounted winch plate style winches are a traditional style winch that uses a mounting plate to attach the receiver hitch and perform your winching operation. Receiver-mounted winches offer the highest load capacity and are great for heavy-duty applications.
Manual winches are on the other end of the spectrum. Manual winches utilize no power and use a handlebar and a hand crank for operation. Without the external power source, a manual winch works off a pulley system similar to a ratchet strap.
While manual winches are cheap and require little maintenance, they require a lot of effort to use, and if you're looking for a winch to make your life easier, a manual winch likely isn't the way to go.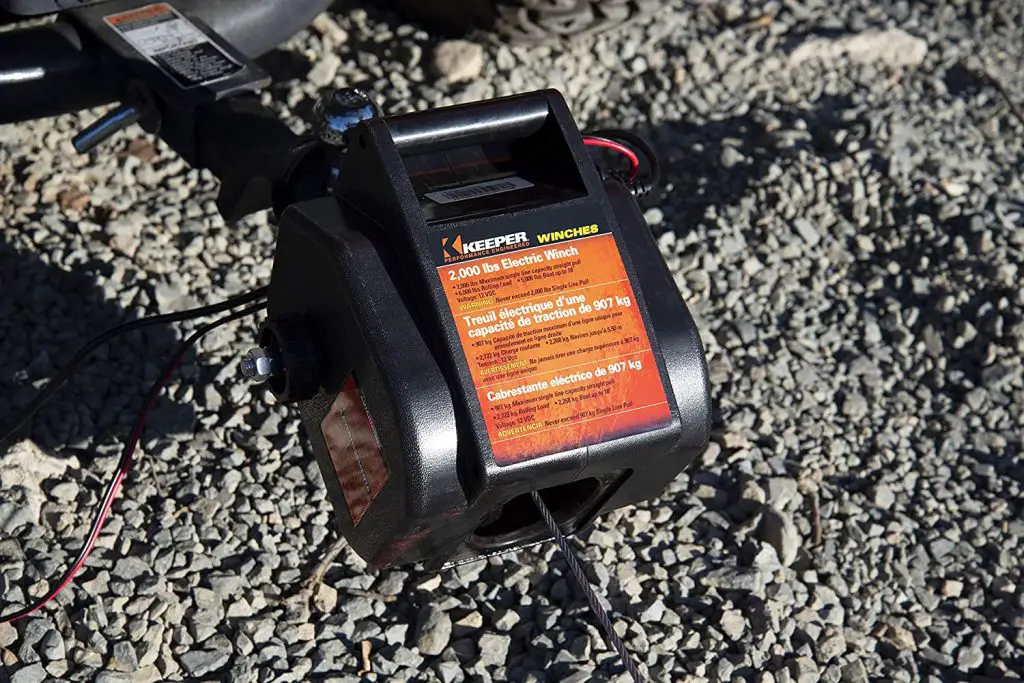 The final two winch styles are electric winches and gas-powered winches. Both winches work similarly, but electric winches are more common for automotive purposes, and gas-powered winches are more common for forestry applications.
How Does A Portable Winch Work?
Winches work off of a relatively simple principle. You attach one end of the winch to a stationary object, like a tree or a vehicle, and the other end to the thing you're trying to pull with a clevis hook. 
From there, the gear train of the winch performs a consistent line pull that brings the object towards you.
The winch's gear system is inside the gearbox and is activated via a solenoid whenever you start the winch. Besides the manual winch, every style winch uses a planetary gear set inside the gearbox to obtain the necessary gear reduction to pull the object.
This allows you to double your towing capacity when you use a double-line winch and pulley arrangement (typically via a snatch block)
Manual style winches use pulleys and manpower to pull the object towards you as you crank.
What Do You Look For In The Best Portable Winch?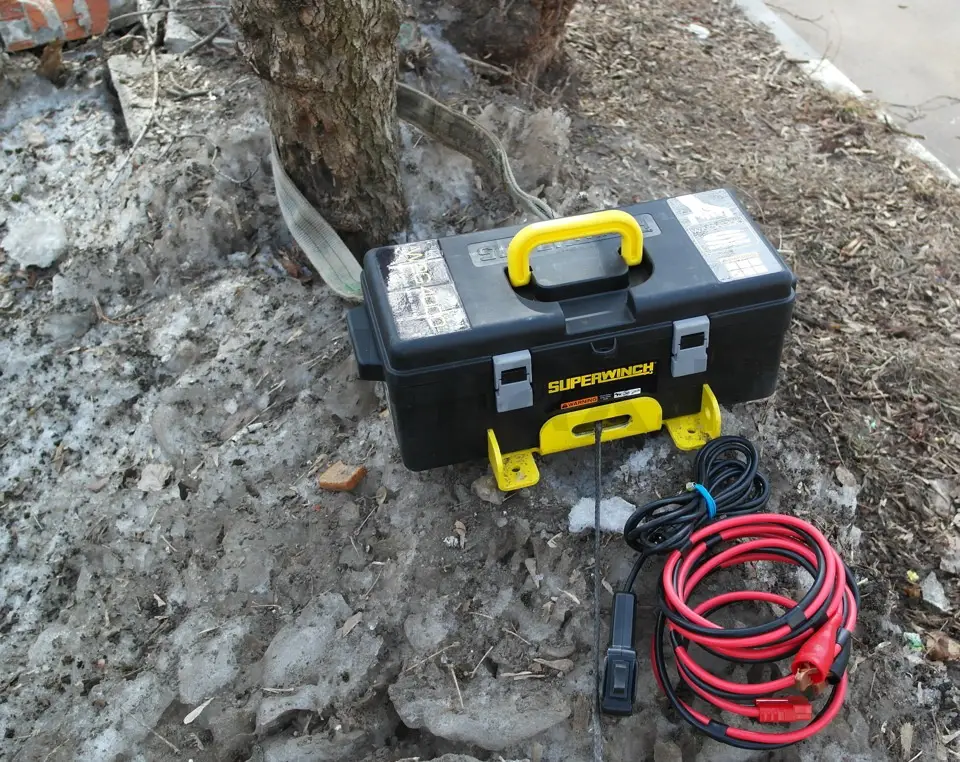 When you're shopping for a portable winch, there are a few things you want to look for before purchasing anything. 
First, you want to check out the materials the manufacturer used to make the winch. Stainless steel wires are among the most durable materials that a manufacturer can use – but only if the wiring is thick enough and with enough braids.
While every manufacturer rates their specific wiring differently, the overall gauge of the wire strand should be either at least a 2 – with at least five different wires making up the overall line. 
While there is some debate about synthetic wiring and steel wiring, both are durable when made properly! Just be sure to check out the load rating from the manufacturer before you use it!
Of course, if you're worried about durability, one of the most telling factors is the manufacturer warranty. If the company makes a durable product, they are far more likely to stand by it with a warranty.
The next thing you need to consider is your power source. When you're looking for how the winch is powered, you're looking for the "power in" source.
If you're looking for a winch to keep in your vehicle, a 12 volt DC is precisely what you're looking for. Meanwhile, if you read about "power out," they're talking about the winches pull capacity. Keep in mind that you should have a winch that can pull 1.5 times the object's weight for maximum safety.
Keep in mind if you're powering a winch with a 12-volt battery, the amps matter. The volts power the system, but the amps give it the force to work. The higher the amperage, the more effective your battery will be at powering the winch!
Finally, you should check for additional safety features. Winches can be extremely dangerous if you don't use them correctly or if you overload them, so if you can mitigate some of those concerns with built-in safety features, that's always a perk! 
One of the best features a portable winch can have is a load limiter. This device automatically shuts off the winch if you overload it, which can save you from a snapped cable or totaling your winch.
You want a winch with a rocker switch that automatically goes to the off position as soon as you let go of the button. The last thing you want is to be fumbling around while you're trying to find the button to shut off the winch!
Best Portable Winch Reviewed
1. Superwinch Winch 2 Go – Our Top Pick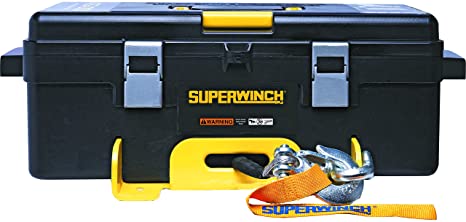 If you're looking for a winch to pull a rolling vehicle or ATV, the Superwinch is an excellent choice. They have options for both a heavy-duty steel cable and a synthetic rope option. The handheld remote attaches to the winch via a 25-foot cord.
It's a high-quality single line or double line winch with a powerful motor and a durable snatch block that can handle most jobs.
Pros
8,000-pound pulling capacity with a snatch block, double line pulling
Very affordably priced for what you get
The full kit comes with everything you need, including gloves
Cons
Plastic latches on the case don't hold up
No wireless remote control
Buy The Superwinch Winch 2 Go On Amazon
---
2. Portable Gas-Powered Capstan Winch – 2,200-Lb – Best High-End Winch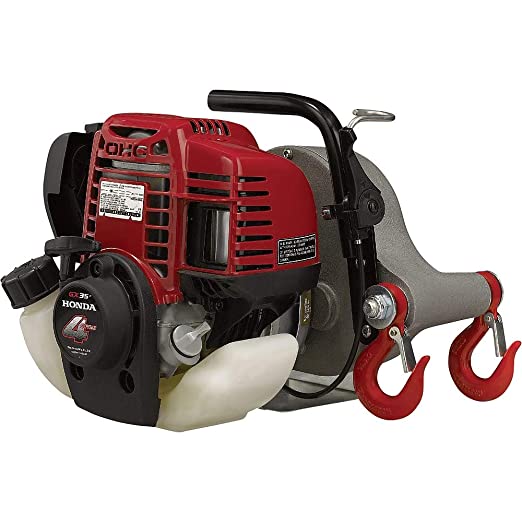 If you're looking for a versatile utility winch that you can use to move logs and get the occasional vehicle out of the mud, this portable gas-powered winch kit might be exactly what you need.
The Capstan winch has a long-lasting Honda engine that can pull up to 4,400 pounds when you use the snatch block, making it an excellent choice for various applications.
It's available for a great price and the best we could find on Amazon for such a powerful portable winch.
Pros
Powerful gas-powered winch with a 2,200-pound pulling capacity (4,400 pounds with snatch block)
Built with a reliable Honda engine
It comes with everything you need for a forestry winch
Cons
Not for automotive applications – built for forestry applications
Buy The Portable Gas-Powered Capstan Winch On Amazon
---
3. Master Lock Electric Winch – Best Budget Pick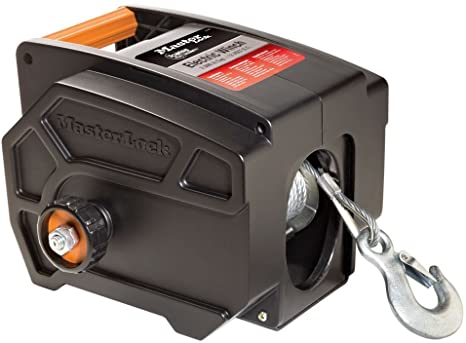 With a rolling load capacity of 6,000 pounds, this electric trailer winch is a great choice to pull your UTV onto the back of your truck or up a steep incline. 
Furthermore, with such a high rolling capacity, you can use it as a recovery winch for most incidents – just keep in mind that it has a slow line speed, so you won't be going anywhere quickly!
All of these features make this one of the best portable electric winches on the market.
Pros
6,000-pound rolling capacity
Battery-powered for easy use
30-foot steel cable and 20-foot power cable
Cons
It does not always spool evenly
Pulls slowly
Buy The Master Lock Electric Winch On Amazon
---
4. WARN PullzAll Cordless 24V DC Portable Electric Winch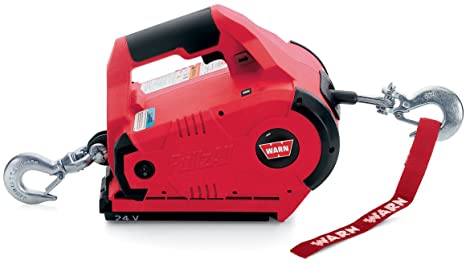 Unlike many corded winch options that we looked at, this 24V portable electric winch is entirely cordless. So, if you're headed out into the woods to move logs on a trail you can't get your vehicle to, you don't have to worry about lugging out a 12-volt battery or purchasing an expensive gas-powered winch.
It comes with two rechargeable batteries, so you don't have to worry about running out of juice in the field. While the ½ ton pulling power is impressive, it's still less than most other portable winches.
Pros
The cordless option makes this a very versatile portable winch
It comes with two rechargeable batteries
15-foot wire rope gives you plenty of space to pull
Cons
Limited 1,000-pound pull capacity
Buy The WARN PullzAll Cordless Portable Electric Winch On Amazon
---
5. KEEPER 12V DC Rapid Mount Portable Winch

The Keeper 12-volt DC portable winch comes with a ton of advantages for such an affordably priced winch. It has a 5,000-pound rolling load capacity that makes towing recreational vehicles and smaller automobiles a breeze.
Furthermore, while the 8-feet per minute line speed isn't insanely fast, it's quicker than most portable winches. The free spooling clutch lets you easily switch the winch to a free spool and a hand crank model to attach your winch at the beginning of each job.
Just make sure that you're aware of the 10-foot power cord, and you can reach your vehicle's battery with it!
Pros
Very affordably priced
5,000-pound rolling load capacity
8-feet per minute line speed
Uses a free spooling clutch
Cons
Short 10-foot power cord – but it has a circuit breaker and a water-sealed plug for added protection
Buy The KEEPER Rapid Mount Portable Winch On Amazon
---
Final Thoughts On Portable Winches
If you're on the fence about getting a winch, take the plunge. While it might seem like an expensive cost upfront, a portable winch will save you hours of frustration and back-breaking work.
Even if you're young and can handle the physical work now, it takes a long term toll on your body. Invest in yourself and your future health with a top-notch portable winch today! You'll be glad you did and never look back.