Truck bed tents have to be one of the most ingenious ideas of our time.
Think about it. If you own a truck, you already have half a shelter, all you need is the roof.
Best Truck Bed Tents
Guide Gear Truck Tent
DAC Truck Tent
Whether you're the most experienced outdoor guru or a small family on a casual weekend getaway, comfortable shelter remains essential when camping.
While there is a certain romantic appeal to sleeping beneath the stars, nature has a habit of throwing curveballs. Rain, wind, bugs, sun, and even animals all seem to have it in for us.
Traditional tents can be a hassle, but a truck bed tent is fast, easy, and comfortable.
Truck Bed Tent Features
In the olden days, caves served as the preferred shelters for our ancestors. Truck bed tents aren't caves, but their unique features do have a certain appeal.
Easy Set-up: Many campers spend hours looking for an ideal place to set up, prepping the ground, and assembling tents. With truck bed tents, you can slash your set-up time by more than half and maximize the best parts of your camping experience. All you have to do is go, park, and prep.
Comfort: Though truck beds aren't exactly soft, the ground is worse even with a good tent, but if you put the tent in your truck bed, you have a more even (and cleaner) surface. You'll sleep better and hurt less in the morning.
Safety: Sleeping in an elevated, enclosed space like a truck bed tent means you are less prone to whatever creepy critters roam the ground during the day and night. It also helps divert other nocturnal (and more dangerous) wildlife visitors looking for an easy meal.
Convenient: Even the most hardcore outdoor gurus encounter problems while shopping for a good tent or a camper, and not all of them have the means to buy one. In the end, you may not even need a camper, especially considering the maintenance and fuel costs. With the best truck bed tent, you can turn the vehicle you already have into a camper. It's simple, effective, and cheaper in the long run.
Finding the Best Truck Bed Tent for You
Camping has never been so easy or more comfortable. Where your vehicle goes, so does the tent, but what's the best tent for your truck bed? That depends on your needs and purposes. Here are some questions to keep in mind:
Like houses, not all tents are made equal, but there are a few that meet the needs of any camper and work well with any vehicle, whether it's the latest Nissan Frontier or the oldest Toyota Tundra.
Tips to Maximize Your Truck Bed Camping Experience
Air Mattress: Even when roughing it, you want to be comfortable, so add an air mattress to your camping gear. After all, there's nothing better than sleeping on air after a long day. Comfortable and easy to prepare, most air mattresses will fit within a truck bed.
A truck bed liner is also an excellent choice, especially if your tent doesn't have a sewn-in floor. Smoothing out any lumps will give your back extra cushioning beneath your sleeping bag. The extra lining is also useful in trapping body heat, which helps insulate against evening chills.
Keep a Spare: A good camper is always prepared. Having extras of certain items (tires, flashlights, blankets, clothes, food, etc.) is still worth the peace of mind. A sturdy spare tent is no exception, especially if you're a frequent traveler.
Awnings: If you don't mind the extra effort, a good canopy or rainfly is always a great addition to any tent, especially in open areas. You can never be too careful or have too much protection from nature's elements.
Gear Loft: There's always a need for extra storage at any campsite. If you don't happen to have storage pockets, an excellent gear loft is one of the handiest tools to have. Some tent brands even sell gear pockets as a separate product.
The Best Truck Bed Tents
Kodiak Canvas Truck Bed Tent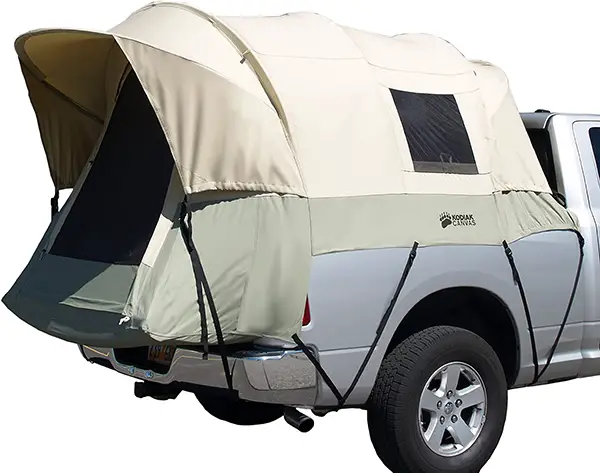 The Kodiak Canvas truck bed tent is among the priciest options on our list, but only because it's packing some epic pros. If you're an above-average camper, an investment in this tent is definitely worth it.
Built for rugged terrain and rough weather conditions, the Kodiak Canvas is a remarkable asset in the outdoors. Size-wise, this is a smaller tent, making it ideal for GMC and Ford F-150 trucks. Still, it has enough versatility to fit comfortably on almost any pickup truck.
Made with 100 percent-cotton duck Hydra-Shield canvas, the Kodiak is incredibly durable and very watertight, making it excellent for year-round use.
One of the very few four-season tents on the market, the higher quality of the Kodiak tent ensures longevity, even with regular usage. Though it holds up pretty well against the elements, it has its limits against heavy snow accumulation.
The material is lightweight and expandable. While most tent brands will sit neatly on top of the truck's tailgate, the Kodiak can stretch to fit directly over it, making for a more accessible entrance. This feature adds to the tent's tunnel design and ensures maximum space.
The Kodiak comfortably shelters up to two people, and the entrance awning provides extra shade from the sun's glare. A bonus feature is a broader view of your surroundings.
One of the best features of the Kodiak Canvas is its exceptional windows. While most tents usually have around three windows at most, the Kodiak sports five, including a rear access panel to your truck-cab.
Because this is a four-season tent, its build quality is naturally heavier than average, providing extra protection against colder weather as well as providing maximum levels of ventilation. The tent's solid, 3/4-inch poles give the steel tube frame fantastic anchorage, even against strong winds and heavy rainstorms, ensuring you stay safe and warm.
Rated as one of the very best truck bed tents for camping, the Kodiak Canvas, without a doubt, is a must-have for any enthusiast that's more than serious about the outdoors.
Key Features:
Available for truck beds between 5 and 8 feet
100 percent-cotton duck Hydra-Shield canvas
D-shaped doors with covered entry
Buy Kodiak Canvas Truck Bed Tent on Amazon
---
Napier Backroadz Truck Tent: Full-Size Regular Bed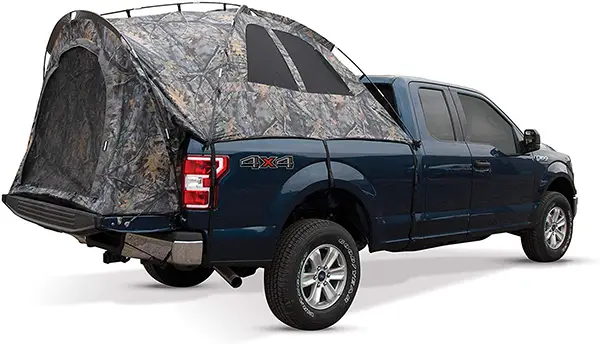 What's the best truck bed tent? Ranked in the top five best truck bed tent brands, Napier is a favorite for both average and serious campers. Though classed as a three-season tent, it is made of higher-grade polyethylene and polyester, making it rip-proof as well as waterproof.
Even for the average outdoorsman, the Napier Backroadz truck tent is surprisingly affordable and ideal for almost any camping environment. It has an extra advantage, because, despite its varying sizes, it can fit most truck types.
The Napier is also one of the few tents on the market that comes with a floor, ensuring your truck stays dry and clean, if you have a sleeping bag, you're all set. It's very easy to set up, too. Thanks to its unique, color-coded system for the poles.
It has individual storage pockets to keep your valuables organized and a lamp holder at its peak. Its full rainfly provides extra protection for your rooftop and ensures warmth from heavy rain and wind.  Its storm flaps are an excellent buffer in lousy weather conditions and offer better privacy than any other truck bed tent on the market.
Available in a variety of sizes and styles, the Napier Backroadz Truck Tent accommodates two people comfortably.
Key Features:
Available for truck beds between 5 to 8.2 feet
58- to 62-inch ceiling height
68D Polyester Taffeta tent with a polyethylene floor
D-Shaped door with rainfly
Two windows with storm flaps
Buy Napier Backroadz Truck Tent: Full-Size Regular Bed on Amazon
Napier also offers other larger truck bed styles if you need a bit more space, such as the: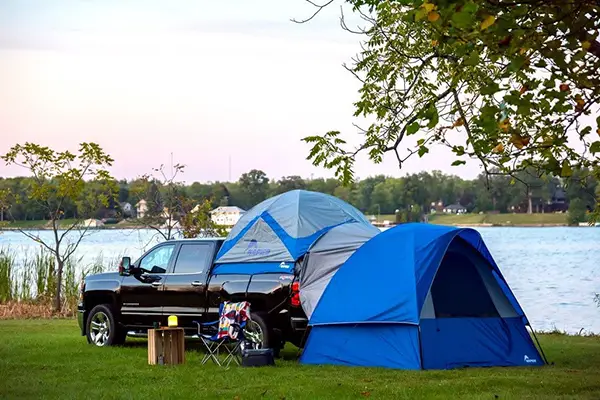 Napier Sportz Link Ground Tent: This neat tent can comfortably accommodate up to four people in its two rooms. One room mounts on the bed of your truck and a tunnel connect it with the other room. Tear-resistant and watertight, the tent measures eight-by-eight-feet, making it extra roomy, and, yes, it does have rear cab-access to the vehicle.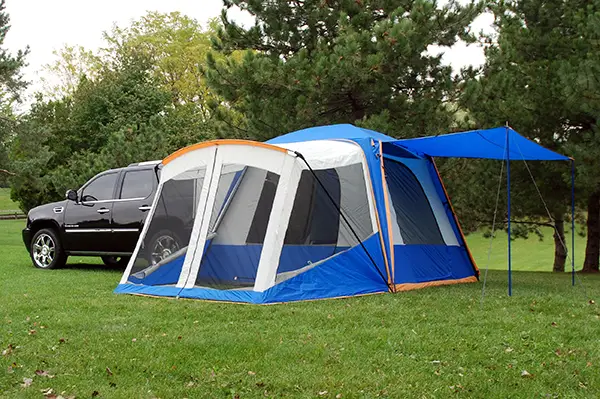 Napier Outdoor Sportz Truck Tent with Screen Room: This tent is the largest, accommodating 5-6 people with up to 7-feet of headroom. It has a cozy feel with its extra awning for shade and screen room for relaxation. It also boasts excellent ventilation, thanks to its sporting four skylights and plenty of privacy with its hidden zippers and no-see mesh over its large windows. Though still classed as a three-season tent, it can potentially rival the Kodiak with its fire-retardant material and durable strength against fierce winds.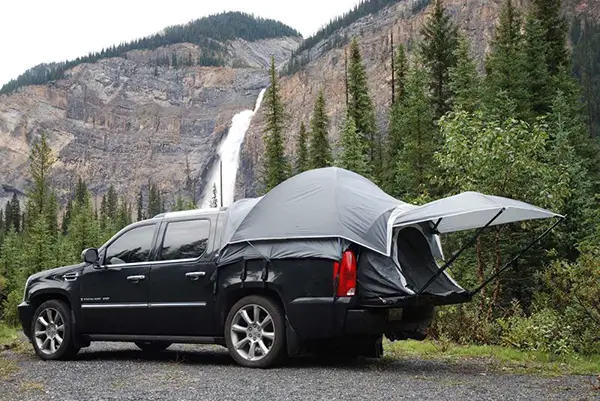 Napier Outdoor Sportz Avalanche Tent: A tent with a little flare to it, the Sportz Avalanche neatly sleeps two people. One of the most comfortable of the Napier types, the Avalanche's 1200mm PU coating makes the fabric water-resistant, keeping the camper very warm and dry in any weather. It comes with shock-corded fiberglass poles, which hold up well against strong winds. The tent includes rear accessibility to the truck-cab and a six-by-six-foot awning.
---
Guide Gear Truck Tent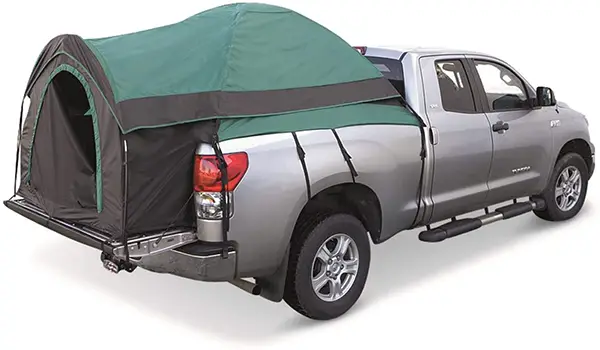 Like the Napier, the Guide Gear bed tent can fit most truck models, but it's a better fit if you own a Chevy, Toyota Tacoma, or Nissan Frontier. It comfortably accommodates two people with plenty of headroom.
While most truck bed tents have sturdy, steel tube frames that allow them to stay firmly fixed within the vehicle, the Guide Gear takes it to another level. This tent is built like a tank and made to hold its ground against fierce wind gusts, it's designed not to move at all!
Though it comes with very durable shock-corded fiberglass poles, the Guide Gear relies more on its padded tension straps to resist movement. This tent practically begs to be tested against the strength of the wind. Plus, it hardly requires any time to assemble.
The Guide Gear tent often comes in two size options: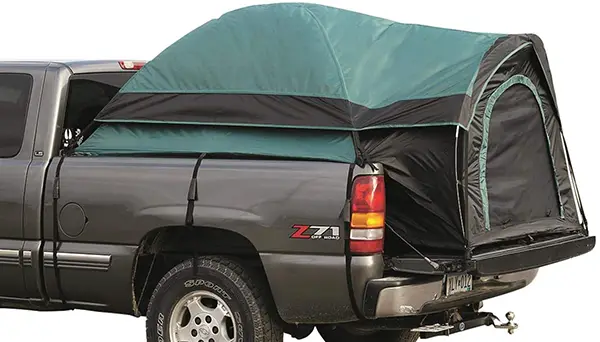 Guide Gear Compact Truck Tent: This tent is a bit noticeable with its bright green coloring and large D-shaped door. In a way, its design resembles a caterpillar, but this is intended for the tent to provide proper ventilation. It's not as roomy as the Napier truck tent, only around 4-feet 7-inches, but its coziness more than makes up for its height.
The broadness of its build means that the Guide Gear Compact truck tent fits nice and snug into your truck bed. The canvas is also very easy to clean, thanks to its 1500mm water-resistant coating. Its polyethylene flooring is a little on the thicker side, adding to its comfort. The tent package comes with a polyester carry-bag and full rainfly.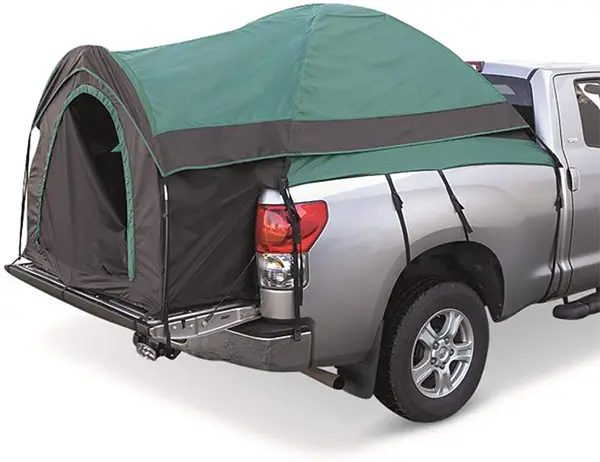 Guide Gear Full Sized Truck Tent: Like its Compact brother, the Guide Gear Full-Size truck tent has a wide D-shaped door but has an extra inch of headroom. This tent is a bit more adaptable and gives a sense of extra space (even if you don't have it).
Comfortably sleeping two people, the Guide Gear Full Size can fit most truck types and is reputed to have a tighter hold with its heavy-duty tension straps.
Even for a rookie camper, the Guide Gear truck tent is an easy and excellent way to begin an enjoyable camping experience. Plus, the price point is fair. The Guide Gear's sturdy build has an extraordinary measure of security not often found on the market. Yet another feature that has marked it as one of the best truck bed camping tents.
If you were in a hurry, you wouldn't have to worry about taking this tent down right away. The Guide Gear has been built to fantastic sturdiness and can withstand nature's rough extremes. Not bad for a three-season class.
Key Features:
Available for truck beds between 6 and 6.8 feet
57- to 63-inch ceiling peak (depending on size)
1500mm water-resistant coated 190T polyester with a polyethylene floor
D-shaped door with rainfly
---
DAC Full-Sized Truck Tent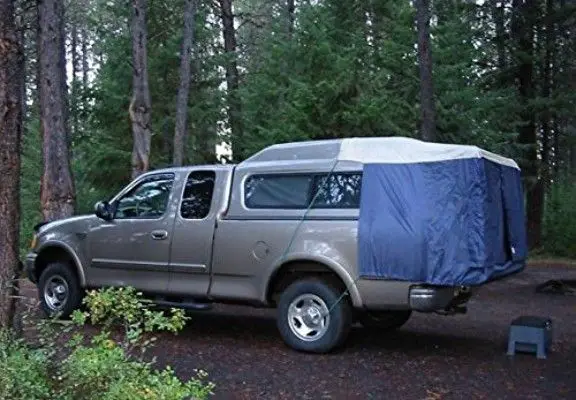 The DAC full-sized truck tent is unique because it resembles more a blanket than a tent, and it bends the rules of basic shelter. However, if you're always on the go, this is a highly convenient tent to have on hand during emergencies because you can easily store it anywhere in its carrying bag.
If it's your first time on a camping trip, this tent is the least intimidating because it's the easiest to assemble. In no more than 2 to 3 minutes, the DAC effectively turns your vehicle into a fully functioning camper. The waterproof canvas has full flaps, which offer proper ventilation and ample shade.
The DAC works best for full-sized vehicles such as trucks and SUVs, but it can also work for minivans. Smaller vehicles could use the tent as a high-quality tarp. For its durable material, the DAC Full-Size is incredibly lightweight and sports unusually flexible shock cords that make it incredibly easy to assemble.
DAC truck tents come in two sizes: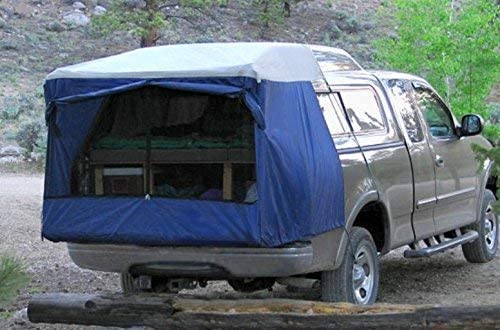 DAC Full-Sized Truck Tent: This tent shares a similar quality to the Napier Outdoor Screen Room Sportz with its flame-retardant material and surprising durability against the wind. Despite its looks as a glorified tarp, this tent's sealed seams keep out water and draft as well as any other canopy. It also includes dark mesh windows to provide a fair bit of privacy while denying the entry of small, unwanted visitors.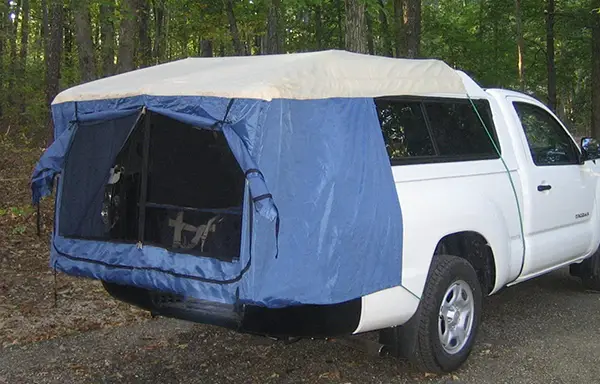 DAC Mid-Sized Truck Camper Tent: Though not as large as its DAC counterpart, the DAC Mid-Sized is no less durable, and it fits well with vehicles with a tailgate width up to 58-inches, perfect for anyone who owns a mid-sized truck. The DAC Mid-Sized is considered the more versatile truck bed tent of the DAC brand.
Whether for a casual day out, a road trip, or a fishing trip, the DAC truck tent is ideal for any outing because it only requires the barest minimum of time to prepare.
Key Features:
Suitable for all truck sizes
Ceiling clearance dependent on bed topper height
Water-resistant polyester
D-shaped door with insect screen
Buy DAC Full-Sized Truck Tent on Amazon
---
Wrapping It Up
The numerous benefits of truck bed tents can't be understated. Even if you're not an outdoorsy person, these super-convenient tents are more than handy, especially for emergencies on a long road trip.
Plus, anyone can learn how to use one. Today, we've presented four of the best truck bed tents on the market in 2023, which will work best for you will depend on you.