Discover the best weight distribution sway control hitches. Our top 7 picks cater to diverse towing needs. Make an informed choice!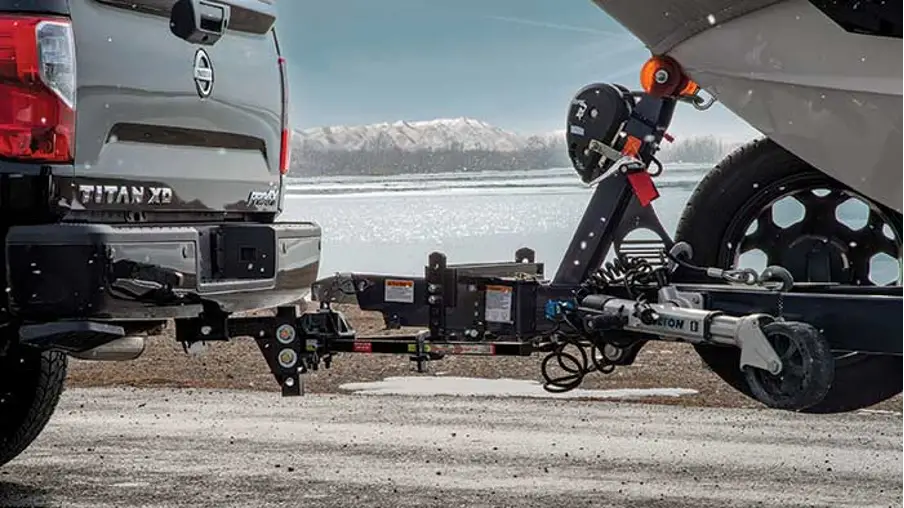 When towing a heavy trailer using your truck or SUV, a weight distribution hitch is a crucial tool for enhanced control and driving ease. It's imperative to equip your vehicle with a Class III, IV, or V receiver and hitch, accompanied by a high-quality weight distribution hitch to level your setup and mitigate sway.
The device, known as a sway-control hitch, equalizes tongue weight across both vehicle and trailer axles, preventing rear-end weight and issues.
Hitch prices vary to suit needs and budgets. For short-distance towing of smaller trailers, affordable options suffice, while those towing heavy loads over long distances tend to prefer premium models. Here, we'll focus on weight distribution hitches under four figures.
Several best weight distribution hitches include a shank for receiver use and omitting arms or chains. This reduces tongue and trailer weight, making it practical for users with a larger trailer and eliminating the need for a second shank for a smaller trailer.
A weight distribution hitch greatly improves towing safety, emphasizing the need for careful research before buying. This review will showcase the Best Weight distribution Sway Control Hitch options for sale. We'll also delve into the different types of weight distribution hitches, their unique characteristics, and their ideal uses, ultimately ensuring a safe and smooth towing encounter.
Table of Contents
Our Top 7 Picks In 2023
Based on our research, we've compiled a list of the current top 7 weight distribution hitches on the market.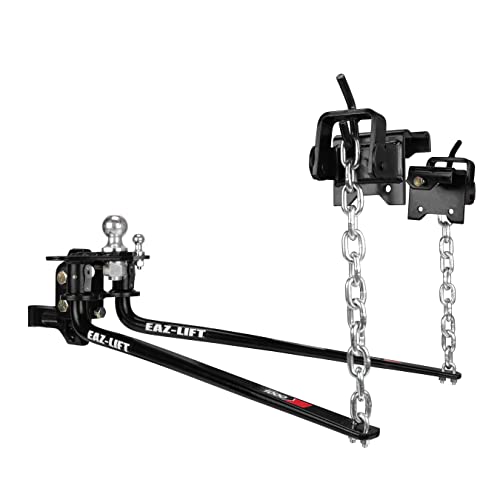 The initial featured product is from Camco, a brand driven by consumer needs, delivering quality and innovative solutions for an improved towing experience.
The Camco EAZ Lift Elite Weight Distribution Hitch functions as an anti-sway system. Its hitch ball, with a maximum size of 2-5/16 inches, is tailored for high towing capacities. The hitch has a tongue weight rating of 1,000 lbs, maintaining the standard 10% ratio of the gross weight rating of 10,000 lbs to prevent overloading the rear axle. The inclusion of sliding bars aids in controlling trailer sway.
The hitch ball offers adjustable mounting, extendable from 2.5 inches to 5 inches based on loading conditions. The 12-inch shank ensures easy adaptation of the hitch configuration, instilling confidence when dealing with heavy loads. This weight distribution hitch features a design that allows for quick release of the entire setup.
Why We Love It:
Safely improve trailer ride quality with this Weight Distribution Hitch Kit, easy sway control adjustment via a clamp. The best hitch kit comprises a round bar weight distributing hitch, 2 5/16-inch hitch balls, and sway control. Universal spring bars work on either side of the hitch, while pre-installed components like the hitch ball and sway control ball on the adjustable mount, and pre-installed U-bolts and chain package on the spring bars save time. The kit has an optional upgrade to the maximum tongue weight of 1,200 lbs and a gross weight rating of 12,000 lbs. Hassle-free installation, including all mounting hardware.
What You Should Know:
Benefit from a standard 5-year manufacturer's warranty. This sway control hitch comes pre-installed, saving you valuable time during installation. But this is a reason to avoid this Weight Distribution Hitch Kit if you require real-time load reading as it does not come with included gauges for this purpose.
The Blue Ox BXW1000 SWAYPRO, our top choice for weight distribution hitches, features a pre-adjusted hitch head for easy installation, making it ideal for those with limited experience.
Its trunnion-style design ensures excellent sway control, enabling faster, worry-free towing. The caster effect, facilitated by trunnions and spring bars, maintains alignment. It's simple to connect and disconnect in minutes, providing hassle-free campground navigation.
 Compatibility is broad, and for specific trailer tongues, additional bolt-on latches or an optional hitch head may be needed. With a 1,000-pound tongue weight and 10,000-pound gross weight rating, this durable hitch adds strength to your setup, and its design allows for backing up without disconnection.
Why We Love It:
Highlights of the Blue Ox BXW1000 SWAYPRO include reliable sway control and preventing fishtailing. Its pre-adjusted hitch head eliminates the need for further tuning post-installation. The self-locking spring bars facilitate effortless connection. The inclusion of clamp-on latches simplifies installation, negating the need for extra hardware. Additionally, the hitch features robust spring steel construction, enhancing the unit's durability and strength. Notably, there's no need to disconnect the hitch when backing up your trailer.
What You Should Know:
The Blue Ox BXW1000 SWAYPRO excels with trailer tongues featuring couplers welded to the frame's top and lacking cross-members. This hitch offers premium quality, though it may come at a slightly higher price point. Overall, the described hitch operates quietly, producing minimal or no noise during use, which can be beneficial for a more comfortable and peaceful towing experience.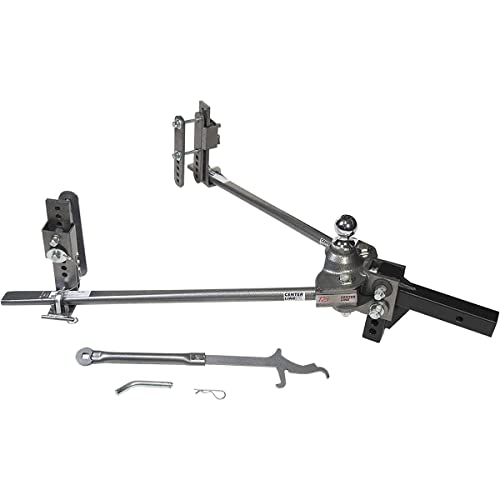 For a quiet, trunnion-style hitch that minimizes noise during highway travel, consider the Husky 32218 Center Line TS. Unlike some sway bars and weight distribution products, this hitch avoids the annoying noise issue.
It accomplishes this by not using chains to attach to the trailer's tongue. The absence of jangling chains sets it apart, providing a noticeable difference in the driving experience.
The Husky 32218 Center Line TS seamlessly combines sway control and weight distribution, offering a quiet performance without extra hardware. Installation is hassle-free thanks to the handles on the bars, and adjustable frame brackets suit various trailer tongues.
It supports a maximum tongue weight of 1,200 pounds and a gross weight rating of 12,000 pounds. At just 116 pounds, it's lighter than many hitches, making installation and removal more manageable.
Why We Love It:
The Husky 32218 Center Line TS offers a silent towing experience due to its design, which eliminates the need for chains, unlike some other hitches prone to noisy rattling. Built-in sway control is a valuable feature, as it reduces the requirement for additional accessories or hardware. This convenience enhances the overall towing experience. Its lighter weight, relative to similar models, makes it more manageable during installation and removal. The inclusion of handles on the frame brackets further streamlines the installation process, allowing users to secure the hitch more easily. Overall, these features contribute to a quieter, hassle-free, and more efficient towing setup.
 What You Should Know:
This travel trailer hitch delivers on both performance and value, effectively distributing loads up to 12,000 lbs across its design. Additionally, the built-in sway control unit eliminates the requirement for extra hardware. Moreover, the hitch is designed with a specific size requirement, 2 and 5/16 inches, for the hitch ball. This ensures a proper match between the hitch and the ball, allowing for a secure and safe towing connection. It's essential to have the correct hitch ball size to ensure compatibility and prevent any issues during towing.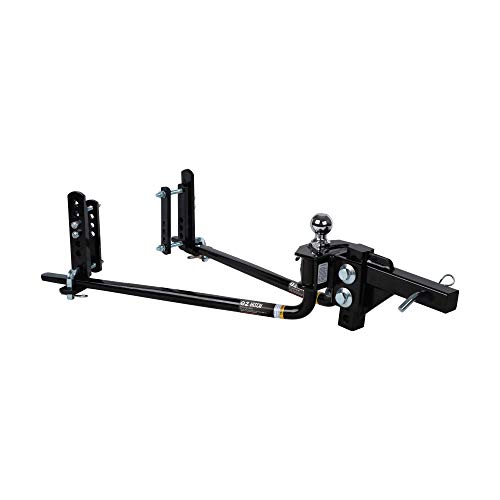 This travel trailer weight distribution hitch ensures safe rides with excellent weight distribution. It's remarkably easy to install, taking just around 20 minutes, and even simpler for beginners due to straightforward instructions. Removal is also hassle-free with the right wrench. No need for extra chains or add-ons, and it performs well in challenging weather conditions for both driving and backing up.
Moreover, this best weight distribution sway control hitch boasts exceptional sway control, even resisting drift in 40mph winds, ensuring stress-free driving. The key to this top-notch performance lies in the rigid brackets, providing robust steel-on-steel friction for continuous 2-point sway control, effectively minimizing unwanted wobbling.
The Fastway e2 hitch simplifies the towing experience with integrated sway control, speeding up hitching and unhitching while enhancing safety in challenging towing scenarios. It's particularly valuable during downhill grades when hauling heavy loads, passing semi-trucks, combating crosswinds, and executing quick maneuvers. This best hitch offers the advantage of faster and easier sway control and weight distribution.
The e2 hitch's integrated sway control eliminates extra connections, gear, and hassle during backing or tight turns, aided by sturdy brackets and steel-on-steel friction.
Why We Love It:
The Fastway e2 hitch enhances safety through outstanding weight distribution, a vital factor in curbing trailer sway. It transfers trailer tongue weight across all tow vehicle axles, maintaining solid front-end traction for better steering and braking control. This setup eliminates stressful driving scenarios, ensuring a safer journey on the road. This weight distribution hitch is designed to be user-friendly, offering an easy installation process, making it particularly suitable for beginners. It's also simple to remove when needed. Unlike some other hitches, this one doesn't require additional add-ons, enhancing convenience. Its exceptional sway control performance ensures smooth backing up, which is essential for safety and manoeuvrability when towing.
What You Should Know:
It's essential to mention that this model generates some noise during turns, which could be unsettling for certain users. However, these sounds aren't a significant cause for worry; they are typical operational noises. Another potential downside is the kit's substantial size, potentially obstructing the rear view camera's field of vision. While it's not a deal-breaker for everyone, it's crucial to consider the space it occupies when choosing this hitch.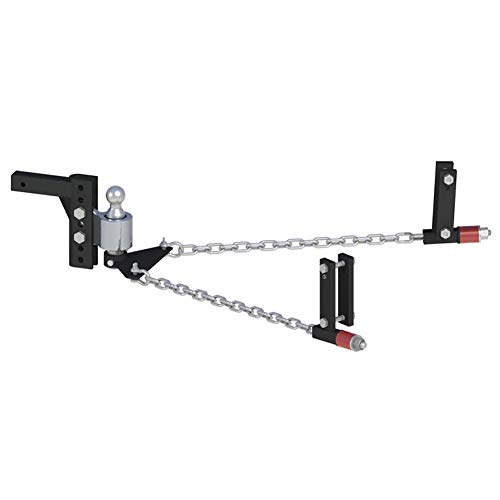 If you've had enough of dealing with trailer hitch bouncing, you'll want to take a look at this innovative solution. It sets a new standard for eliminating sway, using a distinct mechanism to evenly distribute weight throughout its structure. This ensures that the product can manage heavy loads without experiencing any undesirable strain. Moreover, its chain and spring design ensures a quiet operation, minimizing any noise concerns.
Distinguishing itself from the many hitch options available, this best weight distribution sway control hitch operates without the need for lubrication. The ball and coupler function seamlessly together, eliminating friction and the necessity for lubricants.
Prospective buyers need to take note that this kit may not be suitable for all couplers. Specifically, it's incompatible with Atwood's 88007, 88010, 88555, and 88600 coupler models.
In contrast, this hitch operates without the need for spring bars, making it relatively simple to determine which trailer weight is suitable for it.
Fortunately, this sway control hitch is noticeably lightweight compared to other models, with a total weight of under 60 lbs.
Why We Love It:
This sway control hitch excels in handling substantial loads with remarkable efficiency, all while maintaining a serene silence during operation. A significant advantage is its self-lubricating design, eliminating the need for messy lubricants and simplifying maintenance. Adding to its appeal is a relatively lightweight frame, which eases installation and handling. Unlike other models, it avoids the complexities of spring bars, boasting a streamlined design that simplifies compatibility assessment and provides a more straightforward towing experience. This innovative hitch not only ensures a smooth and quiet journey but also reduces the hassle associated with conventional hitches. It's a game-changer for those seeking a reliable, hassle-free towing solution that combines robust load management with user-friendly features, making it an appealing choice for various towing needs.
What You Should Know:
This weight distribution sway control hitch has limitations in its compatibility with various couplers. It won't work with specific models like Atwood's 88007, 88010, 88555, and 88600 couplers, which potential buyers should be aware of before purchasing. But overall, this weight distribution hitch is a thoughtful gift for individuals who own trailers and require a dependable and secure link between their trailers and the vehicles towing them. It helps distribute the weight more evenly, enhancing stability and safety during towing.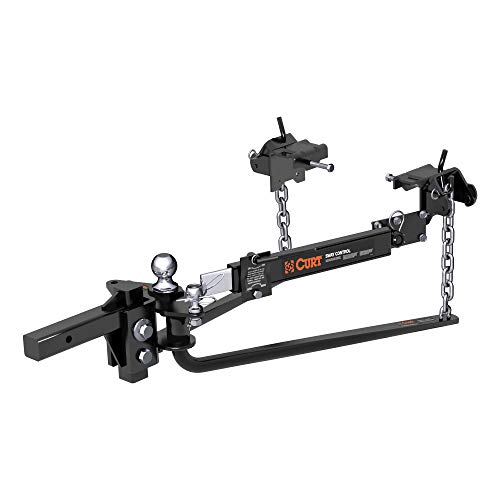 If you need a weight distribution hitch with a high gross trailer weight rating, the CURT 17063 MV Round Bar hitch is the top choice. Ideal for longer trailers, it offers excellent features to maintain stability. It evenly distributes the trailer's tongue weight, ensuring level towing and a smoother ride.
With the added sway control bar, your trailer maintains better levelness during driving compared to numerous other distribution hitches. This hitch incorporates a built-in lubrication system to enhance road sound.
This setup ensures ongoing lubrication via two conveniently accessible grease zerk fittings integrated into the hitch head. These fittings are directly integrated into the head and provide lubrication where the spring bars are mounted.
The spring bars, measuring 31 and 1/16 inches each, are constructed from sturdy forged steel. The pre-torqued hitch ball has a diameter of 2 and 5/16 inches, with a shank size of 2" x 2".
This shank size ensures compatibility with class 3, class 4, and even the heaviest class 5 trailer hitches. The CURT 17063 MV Round Bar offers a maximum tongue weight rating of 1,400 pounds and a maximum gross weight rating of 14,000 pounds.
Furthermore, it features a robust black carbide powder coat finish, enhancing both the durability and corrosion resistance of the components.
Why We Love It:
The CURT 17063 MV Round Bar hitch is designed to be highly adaptable, fitting various types of trailer hitches, specifically those classified as class 3, 4, and 5. It ensures a smooth and comfortable towing experience by continuously providing lubrication at the crucial spring bar mounting point, which is essential for reducing friction and maintaining stability. This even weight distribution at the tongue of the trailer contributes to a more level ride, preventing any excessive tilting. Additionally, this hitch is built to handle heavy loads, with a maximum gross weight rating of 14,000 pounds, making it a reliable choice for towing substantial trailers.
What You Should Know:
In tight spaces, certain users have found it necessary to disconnect the sway control bar, particularly when executing sharp turns, especially to the right. This maneuver allows for increased maneuverability, preventing potential interference or restrictions that might arise from the sway control bar during such turns. But overall, this weight distribution hitch enhances ride comfort and control by evenly distributing the trailer's tongue weight across the vehicle-trailer setup, leveling the load. Additionally, it features a trailer sway control bar.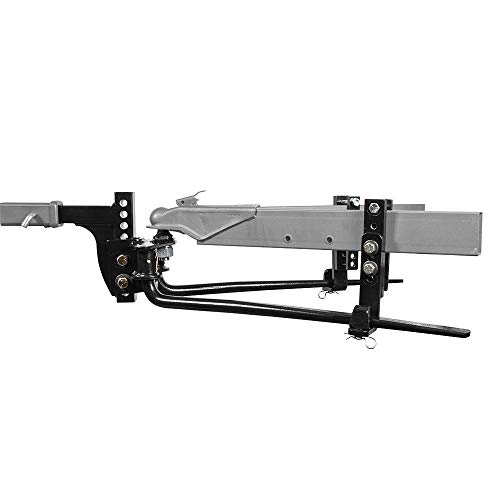 Consider the Reese 49913 Wd Rb Pro round bar hitch—a convenient choice with a preinstalled hitch ball. No separate hitch ball is needed, ensuring compatibility. The hitch ball has a 2 and 5/16-inch diameter and is pre-torqued. The spring bars are tapered for balanced weight distribution across trailer axles.
This guarantees an even smoother ride, while the integrated friction sway control deters fishtailing at higher speeds. When it comes to an RV accessory enduring dirt, debris, rain, and elements, its durability is crucial.
The powder coating on all metal components is a key feature I appreciate in this hitch. It enhances long-term corrosion resistance and durability. The clamp-on brackets, compatible with trailer frames up to seven inches in diameter, are easy to install without the need for drilling. While it might not fit larger trailer frames, the convenience of bracket installation is a significant advantage.
Designed for taller trucks, the hitch accommodates a 2-inch shank size and 8.5-inch drop. The Reese 49913 Wd Rb Pro has a maximum tongue weight rating of 1,150 pounds and a maximum gross weight rating of 11,500 pounds. Furthermore, it comes with a manufacturer's 10-year limited warranty, covering repairs or replacements for specific components.
Why We Love It:
The Reese 49913 Wd Rb Pro offers user-friendly features. It arrives with a preinstalled 2 and 5/16" hitch ball for convenience. The powder coat finish enhances long-term corrosion resistance, extending the hitch's durability. It's further supported by a 10-year limited warranty from the manufacturer, ensuring peace of mind. The tapered spring bars enhance weight distribution, providing a smoother towing experience by balancing the load over the axles. These combined features make this hitch a practical and reliable choice for towing needs. In short, this best sway control hitch arrives with preinstalled, torqued sway control and 2-5/16″ hitch ball, U-bolts, and high-strength steel head, providing enhanced towing, safety, and stability.
What You Should Know:
The Reese 49913 Wd Rb Pro hitch has specific compatibility requirements. It's designed for bottom mount couplers, not suitable for other types. Additionally, the clamp brackets provided with the hitch are tailored to trailer frames up to seven inches in diameter, ensuring a proper fit within this size range. It's essential to consider these limitations to ensure the hitch's suitability for your specific towing setup. Proper compatibility ensures a secure and efficient towing experience, making these specifications crucial to keep in mind when selecting this hitch.
Choosing the Best Weight Distribution Hitch: A Buying Guide.
Selecting the appropriate hitch depends on compatibility with your RV and towed vehicle. This Buying Guide outlines key factors for evaluating hitch suitability for your RV-vehicle combination.
Weight distribution hitches come in three primary types, all of which are covered in our reviews above. Let's delve into each type for a better understanding.
Round bar hitches have round sway bars connected beneath the trailer ball mount. Their key benefit lies in their compatibility with various vehicle-trailer combinations. However, they possess lower ground clearance compared to other hitch types, making them susceptible to challenges from potholes or bumps.
Trunnion-style hitches offer significantly greater ground clearance compared to a round bar or Andersen hitches. Additionally, these hitches do not require clips for the sway bars. However, a potential downside of this hitch type is that adjusting the height of the hitch head can be challenging.
Andersen hitches replace solid sway bars with chains and dampers. This design effectively minimizes swaying and bouncing, ideal for rough roads or off-road trailer use.
Gross Trailer Weight
The gross trailer weight encompasses both the original weight of the trailer and any added cargo or modifications. Some new trailer owners overlook these extra weights when selecting a hitch, leading to a potentially insufficient hitch rating.
In essence, it's crucial to choose a weight distribution hitch with a rating exceeding the combined weight of your trailer and its cargo. If the trailer's weight surpasses the hitch's capacity, it won't distribute the weight correctly, rendering it ineffective and causing potential swaying or bouncing issues.
Tongue Weight
Tongue weight combines the weights of your trailer's front end and your towing vehicle, resting directly on the hitch. Generally, it's around 10 to 15 percent of the gross trailer weight.
It's crucial to select a hitch rated higher than your actual trailer-vehicle combination's tongue weight. If precise calculations are challenging, the 10 to 15 percent rule of thumb is an effective guideline for determining the appropriate rating for your weight distribution system.
Installation Process
The installation process for weight distribution hitches can vary in difficulty. Regardless, some level of time and effort is necessary.
When picking a weight distribution hitch, prioritize those with a straightforward installation process. Ensure it includes a well-written instruction manual in a language you're comfortable with. While most manuals offer multiple language options, it's wise to confirm this before making a purchase.
A valuable approach is to delve into user reviews for the specific hitches of your interest. If a hitch consistently receives positive remarks for being easy to install, you can expect a smoother installation process yourself.
Generally, these hitches shouldn't take more than an hour to install. If you come across reviews indicating multiple hours for a certain hitch installation, it's wise to consider alternative products. However, exercise caution by not solely relying on a single user review. Instead, look for patterns in the experiences reported by most users. A weight distribution hitch with a straightforward installation process typically takes around 30 minutes to an hour to properly set in place.
Sway control Types
Sway control comes in various types among weight distribution hitches, each with distinct functionality.
One type aims to minimize sway that has already been initiated, while the other focuses on preventing sway from occurring initially. We'll provide a detailed overview of both types.
Sway Controls to Reduce Sway
Hitches designed for this purpose utilize either independent friction sway control or dependent sway control.
With independent friction control, devices often appear as bars attached to your trailer's frame. This connection to both the hitch and trailer creates tension, maintaining a straighter alignment.
These bars are typically telescopic, extending or retracting as the trailer moves. If the trailer veers off course, the friction pads within the telescoping arm prevent over-extension, reducing side-to-side trailer movement.
Dependent sway controls are integrated directly into weight distribution hitches. When your trailer starts swaying, the downward force from the hitch's spring bars generates frictional resistance on the brackets linked to your trailer frame.
Certain dependent sway control mechanisms utilize steel-to-steel resistance, while others feature materials akin to vehicle brake pads. Regardless, both methods generate resistance to maintain your trailer's straight alignment.
Sway Controls to Prevent Sway from Starting
Several weight distribution hitches incorporate sway controls to proactively prevent sway initiation.
One type employs sliding devices known as "cams," suspending and locking the spring bars in place. The cam's alignment between the lift bracket and your trailer frame secures the spring bars, maintaining trailer alignment.
Certain hitches feature four-point sway control, ensuring a strong connection between the hitch head and spring bars. This tight connection, with appropriate tension and resistance, ensures trailer alignment.
Other hitches solely rely on tension for spring bar security, while some systems incorporate active sway control, utilizing spring-loaded ball bearings. These bearings exert pressure within the detents to keep the trailer straight.
Hitch Weight:
When selecting a weight distribution hitch, consider its weight to ensure it doesn't exceed your vehicle's specifications. These hitches distribute weight evenly between the trailer and your tow vehicle's rear axle, but they can't increase the vehicle's maximum towing capacity.
The hitch's weight matters during installation or removal. Many hitches weigh around 100 pounds, but some are significantly heavier, while others are lighter. Ensure you're comfortable handling the chosen hitch's weight when installing it between your tow vehicle and the trailer.
Installation:
The top-tier weight distribution hitch models are designed for immediate use, with pre-installed components for simple installation and safe operation.
Many even provide a package of clips and pins to secure hitch bars, brackets, and other elements. However, not all hitches include everything needed for immediate use. Some lack a hitch ball, requiring a separate purchase, while others might need extra hardware for compatibility with your specific trailer-vehicle setup.
In such cases, you'll face additional expenses to make the hitch work with your trailer. This path isn't always straightforward. Hence, we recommend seeking a hitch with pre-installed components, reducing the risk of complications during installation that could compromise the system's safety and effectiveness.
Durability
As you'd anticipate, weight distribution hitches face exposure to the elements. Roads can be unforgiving, especially for external components wedged between your trailer and vehicle.
This setup places additional stress on the hitch and its parts, making durability a crucial factor in your purchase decision.
The most robust hitches on the market feature a powder-coated finish on the construction's metal components. This coating offers heightened corrosion resistance, prolonging the hitch's lifespan and that of its parts.
If you reside in or frequently travel to coastal areas, you're likely aware of how salt in the air affects metal parts. In such regions, a hitch with a powder-coated finish is indispensable to withstand these conditions.
The durability of a weight distribution hitch goes beyond a corrosion-resistant finish. The quality of the metal used in its construction is crucial.
Consulting numerous consumer reviews is an effective way to ensure your chosen hitch will last. Products with durability concerns tend to have reviews documenting these issues.
However, exercise caution in relying solely on the "law of averages" in reviews. While not foolproof, reviews remain a valuable tool to gauge whether a hitch truly lives up to the manufacturer's claims regarding its durability.
A Final Thought
In conclusion, selecting the best weight distribution sway control hitch requires careful consideration of various factors. It's essential to analyze the type of sway control, compatibility, ease of installation, weight distribution, and overall durability. A reliable choice should offer effective sway control mechanisms, be compatible with your specific setup, feature user-friendly installation, adequately distribute weight, and possess a durable design that withstands environmental challenges.
The weight distribution sway control hitches presented in this guide, our top 7 picks, present a wide range of features to accommodate various towing requirements. From effective sway control mechanisms to compatibility, ease of installation, and durability, each hitch brings unique advantages to the table. Thoroughly examining user reviews and comparing these essential aspects will empower you to make a well-informed decision, ensuring your towing experience is safe, stable, and hassle-free.
With the right weight distribution sway control hitch, you can confidently navigate the road, knowing that your trailer or RV is well-balanced, and the potential for swaying is minimized, allowing you to focus on the journey ahead.