"Discover the ideal tonneau cover for your GMC Canyon. Custom-fit, durable, and stylish options that enhance protection and aesthetics."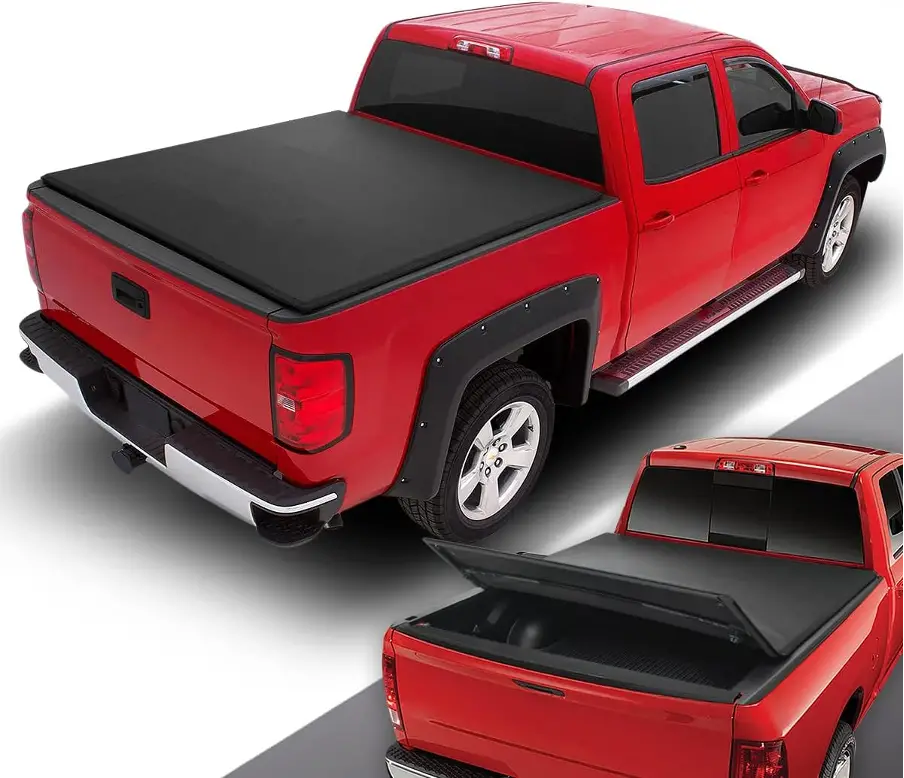 Elevate your GMC Canyon's functionality and style with the finest tonneau cover options. These tonneau covers aren't just about protecting your truck bed; they're a statement of practicality and aesthetics. Custom-fit designs ensure seamless integration with your Canyon, offering superior protection against the elements while maintaining a sleek appearance. Whether you're looking for retractable, folding, or roll-up covers, you'll find various choices combining durability, ease of use, and visual appeal. Discover the top 8 tonneau covers that safeguard your cargo and elevate your GMC Canyon's overall look and performance.
Table of Contents
Our 8 Picks in 2023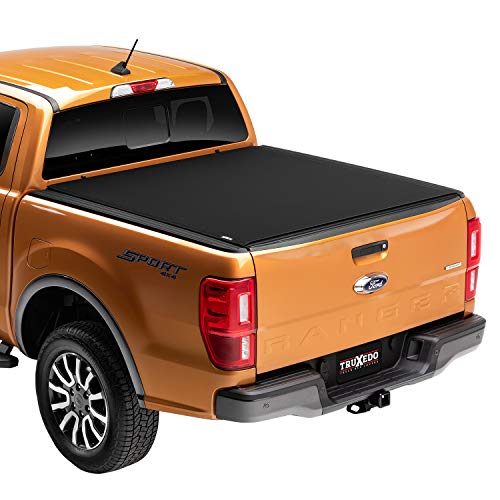 TruXedo's Pro X15 is a really good choice if you want a high-quality cover for your truck bed that doesn't cost too much. The material it's made from is strong and won't get dirty easily so it will look nice all year round. Unlike some covers that stick out on top of your truck bed, this cover sits flat and low, so it looks sleek and doesn't mess up your truck's appearance.
The Pro X15 is easy because it opens up super-fast with just one hand near the back of the truck, and you can roll it up towards the front to access the whole bed. When you're ready, fasten the cover near the front, and you're ready to drive. Even when the weather changes, the cover will stay tight on the bed without needing you to adjust it.
If you need to carry big stuff and don't want the cover on, you can take it off really quickly without needing any special tools. The Pro X15 is made in the USA using materials from all around the world, and it comes with a warranty that lasts forever and doesn't give you any trouble.
Why We Love It:
The Truxedo Pro X15 truck bed cover offers a sleek and low-profile look with its flat rails, and its user-friendly design ensures easy and frustration-free installation. The cover's matte-black fabric looks stylish, tough, and dirt-resistant, maintaining its clean appearance even between washes. Installing the Pro X15 doesn't require drilling or special tools; it attaches smoothly inside the truck bed, leaving space for customization. The cover is simple, with a one-finger latch to open and easy rolling for cargo security. It can be quickly removed for full bed access, and its tension adjusts automatically for weather changes. Overall, it's a durable, convenient, and aesthetically pleasing solution for protecting your truck bed.
What You Should Know:
Setting up the product is relatively quick, taking about an hour to complete. However, the instructions provided for installing it could be clearer and easier to understand, which might make the installation process more challenging than it should be. Despite the difficulties with installation, the final appearance of the product is aesthetically pleasing.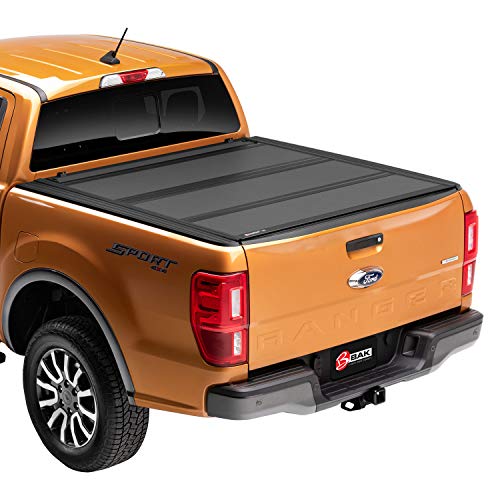 The BAK BAKFlip MX4 is a top choice for those who want a mix of versatility and durability. Made from strong aluminum panels, this hard-folding best tonneau cover provides excellent protection for your GMC Canyon's cargo. Its tough construction ensures long-lasting use. The MX4's matte finish not only looks stylish but also resists scratches and damage from UV rays.
The cover's folding design is unique and lets you access the entire truck bed in just seconds. You can secure the panels in different positions to accommodate various sizes of cargo, making it convenient for different needs. An added benefit is the built-in drainage system, which keeps your truck bed dry and well-protected, preventing water buildup.
Overall, the BAKFlip MX4 offers a combination of sturdiness, functionality, and a sleek appearance, making it a great choice for truck owners who want dependable cargo protection without sacrificing style.
Why We Love It:
The BAKFlip MX4 is a versatile truck bed cover with strong aluminum panels and a sleek matte finish. It can be closed with the tailgate up or down and has a flush-mount, low-profile design. You can fully fold it against the cab for complete bed access, accommodating large cargo without removing the cover. Opening is easy from both sides, with durable components for strength. It doesn't block the third brake light when upright, ensuring safe hauling. Prop rods hold it upright and fold down quickly without tools.
What You Should Know:
Even after making necessary adjustments, this tonneau cover for GMC Canyon is still susceptible to water leakage, as evidenced by numerous instances where customers have reported leaks in their reviews. One particularly common issue is leakage at the cover's back right corner. This recurring water infiltration problem, as highlighted through various customer experiences, indicates that the cover might not effectively keep moisture out, potentially leading to unwanted water exposure for the cargo in the truck bed.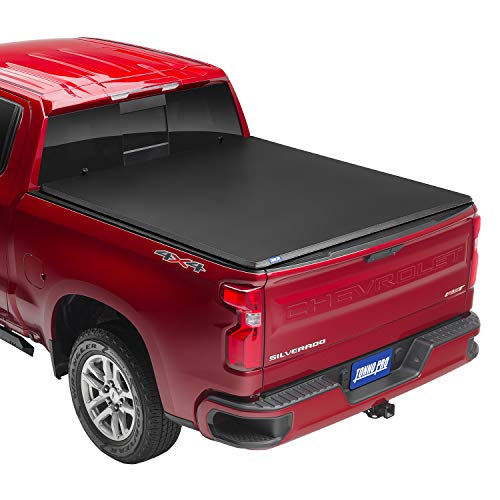 This tonneau cover for GMC Canyon features durable materials—a tough double-sided vinyl and a strong aluminum frame—ensuring maximum truck bed protection. Its versatile, easily accommodating different cargo sizes by swiftly removing it for larger items or folding it forward and securing it for smaller loads near the cab. Closed, it shields cargo from dirt, rain, and wind. Water-resistant edges prevent water entry, maintaining cargo security. The cover fits snugly, staying taut and sag-free, even at high speeds.
Installing the Tonno Fold truck bed cover is a user-friendly process. It arrives pre-assembled with sturdy side rail clamps, allowing you to complete the installation in just around 10 minutes. The lightweight design ensures that a single person can handle installation, removal, and folding without any hassle, and there's no need for drilling during the setup.
The Tonno Pro brand has established itself as a reliable presence in the US market, emphasizing quality, affordability, and ease of installation across its range of truck bed covers. Like all their products, the Tonno Fold truck bed cover is backed by a Limited Lifetime Policy, providing customers with added assurance and peace of mind.
Why We Love It:
This versatile folding tonneau cover has a unique design. You can fold it down to cover the entire truck bed or fold it back for more space. The hinged tri-fold style lets you adjust it as needed, and you can even remove it quickly. Made with a strong powder-coated aluminum frame and tough vinyl top, it can handle wind, rain, and even bird droppings. Leaving it on when the truck bed is empty protects against the weather and keeps your bed liner clean.
What You Should Know:
The cover is of good quality, but there's an issue with the clips needing longer bolts for secure attachment. It seems like the manufacturer might have opted for cheaper materials, affecting overall durability. Additionally, the location of the release latch has been changed from the passenger's to the driver's side.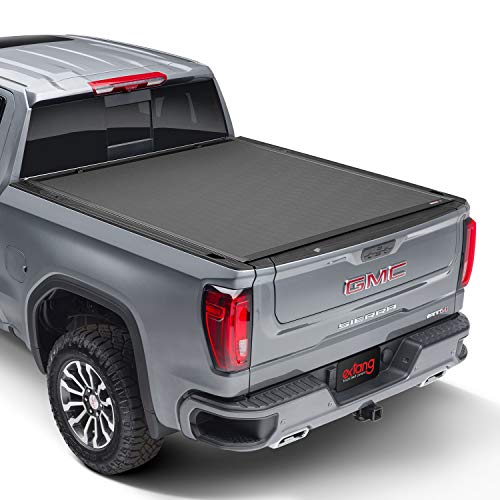 The Extang Xceed is a secure and seamless hard folding truck bed cover. Its rails are placed inside your truck bed, giving it a flush appearance. Made from sturdy aluminum, it can hold up to 500 lbs. evenly spread on top. The moisture-resistant panels not only look great but also provide water resistance.
This best tonneau cover shields your truck bed from the weather and secures its contents. It introduces an innovative Secure Rotary Release Latching System, enhancing tamper-proof security. To open, simply rotate the release knob. The Xceed folds completely, allowing full bed access, thanks to its unique four-panel design that reduces height when open. Sturdy support rods and a buckle strap can hold it in place.
With Extang's Maximum Strength Warranty, the cover is backed for an extended period and carries a three-year warranty. The Extang Xceed offers a polished look, durability, and advanced security features for your truck bed.
Why We Love It:
The Extang Xceed is a hard folding truck bed cover that combines seamless design with strong security. It sits flush on your truck bed, giving a polished look when closed and offers full bed access when open. The unique four-panel design enables complete bed access by folding up to the back window, held securely by quick-release support rods. The cover's Secure Rotary Release Latching System ensures tamper-proof security. Water resistance is guaranteed through the EnduraCoat covering and extruded side seals. The low-profile design maintains your truck's sleek appearance without sacrificing durability. The Xceed is available in matte black finishes and enhances your truck's overall look while providing convenience and protection.
What You Should Know:
Numerous user reviews highlight reasons to avoid the Extang Xceed: recurring leaks, particularly during heavy rain or washing; reported installation challenges, including unclear instructions; and concerns about long-term durability, such as the cover showing signs of wear and tear sooner than expected. These collective experiences suggest a lack of reliability and might make potential buyers cautious about investing in this truck bed cover.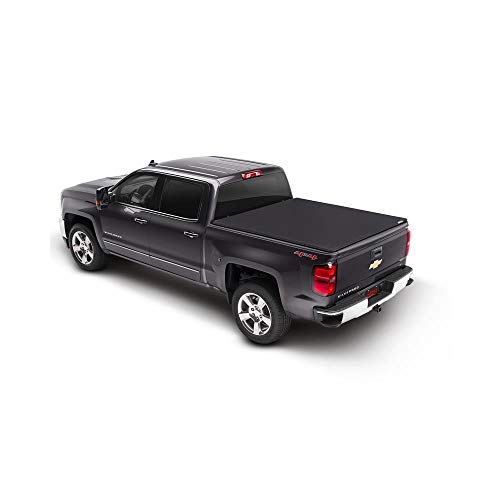 The Extang Trifecta 2.0 Signature Series takes the Trifecta 2.0 great features up a notch by incorporating a premium water-resistant material top. This top-tier material not only exudes a stylish appearance but also possesses impressive dirt resistance, ensuring that the cover maintains its attractive look throughout the year.
However, the real highlight is its effective protection against unwanted elements. The material is designed to keep water, dirt, and dust out of your truck bed, preserving the cleanliness and integrity of your cargo.
The Trifecta 2.0 Signature Series installation is hassle-free and efficient, as the cover comes fully assembled, eliminating loose parts, and simplifying setup. Aligning the cover with your truck bed and locking it in place with clamps at the cab's sides takes under five minutes, ensuring a speedy process. Operating the tonneau cover is equally uncomplicated; accessing the truck bed involves pulling down the EZ-Lock tailgate clamps and easily folding the cover – a user-friendly and convenient procedure.
Furthermore, Extang backs this best tonneau cover for GMC Canyon with their Maximum Strength Warranty, providing extended coverage that often surpasses the duration of typical truck ownership. Specifically, the Trifecta 2.0 Signature Series is supported by a lifetime warranty, which speaks to its durability and the manufacturer's confidence in its performance over the long haul.
Why We Love It:
The cover stands out using a strong canvas material instead of vinyl, enhancing its durability. Installing it is extremely user-friendly – no assembly or drilling is needed. You simply position the cover on your truck, tighten the clamps, and it's ready. Safety features like Hold-Tite Straps & Snaps, WeatherTuff Seals, and MaxHinges are designed by Extang for added security. The patented EZ-Lock clamps are effortless to use and lock in place on their own. The cover's folding design is easy to manage and offers a sleek appearance while still being tough. Plus, the improved cab clamps attach directly to your truck bed flanges without causing any damage or changes to your bed caps.
What You Should Know:
Users have expressed reasons to consider avoiding this product. There are reported concerns regarding its long-term durability, with some customers mentioning wear and tear occurring sooner than expected. Additionally, the installation poses difficulties for some, as feedback mentions challenges in setting it up properly. Users need clarification about the security features, particularly the EZ-Lock clamps, suggesting potential weaknesses. This and other concerns raised in reviews imply that the product may fall short of meeting expectations, prompting potential buyers to explore more suitable alternatives.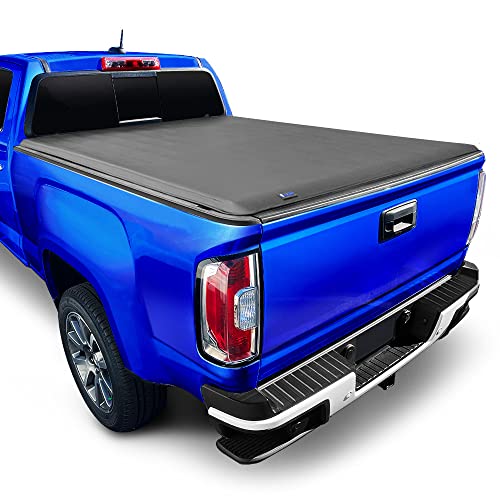 The Tyger Auto T1 Soft Roll-up Tonneau Cover is a versatile solution that combines practicality with a stylish look. Its standout feature is the quick-release mechanism, which simplifies the process of opening and closing the bed cover. This mechanism enables the marine-grade 24 oz. vinyl tarp to be securely rolled up and locked at the cab's rear. This configuration maximizes the bed's opening and accessibility.
This GMC Canyon tonneau cover is designed for convenience and security. It's a soft rolling cover that can be locked, protecting your truck bed contents. Installation is hassle-free, as it mounts on top of the truck bed rails without requiring any drilling. Additionally, it's worth noting that this cover is claimed to contribute to potential gas savings, with improvements of up to 13% in fuel efficiency.
Tyger Auto is committed to creating premium aftermarket auto parts that meet or exceed original equipment's quality standards. This best tonneau cover for GMC Canyon is no exception, backed by a hassle-free warranty that offers added peace of mind to buyers.
Overall, the Tyger Auto T1 Soft Roll-up Tonneau Cover offers practicality and enhances your truck's appearance. Its combination of functionality, style, and quality makes it a solid option for truck owners looking for a reliable, aesthetically pleasing bed cover solution.
Why We Love It:
The Tyger Auto T1 Soft Roll-up Tonneau Cover features durable construction, tear-resistant marine-grade vinyl, and strong aluminum cross bars. Installing it is simple, with a no-drill clamp-on process that takes just minutes. This best GMC canyon cover is secure due to its latch-locking and adjustable tension system. It offers improved aerodynamics for potential gas savings of up to 13%. The roll-up design ensures quick bed access. It's also weatherproof, safeguarding your belongings from harsh weather conditions like sun, rain, hail, and snow.
What You Should Know:
It's important to be cautious due to limited information about the cover's long-term durability, as it has only been in use for a week. On the positive side, the installation process is straightforward, and the initial quality appears promising. However, there are reservations about the latches used to open the cover, as they are described as somewhat flimsy but functional. This compromise might be more acceptable considering the cover's cost. It's advisable to wait for more comprehensive reviews or assess alternatives before deciding, especially if you prioritize long-lasting quality and reliable functionality.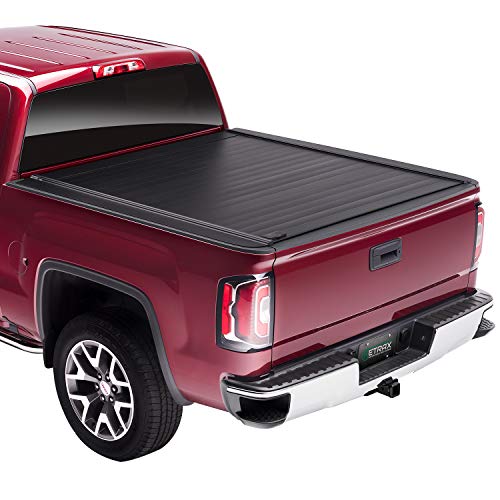 For GMC Canyon owners aiming for a premium tonneau cover, the RetraxPro stands out. Crafted from high-quality aluminum slats, it boasts both durability and a sleek matte finish that enhances the truck's aesthetics. Its seamless operation sets it apart – effortlessly open and close the cover with minimal effort. Notably, it's designed to lock any position along the truck bed, which is advantageous for hauling larger items requiring varying degrees of space.
One of its key benefits is the low-profile design. This contributes to the truck's overall appearance and has practical advantages. The cover's streamlined structure improves the truck's aerodynamics, potentially leading to reduced wind resistance and better fuel efficiency. This dual functionality of style and performance makes the RetraxPro an attractive choice for truck owners seeking both form and function in a tonneau cover.
The RetraxPro is a high-quality retractable tonneau cover that offers a blend of durability, style, and practicality. Its aluminum construction, smooth operation, flexible locking positions, and aerodynamic design make it a strong contender for GMC Canyon owners seeking a premium cover solution.
Why We Love It:
The Retrax Pro MX features tough aluminum construction with a scratch-resistant matte finish, adding durability and style. Its low-profile design enhances the truck's appearance. Convenient button release allows easy access to the bed with one hand. It stays flush with the rails, sealing out elements for cargo protection. Part of the Premium Aluminum Series, it offers unparalleled strength. The cover locks open at any rail position, providing flexible hauling and compatibility with fifth-wheel trailers.
What You Should Know:
Installation of the Retrax Pro MX might pose challenges for some due to its complexity. While it's possible to install it by yourself, user experiences indicate that having a second person is recommended. Attaching the rails to the canister and then lifting the assembled unit into place can be demanding and potentially frustrating when done alone. The process involves maneuvering and securing various components, which can be more manageable with assistance. If you're uncomfortable wrestling with the installation process or need extra hands, consider exploring alternatives offering a more straightforward setup.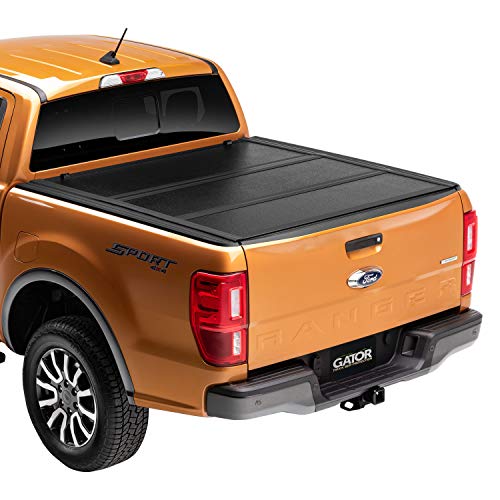 The Gator EFX Hard Tri-fold Cover is designed for durability, featuring robust aluminum panels resistant to scratches and UV rays. It's crafted to provide a sleek and streamlined appearance by mounting within the bed rails, seamlessly integrating with the truck's design. This design enhances the truck's aesthetics and contributes to its aerodynamics.
The cover's functionality is versatile – you can keep it partially open (2/3) while driving to accommodate larger cargo or close it completely to shield the contents from the elements. It's engineered with integrated rubber seals and inner drain tubes, creating a secure and weather-resistant seal when the cover is closed. This ensures your cargo remains protected from rain, snow, and other external factors.
Installing the Gator EFX Hard Tri-fold Cover is straightforward – clamping onto bed rails takes around 30 minutes. Custom fit for specific trucks ensures precise fit and function. Made in the USA with global materials supported by a US-based team, enhancing customer satisfaction.
In summary, the Gator EFX Hard Tri-fold Cover offers a blend of durability, functionality, and aesthetics. Its thoughtful design, easy installation, and customer satisfaction make it an attractive option for truck owners seeking a versatile, protective bed cover solution.
Why We Love It:
The Gator EFX Hard Tri-fold Cover is built from durable aluminum panels, resistant to scratches and UV damage. It sits inside the bed rails, lending a sleek appearance. This best tonneau cover for GMC Canyon can be partially open for larger cargo or completely closed for protection. Integrated rubber seals and drain tubes ensure security and weather resistance. Installation is straightforward – clamp onto bed rails in around 30 minutes. Custom-fit for various trucks, it has received rave reviews from customers. Made in the USA with global materials, supported by a US-based team.
What You Should Know:
Although it offers appealing features, the Gator EFX Hard Tri-fold Cover might be expensive for some buyers. While it provides advantages like easy installation, custom fit, and positive customer reviews, the cost factor could be a concern. Depending on individual budget considerations and the perceived value compared to other options, exploring more budget-friendly alternatives that provide similar benefits without stretching your budget might be worthwhile.
Buying Guides: How to buy a tonneau cover for GMC Canyon?
Buying the best tonneau cover for your GMC Canyon involves considering various factors to ensure seamless integration, optimal functionality, and enhanced aesthetics. Here's a comprehensive guide to help you make an informed decision:
 Identify Your Needs:
Begin by understanding your primary requirements. Are you seeking weather protection, enhanced security, easy access to your truck bed, or an improved overall appearance? Clarifying your needs will narrow down the options that align with your priorities.
Choose the Type:
Tonneau covers come in different types: roll-up, folding, retractable, and hinged. Each type offers distinct advantages. For instance, roll-up covers provide quick access, while folding covers offer versatility between open and closed positions. Retractable covers balance security and accessibility.
Material Matters:
The material of the tonneau cover plays a crucial role in its durability and longevity. Look for options made from high-quality materials like aluminum or heavy-duty vinyl. These materials offer resistance against weather elements and wear over time.
Check Compatibility:
Ensure the tonneau cover is designed specifically for GMC Canyon models. Compatibility ensures that the cover fits seamlessly and functions optimally without any issues.
Research Brands:
Look for reputable brands with a track record of producing reliable tonneau covers. Research online reviews and seek recommendations from fellow GMC Canyon owners to identify brands known for their quality and customer satisfaction.
Read Reviews:
User reviews provide valuable insights into real-world experiences with a particular tonneau cover. Pay attention to feedback regarding installation, durability, weather resistance, and overall satisfaction to gauge the cover's performance.
Compare Features:
Consider the features that each tonneau cover offers. Look for attributes such as locking mechanisms for added security, ease of installation, weather resistance, and aerodynamic design that can contribute to fuel efficiency.
Measure Bed Size:
Accurate GMC Canyon truck bed measurements are crucial to ensure the cover fits perfectly. Incorrect sizing can lead to improper installation and compromised functionality.
 Set a Budget:
Determine your budget range for the tonneau cover. Tonneau covers vary in price based on their features and materials. Setting a budget helps you narrow choices and find options matching your financial constraints.
Warranty Consideration:
Choose a tonneau cover that comes with a warranty. A warranty reflects the manufacturer's confidence in their product's quality and offers you peace of mind in case of any unforeseen issues.
Installation Ease:
Assess your DIY skills and willingness to install the cover yourself. Some covers require professional installation, while others offer straightforward DIY setups. Choose an option that aligns with your comfort level and expertise.
Aesthetics:
Consider how the tonneau cover complements the overall appearance of your GMC Canyon. Choose a cover that enhances your truck's style, whether you prefer a sleek and streamlined design or a more rugged look.
Make the Purchase:
Once thoroughly researching and evaluating your options, purchase from a trusted retailer or manufacturer. Ensure you're getting the exact model that fits your GMC Canyon.
In conclusion, purchasing the best tonneau cover for your GMC Canyon is a process that involves understanding your needs, comparing features, checking compatibility, and considering factors like material, installation, and warranty. By following this comprehensive guide, you can confidently choose a tonneau cover that meets your functional requirements and enhances the overall appearance and performance of your GMC Canyon.
Conclusion
Opting for a top tonneau cover can greatly enhance the GMC Canyon's functionality, style, and security. Prominent options like the TRUXEDO PRO, BAK MX4, and RetraxPro stand out, each with distinctive features and advantages. Whether you lean towards roll-up, folding, or retractable designs, these covers ensure exceptional cargo protection while elevating your truck's appearance. Selecting the best tonneau cover for GMC Canyon involves considering your needs and preferences, ensuring an optimal choice that enhances your GMC Canyon ownership with enhanced practicality and aesthetics.