As the world moves radically towards a future powered by electric vehicles, the 2023 Ford Lightning stands out as a testament to this transition. This symbol of transformation from Ford, a manufacturer known for its long history of petrol and diesel engines, is indeed a game-changer. The Lightning, part of Ford's infamous F-150 lineup, represents a significant step in the company's push towards an electrified future. In the competitive market of EV pickups, the 2023 Ford Lightning is designed to offer a competitive edge, blending state-of-the-art technology with impressive performance and style. Whether it's the eye-catching exterior, luxury-filled interior, or the impressive electric powertrain, every aspect of this pickup innovatively carves out its place in Ford's vehicle lineup. Hence, a detailed breakdown of these exciting aspects serves to better understand why this vehicle could be the future of pickup trucks.
Overview of the 2023 Ford Lightning
The 2023 Ford Lightning: Reinventing the Ford F-150
The 2023 Ford Lightning is an all-electric version of Ford's iconic F-150 pickup truck line. This model is part of Ford's vision to advance towards a zero-emissions, all-electric future. With the Lightning, Ford aims to marry the traditional utility of the F-150 series with the benefits of electric mobility, marking a significant step in the evolution of pickup trucks.
Lightning's Position in Ford's Lineup
As part of Ford's electrified lineup, which includes the Mustang Mach-E and the upcoming E-Transit van, the Lightning occupies a prominent position. It's the company's first all-elective pickup offering, combining the F-150's renowned versatility and capability with the efficiency of an electric powertrain. The Lightning is targeted at pickup enthusiasts who are looking forward to embracing a greener, more efficient future.
Value Proposition and Target Market
Ford is banking on the Lightning's advanced features and improved performance to attract traditional pick-up owners and new buyers. This is targeted towards a broad range of consumers, from urban dwellers looking for an eco-friendly vehicle to adventurous off-roaders seeking torque and payload benefits from an all-electric powertrain.
Manufacturer's Objectives for the 2023 Ford Lightning
Ford's aim with the Lightning is to redefine the perception of electric vehicles, showcasing their inherent advantages over traditional combustion engines while retaining familiar functionality. By integrating cutting-edge technology like BlueCruise for hands-free driving and a versatile, intelligent backup power capability in the home, Ford is not only modernizing their lineup but also carving a niche in the EV segment for functional, versatile, and powerful vehicles.
What Sets the 2023 Ford Lightning Apart
The Lightning is powered by dual in-board motors, offering up to 563 horsepower and 775 lb-ft of torque, the most of any F-150 ever. It features four selectable drive modes: Normal, Sport, Off-Road, and Tow/Haul. The Lightning boasts an estimated EPA range of up to 300 miles while its 10,000-pound towing capacity remains competitive with other F-150 models.
The Lightning also showcases innovative utility features with its front trunk, also known as a "frunk," providing 14.1 cubic feet of lockable, water-resistant storage space. It is loaded with connectivity features, including a massive 15.5-inch touchscreen infotainment system, with over-the-air updates to provide continuous enhancement even after purchase.
Lightning: Ford's Glimpse Into the Future
The introduction of the Lightning speaks volumes about Ford's commitment to revolutionize the electric vehicle sector. Fusing efficiency, functionality, and innovative design, the 2023 Lightning represents Ford's pledge towards eco-friendly mobility, aiming to carry on the legacy of America's beloved pickup truck.
Exterior and Interior Design Features
The 2023 Ford Lightning: A Deep Dive into Its Exterior Design
The 2023 Ford Lightning, designed as the electric counterpart of the popular Ford F-150, showcases a future-forward look while beautifully upholding its truck heritage. Its clever design incorporates daring lines and striking curves, striking a perfect balance between aerodynamic design and tough exterior aesthetics.
What makes the 2023 Lightning's design truly stand out is its state-of-the-art lighting scheme. The truck features a head-turning LED lighting system that stretches from one headlight to the other across the grill — a fitting lightning bolt-styled design element, living up to its name. The LED tail lights mimic its front design, bringing an element of symmetry to the vehicle's visual approach.
The traditionally masculine truck also offers a plethora of color options for its admirers to choose from. While Ford hasn't yet disclosed the vast spectrum of colors for the Lightning, the launch unveiled a regal blue version which indicates the Lightning might offer color choices akin to its F-150 line of models.
2023 Ford Lightning: Interior Design Features
Moving onto the interior, Ford has equipped the Lightning with high-level luxuries. The seats are designed around comfort and durability, available in materials that range from premium cloth to luxury leather. Beyond seating, there's plenty of space. Ford's engineers managed to create a spacious, comfortable, and luxurious interior cab environment.
One luxurious feature onboard is the fold-down shift lever, which when lowered, allows for the center console to fold into a flat work surface. This design feature uniquely combines luxury and functionality, particularly appealing for working professionals.
2023 Ford Lightning: Tech Features
Technology features in the 2023 Lightning are equally impressive. The all-electric truck comes with a huge 15.5-inch touchscreen infotainment system, which is loaded with the latest version of the Ford Sync system. It also introduces 'BlueCruise,' a hands-free driving assist system for use on divided highways.
Perhaps the most striking tech feature of the Lightning is its ability to supply power back to your house during an outage, effectively acting as a generator. This power potential is due to the electric nature of the vehicle and the large power reserve available in its battery system.
img src="2023-Ford-Lightning-Exterior-Design.jpg" alt="An enticing glimpse of the 2023 Ford Lightning's stylish exterior design."/>
Powertrain and Performance
Unveiling the Performance and Powertrain Specs of the 2023 Ford Lightning
With the fully electric 2023 Ford Lightning, Ford has truly revolutionized the truck segment. This stellar vehicle boasts a powerful all-wheel-drive system, operated by two electric motors. This potent combination provides an estimated output of 563 horsepower and a massive torque of 775 pound-feet, positioning it as one of the mightiest in Ford's lineup of F-150 series trucks.
The 2023 Ford Lightning is furnished with a single-speed automatic transmission system. A characteristic feature of electric vehicles, this system is particularly engineered to manage high-rpm operation. Thus, it ensures an effortless, slick acceleration for a smooth, exhilarating drive.
Unique Features Enhancing Performance
The 2023 Ford Lightning also boasts a torque delivery system that's more immediate compared to traditional gasoline powertrains, which means the Lightning can hit speeds from zero to sixty miles per hour in an expected mid-four-second range, per Ford's claims.
To further enhance performance, Ford has introduced advanced features such as the Pro Trailer Hitch Assist, which automatically controls the steering, throttle, and brake inputs to hitch the truck to the trailer effectively.
Fuel Efficiency, Towing Capacity, and Battery Range
Being fully electric, fuel efficiency, as known in conventional vehicles, is not a concern for the 2023 Ford Lightning. Instead, the focus is on the pickup's battery range.
Ford offers two battery options, the standard and extended-range versions. With the extended-range battery, the truck can cover an impressive range of roughly 300 miles on a full charge. However, the standard-range battery provides around 230 miles of battery range.
When it comes to towing capacity, the 2023 Ford Lightning, even as an electric vehicle, does not disappoint. With the extended-range battery, it can tow up to 10,000 pounds. That's underscoring Ford's commitment to ensure their electric truck matches up to its traditional counterparts in performance and utility.
Overview
The 2023 Ford Lightning represents Ford's continued ingenuity within their reputable F-150 range of trucks. This model, with its progressive electric powertrain, mighty power and torque properties, and innovative features, not only maintains but elevates Ford's legendary capability by combining traditional prowess with the perks of electric power and performance.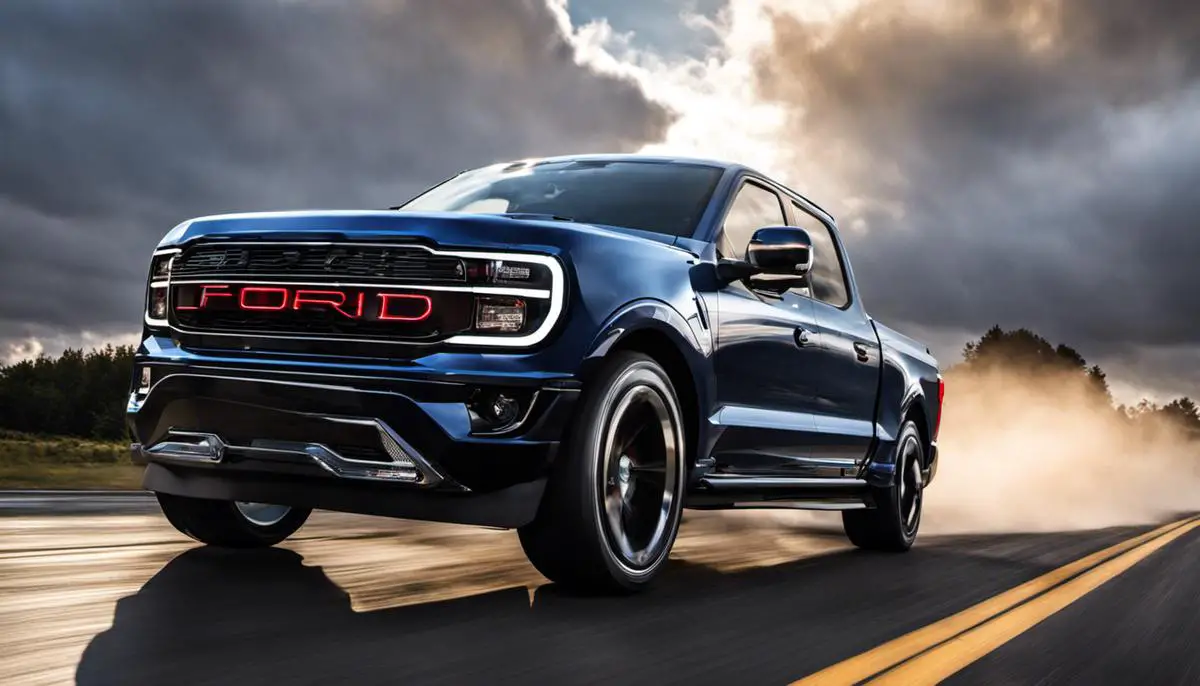 In-Car Technology
Connectivity and Infotainment System
The 2023 Ford Lightning is endowed with a plethora of ultramodern in-vehicle technologies. At its heart is Ford's latest Sync 4A infotainment system, displayed on an expansive 15.5-inch touchscreen. This intuitive and tablet-like interface provides complete control over features, including navigation, audio, and various vehicle settings. The system presents clean graphics and offers customization to cater to individual users' preferences. A comprehensive digital owner's manual with instructional videos and detailed graphics further elucidates various vehicle features.
Standard features also include Apple CarPlay and Android Auto for complete smartphone integration, a key aspect of the connectivity package. This model also takes convenience to a new level with wireless charging, multi-device Bluetooth connectivity, and the provision of built-in Wi-Fi. This allows devices to access FordPass Connect seamlessly. Finally, the icing on the cake, a state-of-the-art telematics system assists commercial vehicle owners in managing their fleet by providing real-time data.
Driver-Assist Technology
A standout feature of the Ford Lightning's technology package is the Ford Co-Pilot360 2.0. This driver-assist system includes automatic emergency braking, blind-spot monitoring, lane-keeping assist, auto high-beams, and rearview cameras enhancing the safety and driving experience. The 2023 model has also introduced BlueCruise, a hands-free driving assistance system that allows for hands-free driving on more than 100,000 miles of mapped highways across North America.
Exclusive High-Tech Features
Ford Lightning also has some high-tech features exclusive to this model. The Ford Intelligent Backup Power feature turns the vehicle into a power source. In the event of a power outage, the truck can supply 9.6 kilowatts of power to keep a house running, powering lights, appliances, and more. The vehicle uses energy stored in its battery pack until power is restored.
The 2023 Ford Lightning also introduces the Pro Trailer Hitch Assist, a feature that aligns the truck and trailer hitch automatically, eliminating the need for a spotter or any trial-and-error approaches. Another unique feature is the Onboard Scales which estimates the weight of payload in the bed and adjusts the electric range estimates accordingly.
Overview
The 2023 Ford Lightning is a remarkable electric truck that boasts a plethora of advanced high-tech features. These include cutting-edge infotainment technology, extensive connectivity options, advanced driver-assist mechanisms, and several unique features specific to the model. This blend of innovative and practical technologies makes the Ford Lightning a stand-out in the electric truck market, catering to both functionality and convenience.
Safety Features and Ratings
Active Safety Technologies in the 2023 Ford Lightning
The 2023 Ford Lightning is not only technologically advanced but also prioritizes safety with its active features striving to secure the driving experience. One such feature is Ford's Co-pilot360 2.0 technology. This advanced driver-assist system is designed with pre-collision assist with automatic emergency braking, blind spot detection with cross-traffic alert, lane-keeping system, and auto high-beam headlamps to actively combat potential road accidents.
Apart from these, the truck is equipped with intelligent adaptive cruise control with stop-and-go, lane centering, and speed sign recognition. The Ford Lightning also incorporates Evasive Steering Assist, a feature entrusted with the responsibility to provide steering support to avoid collisions. Plus, the truck introduces an intersection assist which activates automatic emergency brakes, in case it detects an oncoming vehicle while attempting a left turn by the driver.
Passive Safety Technologies of the 2023 Ford Lightning
Alongside active safety technologies, the 2023 Ford Lightning is designed with comprehensive passive safety systems. To start with, it has an advanced airbag system, including airbags for the driver and front passenger, safety canopy system curtain airbags, and an airbag for the driver's knee. The vehicle also features seat belts with pretensioners and energy management retractors for the driver and front passenger, ensuring optimal safety during a potential crash.
The structure of the Ford Lightning is built with high-strength, military-grade, aluminum alloy, which ensures significant durability and enhanced safety. The body-on-frame design provides for an inherently strong safety cell around occupants. In terms of security, Ford includes a security lock passive anti-theft system and a perimeter anti-theft alarm.
Safety Ratings of the 2023 Ford Lightning
The 2023 Ford Lightning's safety ratings with the National Highway Traffic Safety Administration (NHTSA) and Insurance Institute for Highway Safety (IIHS) aren't available at this moment. Given that it's a new model, it's common that it might take some time before it undergoes full crash testing and evaluation by the respective bodies. However, considering Ford's long-standing commitment to safety, it's reasonable to expect that the Lightning should perform well in crash tests once they are conducted. Ford's comprehensive suite of safety features should help contribute to solid safety ratings.
Examining the 2023 Ford Lightning in detail clearly showcases the extraordinary efforts Ford has taken to compete in the rapidly evolving electric vehicle market. The model stands as a testament to the magical blend of technological advancements and traditional truck elements. Incorporating unprecedented features like progressive infotainment technology or top-notch safety systems, the Lightning does not leave stones unturned. Ford's objective of integrating practicality with an electrified powertrain tears down the barriers of what traditional pickups can offer, disrupting the convention. Fueling this disruption is the electrifying performance, unrivaled technology specs, and the promise of an eco-friendly drive without compromising on the beloved truck functionalities. Hence, the 2023 Ford Lightning offers enthusiasts a sneak peek into the bright future of pickup trucks, promising a journey packed with advanced tech, high performance, and top-end comfort.