A truck bed cover or a tonneau cover is important if you want to protect your truck bed liner from the wind, rain, UV rays, dirt, or obstacles; or maybe you don't want curious cats to have a glimpse of what's inside.
However, it's possible for the truck bed cover lock to fail or malfunction; and in some cases, truck owners lose their tailgate keys while the truck bed cover is locked and closed. If that happens, you will know exactly what to do if you read this article since we'll be discussing how to unlock a truck bed cover.
Let's get down to it, shall we?
How Does A Truck Bed Cover Work?
As the name suggests, a truck bed cover is installed on top of your cargo bed to improve security. There are different techniques to do it, and it depends on the type of truck bed cover that you prefer.
For instance, if you have a soft folding tonneau cover with bungee cords that are tied down on the edges, it would take some effort to completely free the cover.
On the other hand, some tonneau covers are usually secured on the side rails and folded up or rolled whenever you want to access the truck bed. In fact, some truck bed covers don't even need side rails installed on the truck bed.
But when it comes to unlocking a tonneau cover, it all comes down to whether or not the cover is interlocked with the tailgate. This is because some truck bed covers use locking mechanisms that require you to first open the tailgate before you unlock the tonneau cover.
Well, if you have a hard truck bed cover usually made from fiberglass, aluminum, or polypropylene, it can be a headache to unlock it; especially if the cover is interlocked with the tailgate and you've lost the tailgate key. Then again, most soft tonneau covers are easy to install and remove even if you misplace the tailgate keys.
Different Types Of Tonneau Cover Lock Mechanism
Pull Cable Release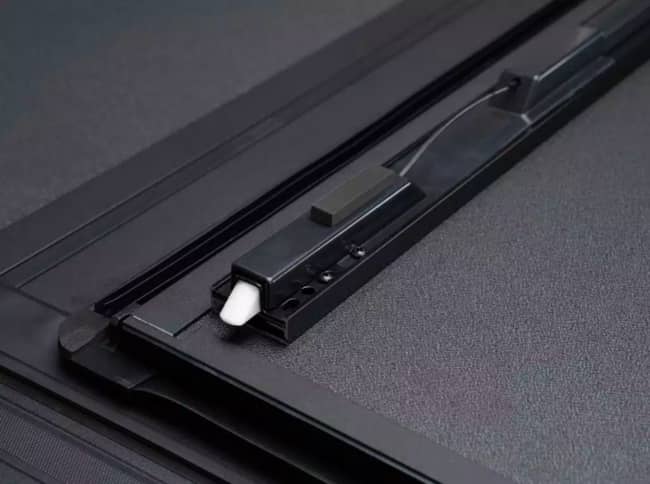 Pull cable releases are common on hard aluminum tonneau covers that are usually folded or rolled up to access the pickup truck bed. To unlock a roll up cover, you need to pull a cable at the back corner or back center of the truck bed cover; this will disengage the latches from the truck frame so you can open the tonneau cover.
However, if you have a locked tailgate, you won't be able to unlock the pull cable release unless you have the key to the tailgate door. If you think about it, that could be an advantage to deter thieves from messing up with your cargo.
Rotary Latch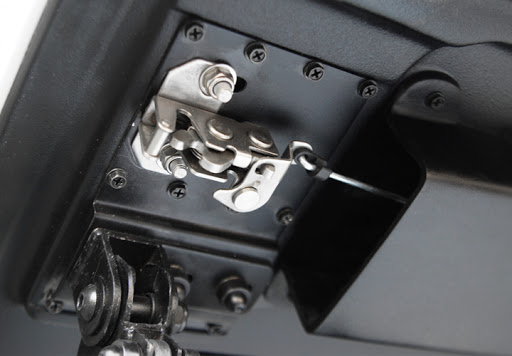 A rotary latch is almost similar to a pull cable release mechanism but rather than pulling a cable to unlock it, you need to twist a knob. Basically, it's like a doorknob but you need to turn two-knob bolts before you open the truck bed cover.
Usually, you will find most rotary latches on soft, vinyl folding truck covers. Like most unlocking mechanisms, the rotary latch is typically located at the back of the tonneau cover.
Of course, it will be complete with a locked tailgate to keep off prying hands.
Latch Clamp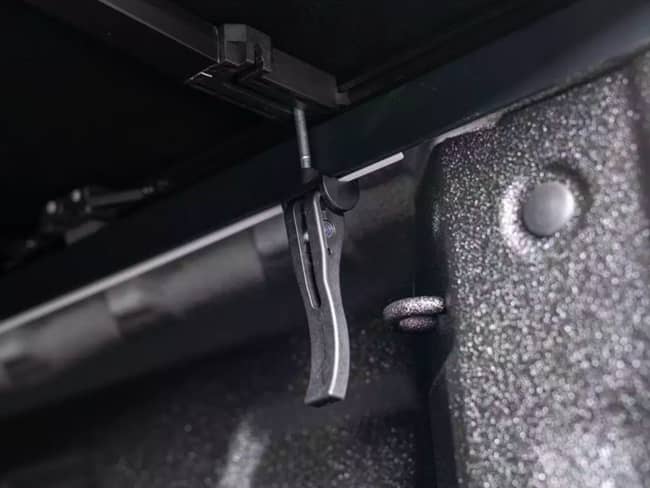 Otherwise known as a tail clamp or a jaw clamp, a latch clamp is common if you're using a soft roll-up tonneau cover. A good example is the American Trifold tonneau cover that comes with a latch clamp.
So how do you unlock it? For starters, the mechanism works by pressing down a truck bed cover, hand tightening the clamps, and straightening the latch to secure it.
That means, if you want to unlock it, you need to release the hand clamps before folding up the cover.
There is one problem though; latch clamps can be tedious to unhook because you have to release the hand clamps on both sides of your truck a couple of times. Also, you can't access it if you've locked the tailgate.
Trigger Latch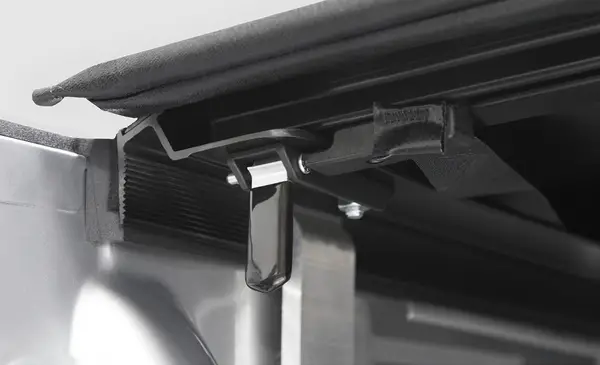 Most soft vinyl, roll-up truck bed covers are fitted with a trigger latch unlocking mechanism.
A trigger latch is simple; you just need to press the triggers or small handles to disengage the latch from the frame. However, you need to pull down two triggers on both sides of the truck bed cover before you open it.
Needless to say, if you secure a trigger latch with a locking tailgate, you will improve your cargo's security.
Spring-Loaded Speed Klamp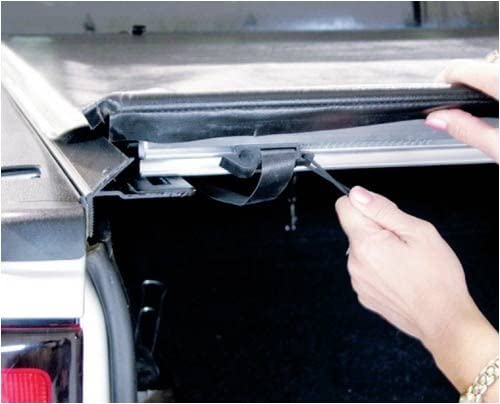 The spring-loaded speed klamp is similar to the latch clamp, but it's an improved version. What do we mean? As we've mentioned, latch clamps can be tedious to unhook but a spring-loaded speed klamp is faster to unhook and easier to install.
The good thing about a spring-loaded speed klamp is that you don't need any extra tools to attach or remove it; your hands will do the job just fine. To open the tonneau cover, you need to unlock the tailgate, release the clamps on both sides and fold the truck bed cover; it shouldn't take you more than 3 minutes. 
Electromagnetic Brakes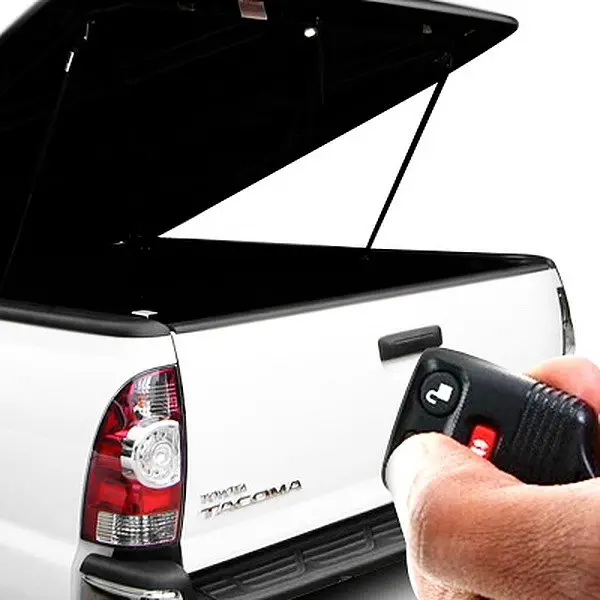 Some tonneau covers use electromagnetic brakes that are activated through an electric current to open and close. That means you can lock and unlock a truck bed cover by pressing a button on the remote control.
How cool is that?
Even more impressive, it works like a garage door; you can remotely stop the tonneau cover anywhere along the cargo space bed.
Sure, if you have a remote-controlled truck bed cover with electromagnetic brakes and you want to improve safety, you will need a locking tailgate.
Key Lock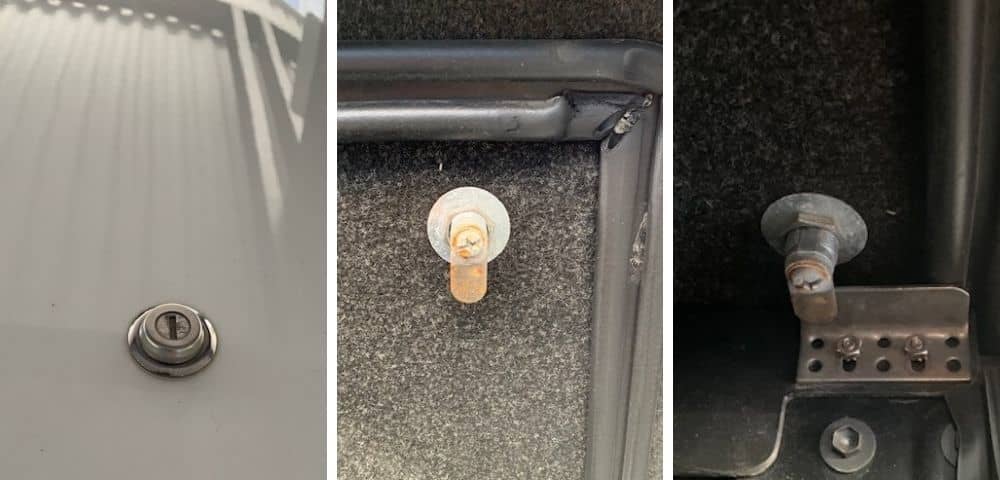 A key lock or a lock cylinder is usually found on hard, retractable truck bed covers or hard one-piece covers; especially those made from fiberglass. As the name suggests, you will need a key to unlock it.
Unlike most tonneau covers that require a locked tailgate to be secure, a one-piece truck bed cover with a key lock will overlap the tailgate and bed rails. This means it would be difficult for intruders to unlock the cover using a crowbar. Just be careful you don't lose the keys.
However, we can't say the same about hard, retractable covers since it needs to be interlocked with a tailgate for maximum security. Then again, you don't need to open the tailgate to access the truck bed since the key lock for the tonneau cover is situated outside.
How To Open A Tonneau Cover Without The Tailgate Key
If you've lost the tailgate key (it happens) and you have no available spare key, what should you do to open the truck bed cover? That's if the truck bed cover is closed and the tailgate is locked.
For starters, if you have a soft, vinyl tonneau cover, you will need the following items:
Coat hanger
Pliers
Rope
Crowbar
Step 1:  First, identify what type of locking mechanism is fitted on your truck bed cover. Most soft covers have a pull cable release, rotary latch, latch clamp, trigger latch, and spring-loaded speed klamp; you can consult the user's manual if you're not sure.
Step 2:  Locate the position of the locking mechanism. The locking mechanism is typically on the left or right side at the back end of the tonneau cover.
Step 3: Take out a coat hanger and sneak it in between the tonneau cover and the bed rail. This shouldn't be a problem if you have a soft, vinyl tonneau cover.
Step 4: Try to move the coat hanger under the weather seal cover until it catches the latch. Pull the coat hanger to unlock the release handle.
However, if you find it difficult to touch the latch and unlock the cover using a coat hanger, you could try using a crowbar or a hook with an extension.  
Step 5: Repeat steps 3 and 4 on the other side of the tonneau cover until you've opened it.
Note: Not every soft, vinyl tonneau cover will open using the procedures we've explained above. If you recently bought the truck and the warranty has not expired yet, you could make your work easier by taking your truck to the dealership so they could fix the tailgate lock.
Alternatively, you could break the truck bed cover if it's made out of plastic; but we don't recommend that since you would need to purchase a new tonneau cover.
On the other hand, if you installed a hard folding or a one-piece truck bed cover but the key lock has malfunctioned and you're unable to open it; what can you do about it?
If you have the key but you can't push it through the keyhole flap, it's possible to make it work again. But first, you should get the following products:
Pliers
Tissues or dry towel
Penetrating oil or lubricant (WD-40 or PB B'laster)
Dielectric grease (Permatex or Mission Automotive)
Step 1: Spray lubricant or penetrating oil on the keyhole flap. Let the lubricant sit for at least 3 minutes and wipe off any excess oil with a dry towel or tissue.
Step 2: After a few minutes, slide the key into the lock. The matching key should go through the lock if it's properly lubricated.
Step 3: Push the key back and forth into the keyhole a couple of times.
Step 4: After a few minutes, apply penetrating oil on the key lock and push the key in and out a few more times.
Step 5: After a minute, turn the key to open the lock. It should open smoothly, but if it doesn't you can use pliers to gently turn the key.
However, be very careful you don't break the key and make it worse.
Step 6: If you've managed to unlock it, you should apply dielectric grease on the lock to stave off rust and dirt accumulation.
Sometimes the lock can freeze during winter making it difficult to open it. If that's the case, it would help to heat the key lock using a propane torch before you unlock it.
Note: Keep in mind that a hard retractable or a one-piece truck bed cover is very difficult to break if you've lost the key. If that happens or the process we've explained above doesn't work, it would be a good idea to take your truck to a locksmith or a dealer.
Common Q & A
Q. Can I replace my truck bed cover locks?
A. Yes, you can replace truck bed cover locks with genuine manufacturer products or aftermarket parts.
Q. What is the most secure tonneau cover?
A. The most secure truck bed cover is usually the hard one-piece type made out of heavy-duty fiberglass. If you misplace the key after you've secured it in your truck, it would be very difficult to unlock it even with a crowbar or a coat hanger.
For that reason, we recommend consulting a locksmith or taking it back to your dealer.
However, you don't need a locked tailgate to secure your truck bed when using a hard one-piece tonneau cover made out of fiberglass.
Q. What should I do if the seal has come off?
A. If the seal is damaged or it has come off, you should replace it immediately. Otherwise, water will leak into your truck bed or the cover will flap while you're driving.
Q. I'm finding it hard to unlock the latch or release cable?
A. If you've opened the tailgate but you're unable to unlock the latch or the release cable, try applying lubricant oil to see if it helps. If that doesn't work, you can get a manufacturer replacement if the warranty is still valid.
Q. How much does a truck bed cover lock cost?
A. Of course, it depends on the durability, quality and type that you want, but most truck bed cover locks will cost you about $15 to $40. However, a tonneau cover is usually more expensive and it ranges anywhere between $200 to $2000.  
Conclusion
Here is the thing; if you want a good quality tonneau cover that is easy to install and unlock, we recommend you choose a product from a reliable manufacturer. Besides that, if you have a locking mechanism with metal parts, you can apply some lubricating oil and grease to prevent rust and dirt that could make the lock fail.